5 Minutes with ... Steve Boniface
Probably the most talked-about thing coming out of Hangtown was the ride of #141 on a Honda, former French minicycle legend Steve Boniface. The former factory KTM rider went 6-6 for fifth overall in only his second national on the 450! You know how we like to talk about the "privateers" like Jason Thomas, Gavin Gracyk, and Paul Carpenter? Well, this privateer is about as far removed from those riders' status as you could possibly get.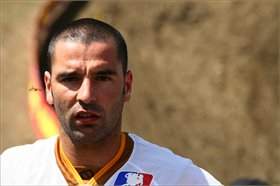 photo: Matt Ware

Racer X: Steve, great ride for sure. Take me through your race.
Steve Boniface: Well, it started pretty good. I got a great feeling on the track right in the first practice. I also had some pretty good qualifying times right away, and I was riding smooth. Sunday morning I liked the track even better - it was diced up and I was able to make some good lines. Not as rough as Saturday for sure, and it flowed well. I had a good lap time for the gate pick. I was fifth-fastest, I think, so that was a big help. The first moto was great - I was in seventh for two or three laps and then Millsaps passed me. I rode right there for seven or eight laps, and I made a bobble. Right on the off-camber at the bottom of the hill, I had to turn around and I lost a lot of time. I felt like I could've rode better, really. I didn't have great lines out there and made some mistakes. The result was good but the way I got it made me upset. I knew I could do better in the second moto.
In the second moto, the start wasn't really good, but I made some passes in those tight turns right after the start. I think I was in sixth or so. I passed Townley and Short right away, so that was good and I found myself right behind Tedesco and he had a good pace for sure. I followed him for a bit and then Ferry got by me - he was riding faster than me. I actually crashed in the moto also, in the same spot as I did in the first moto! I was two, three seconds behind Ferry and that group and had a good lead on Townley but lost all that time when I fell and BT got past me. Short also, I got Andrew back right away and followed Townley for the rest of the race and got him with two laps to go. I finished in the same spot but was very happy with my second moto.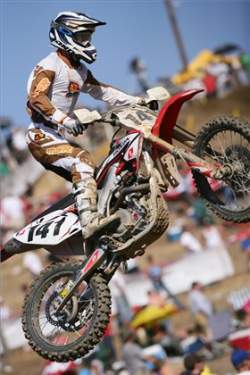 Boniface went 6-6 for fifth overall at Hangtown in the AMA Motocross class

photo: Simon Cudby

No offense, but why are you riding so well this year? Is it the switch to the 450?
Well, I think that first of all in the 450 class the bike is not as important as the 250F class. The last couple of years my 250F maybe hasn't been right there with the top guys, and it's tough to get to the front. There are a lot of good riders in that class and a lot of good bikes - the gap between the top bikes and the rest of the class is pretty big. I rode a 250F all winter long until, like, a month and a half before Glen Helen, I bought a 450 and started riding it. I got better and felt my chances privateer-wise were better on a 450, so that's why I switched. I guess the main reason I'm riding better is, the difference in the bike isn't that huge. I mean, I rode a lot and worked a lot off the bike.
It's a different style also between the bike. If you ride a 450 like a 250, you will find yourself on the ground a lot. I'm more like a rider that doesn't crash too often, and I know how to ride, so it wasn't too hard to get used to a 450. I'd thought I'd try it and see how it is. I got some suspension done by Factory Connection and a pipe from Dr D, and a little bit of head work done. Everything else is stock - the jetting the gearing - and it feels good. The 450 has a lot of power and I could ride a bone-stock bike, but sometimes you need a little more power.
You turned down some Lites rides in the winter, right?
Yeah, I had a few offers, a few opportunities, but I'm at the point where I want to ride to do good. I don't want to just ride around and just be happy to be there, y'know? I feel like I could podium or top-five every Supercross Lites class, and I didn't want to go to be sixth to tenth. The rides that I could get, I felt like they couldn't give me the chance to ride to my ability, so I didn't want to do it. I just thought I could wait a while and try to pick up a ride somewhere. There were a couple of opportunities out there during supercross, but unfortunately, they were not for me. Rides like Factory Honda or Pro Circuit, they were there but the teams chose to go with other options.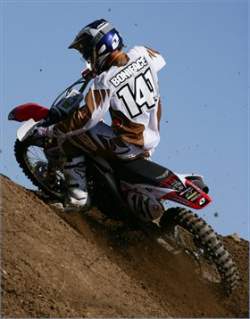 After two rounds Boniface is sixth in points on a privateer Honda

photo: Simon Cudby

Well maybe with your rides now, you're going to open some eyes.
Yeah, maybe, it definitely was not from lack of trying, because I call those guys every day. Just to watch me ride - I didn't want anything guaranteed. I said that I know they may have had someone else in mind but just please come out and let me ride the bike and show you what I can do. Let me ride with whoever you have in mind and I'll show you who the best man is, but they didn't even give me a chance. It's okay, it's not the end of the world. That's how it is and makes me try to do even better.
So you're not going to Texas this weekend, you're going to go ride the French GP?
Yes, that's the plan I made when I had nothing much going on over here months ago. I'll go there and ride a Yamaha. It's been a long time since I did a GP, and I thought that it would be good to go back. I had nothing going on and said, sure. I signed with a team in France and we'll see how it goes. I'll come back to the USA after that and see if I can go to the other Nationals. I want to pick up a ride or something, because for me to do the East Coast nationals, it's hard to make money. I think I showed something this weekend for somebody to give me a chance.
So as we're speaking, has your phone been ringing off the hook?
Actually, no! I don't know, maybe people don't think I'm for real. I rode well at Glen Helen also - I had some good lap times and it was a good race for me. It was my first race on a 450 and my first big race since Glen Helen last year. I'll just try to ride good at the GP and then bring that momentum back here.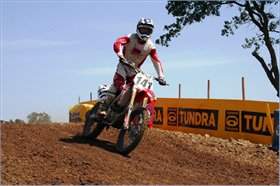 Steve is headed to France this weekend for a Grand Prix

photo: Steve Matthes

What if you get an opportunity at a GP ride? Would you stay there?
I want to race in the U.S. I feel that the best are here in the U.S., and I feel like I haven't done what I could do over here and want to keep trying. I bought my bike, I bought all my equipment and am dedicated to finishing the year out with a good team and try to get something good for 2009.
Who's helping you out this year?
My dad is helping me a lot. He came over the day before Glen Helen and is helping me out at the races. Eric Sorby's good friend lent me that box van that I used at Hangtown. Other than that, Dubach Racing is helping me out with the pipe, Dunlop has been great, MSR for the gear, One Industries, Alpinestars, Oakley, Works Connection, ARC, Twin Air, Pro Taper, Ogio, Cycra. Ziggy gave me a good deal on the re-valving of my suspension. I had to pay for everything besides gear, bars, and tires. I also want to thank Alan at Moto XXX for all his help - he helps me with some parts and whatever I need.