5 Minutes with ... Eric Sorby
Eric Sorby is certainly a little bit of a controversial figure in motocross. If you took a poll of the racers on the track, he would probably win the "Guy you don't want right on you going into the last turn" contest. Eric is an aggressive rider, and he's been that way ever since he made his debut in the 125cc class with Pro Circuit in 2002. If it would fit, a perfect slogan for the back of his pants would be – ask no quarter, take no quarter. The personable Frenchman finished 15th this year in the Supercross series riding a Hooters Moto XXX Honda. His new job is a test rider/racer for Joe Gibbs Racing Yamaha and he pulled me aside to tell me about it at Hangtown. Some of you might remember that him and I got into a little fight during Supercross over something I wrote about him but Eric apologized to me, shook my hand and we're now AIM buddies.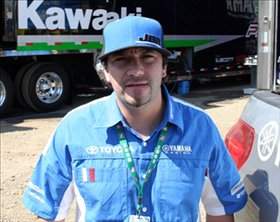 Eric Sorby

photo: Steve Matthes

Racer X: Eric, I didn't see your crash last week at Glen Helen but heard it was a good one. Are you OK?

Eric Sorby: Yeah, I'm fine. A bunch of people saw the crash told me that it looked real scary so it's good that I'm here standing. I got whiskey throttle before the big step up, usually I just have whiskey in my drink, but this time I got whiskey throttle in my hand! Last thing I remember is the spectators running away from me, just like in a movie! So I don't really remember but I landed in the fence, hit my head and fell asleep for a couple minutes.
Your deal is kind of weird; you were riding for Moto XXX and went to North Carolina to train and ride with your friend Josh Hansen. He actually got fired from the team yet you stayed and now you're a test rider for them! Talk about that for me.

Yeah, just like you say, I went to stay with my friend
Josh Hansen
and it was just going to be for a couple of weeks. You know when you're a privateer and you live in California it's hard to find a place to ride. Lots of people were telling me how good the JGR guys are and how the tracks and the setup out there is really, really good. I also know all the guys on the team from over the years and so Josh told me to come out but first I wanted to clear it with Jeremy [Albrecht, team manager]. You know Josh: "Let's do this and do that," but I wanted to make sure the team was comfortable with me. I asked J-Bone if I could stay with Josh for a couple of weeks and at first Jeremy wasn't too sure about it. I mean, we all know me and we all know
Josh Hansen
! But he said sure and I drove my truck out to North Carolina from California and got there and went right on the program that the guys were on – all the training and riding, and now I'm the test rider!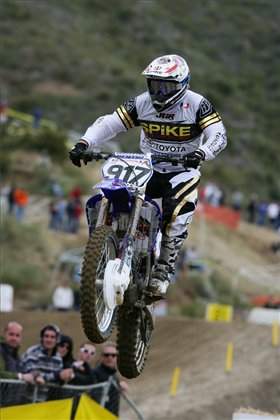 Eric made his JGR Yamaha debut at Glen Helen

photo: Simon Cudby

Was it weird for you when Josh got fired? He brought you there, so was there some tension between anyone?

Nothing was weird between anyone. Josh got fired and to be honest I think he was looking to get fired. He's from California and he likes it out there. He's almost been out there his entire life. That's where he likes to be and it sucks for him. I like Josh as a friend, he's a funny kid.
Jeremy then came to me and said that if I wanted to stay it wasn't a problem and I like to help people out. I was helping on the track always working on it and trying to make it good for Summey and myself. I was doing the riding and was in the gym everyday and wasn't late ever. I'm not a late kind of person, and yeah, it was good. Those guys have a great program. You have to go out there and see everything to realize how great it is. I like North Carolina also; it's beautiful and reminds me of France a little bit. Small towns and we have rain two or three days and we have trees. In California, the only thing we have is traffic and dirt!
So do you like your testing gig? Is it just pounding out motos all day?

Yeah, it's good. We did a lot of suspension testing and testing linkages and things like that. I didn't do a lot of motors because with only two weeks off in between SX and MX, there wasn't a lot of time to get right into it. I was still racing supercross on my old team. I love it, I really enjoy it. Coy [Gibbs] came up to me after Vegas and said that they need me to race the first two rounds for them because of Gavin getting hurt, and if I wanted, that would help a lot. Coy said that I didn't have to do what Summey was doing, because I was just a fill in but I said no, I'll do as much as Josh does because I'm racing like him.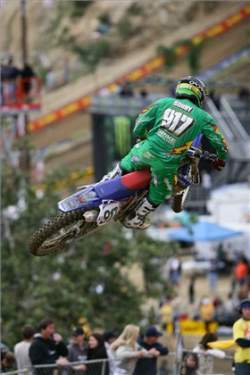 Sorby is enjoying life in North Carolina

photo: Simon Cudby

Sounds like you found a home...

I really enjoy what I'm doing. The Gibbs family are very nice people. It's good for me to be out of California. I get into trouble a lot out there and I'm the kind of guy that, if you hang out with the wrong kids, you go in the wrong direction. I'm not a kid anymore. I'm 28 years old and I know what I want in life. I want to be happy and want to enjoy my life and make some money. The last three years, I have slowly gone down in cash, since I left Mitch I've been going down the hill. I never give up, that's the kind of person I am. I have a home here; I ride a factory bike and make some good money. When they need someone to race SX, I'm here for them – I'm still fast on a motorcycle. They have a test rider that is a good racer and can make mains. I'd like to do some races on a factory bike for them. My Moto XXX bike was good, I'm not going to complain, it's just not a brand new bike every weekend, that's all. When you have only one bike for the year, it gets beat up.
I have some friends outside of motocross racing now, some NASCAR people that I like hanging out with. There's a restaurant there that now loves motocross and have named a pasta dish after me, life is good!