Rev Up: Trial of Champions
Hello, everyone, and welcome to the Rev Up. The 2008 AMA Toyota Motocross Championships have finally arrived; time to start over again from scratch. Ah, but as we all know, this time it's different. This time, the boys will be getting up at the crack of dawn and heading to the track for the morning practice sessions. They'll be pulling on the rock guards and putting one leg at a time into vented gear. There won't be any lights or smoke machines. Come Sunday, they'll be pushing their bikes to the starting line under the beaming afternoon sun.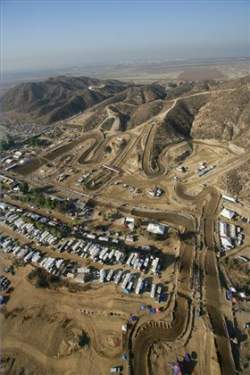 The Hills Have Eyes
Outdoor motocross is where it began for every rider in the sport. It's about those 4:00 a.m. mornings when your Pops would load you into the van and drive you four hours to make it in time for 9:00 a.m. practice at a track in another state. Outdoor motocross is about speed, blisters, and heart. All of the skill in the world won't get you around a rider that is hauling the heat in fourth gear with wide eyes, gritting his teeth. There are times on an outdoor track where you aren't thinking as much as you are just reacting subconsciously.
The AMA Toyota Motocross Championships is the ultimate Trial of Champions. It's an angry horde of forty fire-breathing, man-and-machine hybrids that literally shake the ground as they pull gears toward the first turn. Every rider on the starting gate has experienced victory on the National level at one point in their lives. There isn't a weak man among them.
Recent history creates the anticipation, as the past few outdoor seasons have produced gallons of adrenaline and copious amounts of craziness. Let's go ahead and get this joint up to full song! Let's get revved up for Glen Helen!

Lites
This is where the wild things are. Something wicked this way comes, indeed. First and foremost, you cannot turn a blind eye to Monster Energy/Pro Circuit Kawasaki's Ryan Villopoto. The two-time and defending outdoor Lites Champion is rolling into this race with blood in his eyes. If you don't believe me, read here. His main competition arrives in the form of a seething stew of adversaries that all have an equal shot at the title.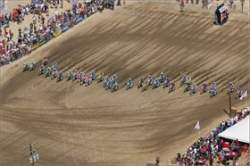 Don't stop shifting till you see Elvis
Rockstar/Makita Suzuki's
Ryan Dungey
was fast last year but crashed super hard. He needs a little less of that action from
Red Bud
and a little more of the stuff we saw from him at
Southwick
. I truly think The Golden Boy will put up the biggest fight against RV Park. The next three warriors I see are Geico Powersports Honda's
Trey Canard
, Boost Mobile/Yamaha of Troy's
Jason Lawrence
, and Monster Energy/Pro Circuit Kawasaki's
Austin Stroupe
. Austin "Stone Cold" Stroupe,
J-Law
, and Ice Trey will win overalls this summer, but I don't think they'll be consistent enough to contend for the title belt.
Beyond those cats, I see a little separation between them and riders like MDK KTM's Ryan Sipes and Martin Davalos, Motosport/Extreme Kawasaki's Tommy Hahn, and YoT's Zach Osborne. Check out EJ's breakdown of the division, if you haven't already.

AMA Motocross
Enough with the kiddie talk, and on to the man's class. These cats took it to the last lap last year and I don't see any reason why 2008 won't go exactly the same way. The most exciting addition to the big-bore class is New Zealand's Ben Townley. The Honda Red Bull Racing rider was awesome in the outdoors last year, and this time he'll climb aboard a factory CRF450R and unleash hell. But BT101's problem isn't being fast, it's being healthy. He's had much more difficulty with the latter. His teammates, Davi Millsaps and Andrew Short, will also win motos and overalls this summer.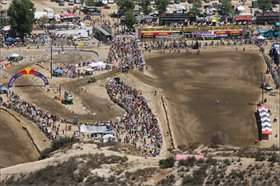 The calm before chaos
We need to send out a loud call to factory Yamaha's
Josh Hill
. I think he's really going to surprise some folks with his speed and stamina. Remember what he did at the end of the Nationals last year on a 450, and now imagine him with nearly a year under his belt. He looks comfortable and confident.
And what about #800? Rockstar/Makita Suzuki has all of their eggs in the outdoor basket for 2008. After breaking his collarbone in supercross, last season's Motocross runner-up is on a new machine and knows Glen Helen better than any rider he'll face. Don't underestimate him. He'll make you look bad. One thing is for sure, Roger DeCoster is hoping for a lot out of the rider formerly known as "Lightning."
Then, you can't leave out the Red Dog. Timmy Ferry left a lot of cards on the table last summer and he should be back to 100 percent by this weekend and ready to chase down a title that is well within his grasp.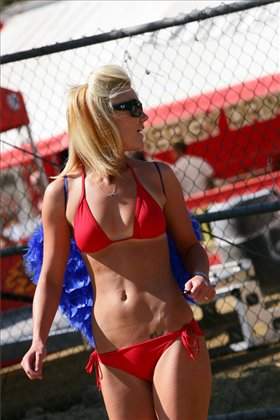 Nothing like the outdoor nationals!
Although, who am I kidding? The big, big hype about this Sunday afternoon is the return of one
James Stewart
. That's right, the Prince of Pain, the Czar of Gnar, the man who grew up answering to the name of
Bubba
will bring back the #7 to master the art of shredding. The Monster Energy Kawasaki rider has won 100 percent of the Nationals he has entered at
Glen Helen
. He's the most electrifying and spectacular rider in the sport. He's probably not 100 percent, but he doesn't really need to be.
I'm pumped up for this business folks. It's a full-blown, elbows-up, thousand-yard-stare scenario. I've bled through two nationals at Glen Helen in my racing career. I've stood at the top of Mount St. Helen's underneath the huge American Flag and watched it all go down, as a fan. Grab a knee and let me break it down to you: They'll sing the National Anthem, the boys will take a quick stroll, then they'll line up and get ready to watch the gate drop. On the other side is the mother of all start straightaways, Time stands still, then speeds up exponentially. Forty wild men will hang off the back of their machines, right wrist locked, left big toe kicking the shifter every five seconds. Then it's thirty plus two of watery eyes and sandblasted skin.
Let the Trial of Champions begin.
Thanks for reading, see you next week.