5 Minutes with ... Nico Izzi
Wait, 5 minutes with who? Well, you may better know him as Nico, the youngest member of the Rockstar/Makita Suzuki team. One of Michigan's brightest stars has had a rock-steady rookie season so far in 2008 and he is just getting to the series that he feels most at home in; the AMA Toyota Motocross Championship. I checked in to see how he was feeling just a few days before the season opener.
Racer X: How would you sum up your first supercross season?
Nico Izzi: It was good for me. I had some ups and downs. I had a podium at Indy and I was pumped about that. I had a good ride in Detroit. It's tough your first year; it's a lot different than the motocross stuff we all grew up doing. It was a good learning experience for me and I had fun.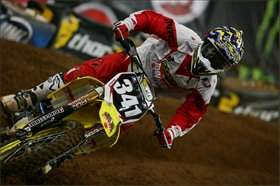 Nico Izzi finished third overall on the East Coast.

You seemed like you were one of the most consistent guys out there. And staying healthy through your first full season is a good start.
Yeah, that's what I tried to do. I had some bad finishes but even my worst finish wasn't that bad. A lot of guys didn't make the main at least once. I just always tried to put it in the main and then put the hammer down. Sometimes it didn't go the way I hoped, but it was pretty good.
You said you're more comfortable outdoors. How do think it will go for you this weekend?
I don't really want to say anything specifically. There are a lot of fast guys in this class and it is going to be a battle every weekend. I guess I'm hoping for a top-five right now and I hope everything goes well. If I could be in the top five overall at the end of the series, that would be awesome. It would be great to get on the box at least once, too. I have some goals but I really just want to give it everything I've got every time I'm out there.
You did the last few races after Loretta's last year. What was your best finish at a National?
I got a fifth overall at Steel City. I was pretty out of shape last year and after the first motos I was pretty much done. Glen Helen was really gnarly – I was just hanging on for dear life on the downhills by the second moto.
How is it having Roger DeCoster as a team manager?
It's been good. He helps me out whenever I need help. He doesn't say too much; he's kind of a quiet guy. But he's very supportive and he'll give me tips occasionally and he works as hard as he can to make sure we have the best equipment and people around us. The whole team is awesome. Roger isn't the kind of guy that just comes up and starts chatting with you. It seems like you have to approach him.
There was some drama last weekend at Glen Helen during practice. You got into a little scuffle with some guy. What happened?
I was pulling onto the track to do a moto and I guess I splashed a guy with some mud as I was pulling onto the track. I don't really know anything about that. He was flipping me off and running me off the track after that. So, I chopped his line to pass him and he fell over. Then he cut the track and was trying to take me out and he was roosting me. He finally stopped me in the middle of a corner on the track and started trying to punch my helmet. It was a weird deal. I just rode off and tried to keep riding. All I wanted to do was ride my motos, you know? I really didn't know what the heck was going on. There were a lot of guys on a really small track so maybe that was a part of the problem.
What is your plan for the summer?
I was planning on staying out in California until Hangtown and then going back to Georgia and staying there for the rest of the summer. It depends, though; I won't go back to Georgia if I don't have anyone to ride with out there. My track out there is sick but it isn't any good riding by yourself. The one good thing about here in California is that on any weekday during the summer there are always a handful of fast guys to ride with. You have to deal with other riders too, which can be a bummer, but I guess you take the bad with the good.
Good luck this weekend, Nico.
Thank you.