5 Minutes with ... James Stewart
The most anticipated comeback in motocross begins this weekend when Monster Energy/Kawasaki's James Stewart returns to the AMA Toyota Motocross Championships for the opener at Glen Helen Raceway in San Bernardino, CA. Stewart was the championship leader last July before a knee injury at Washougal ruined his title run. He returned for the '08 AMA Supercross chase and was tied in points there before he realized that the knee injury—which he aggravated in December—required more extensive work. So he watched Chad Reed ride off with the title, and started getting ready for outdoors. Now James is back, and he's eager to get another AMA Toyota MX Championship to add to the two he won in the 125cc class. And after that? Well, that's still up in the air, as you are about to read…
Racer X: James, I think I speak for a lot of people when I say that I can't wait to see you on a motocross track again this weekend.
James Stewart: Yeah, I'm really excited to be back. It's been awhile, obviously since Phoenix. It was tough taking off the supercross season but I felt like in the end it was what was best, and I'm just excited to get back out there this weekend.
I saw the recent video on the Fox Racing website, and that was the full cut on the knee, not just a scope, wasn't it?
That was the full deal. When you get scoped you don't have that many people around! That was a full reconstruction and it was for the best and I'm happy with my decision.
So what have you been doing with yourself lately?
We've been working a bit and I've just been trying to stay in shape. I've been riding for about two and a half or three weeks now, and it's going good. I'm blessed to be able to learn how to ride a motorcycle pretty quick. The first day I was out there and not over jumping or coming up short on anything. Aldon [Baker] has moved in and we've been doing a lot of work and I'm excited to see where we're at this weekend.
A mutual friend, J.H. Leale, was telling me about a month ago that he was on some back road in Tallahassee, punching buttons on his phone, and came around a corner and right upon two guys out there riding bicycles, and he said he almost ran over you and Aldon!
[Laughs] Yeah, there were a couple people who got pretty close, and let's just say I feel bad for their mothers! J.H. is one of them. But I'm glad he didn't know it was me, he may have tried to take me out! It was cool, though. Being in Tallahassee for those few days, I was surprised that I didn't see RC or Ben or Davi or someone in a grocery store somewhere!
On a side note, you have to be stoked for your little brother Malcolm for finally winning an amateur championship!
Yeah, I was happy. It was funny because I saw him on Racer X Films, and I give him grief about it all the time. He was like, "Man, you have to have heart and you just got to try." Now when we're out on the track, I'll pass him and scream, "Dude, you have to have heart!" It was cool, though. He's been working really hard and I'm really proud of him.
I know you made it to a couple supercrosses this year; how hard was it to stand back and watch?
It was hard, but I felt like when I came to Seattle and those races, it was just nice to come and sign autographs and be around it. I love racing and I love being a part of it. I feel like I have to watch it. Like, I've seen every supercross this year on TV or in person, and these are the guys I'm going to have to race against, so there's no sense in not paying attention to it. But I had fun. It was a different feeling being at the races watching, but I had a good time. I thought the racing was really good and it kept me out of my chair.
Let me put you on the spot; which of the guys that you were watching do you think you're going to have to be the most worried about going into Glen Helen?
Ahh, well, the two guys that went 1-2 in the standings probably aren't going to be there, but there's a lot of guys with Davi and Ben and stuff. I wouldn't say that I'm worried about them, but I think they're going to be my main competition and I think they're going to be strong. At this point, nobody has seen me ride and I haven't seen them ride, but they're all going to be tough.
You don't have to look far to figure out who the competition is, because in Florida/Georgia you now have Millsaps, Tedesco, Townley, Byrne, Ferry, Langston, Alessi…it's getting crowded down there.
[Laughs] It is getting crowded, but I have not seen one of those guys all year in Florida. Being hurt this year, I kind of just been taking a break and finding myself and having a good time. I've just been doing some stuff that I haven't done since I was four years old, and that's taking time off and relaxing and hanging out with my family. I feel like that it's been hot enough down here and we've been riding enough that I feel we should be good going into Glen Helen. I'm sure those guys will be ready, too.
I know when Chad Reed took the summer off last year, it was under different circumstances, and he got a little bit of grief, but he came back and said he was totally inspired because he finally took a step away from racing. You only got to race two times since last July; that has to be the biggest gap in your life.
Yeah, for sure. I think probably the longest time I had with not racing was probably between July and the supercross season. That was a long time for me. Again, people don't understand, but we race a lot, and it's a lot of work that gets put into it. It's not like we just show up on Saturdays and Sundays and that's it. I feel like we work really hard at it, and to have a break…it'd be nice to just take off the time, but when you're forced to take off the time, you have to find something to do with yourself besides sit there and worry. I felt like I've been doing that, but obviously I felt like I have a lot of motivation coming in. I knew what my goal was, and that's to come back and make sure I was stronger than ever.
Well, with three weeks riding, do you think you're where you need to be?
I don't know; it's tough. I guess we'll find out Sunday! I hope so, but it's one of those things that I felt like what I've done in the last three months from when I had surgery till now is actually a miracle. Most people who had the surgery I had, they wouldn't even be doing activities at this point. And for me to be riding this soon and being able to train, I feel like that's a win right there, to even be able to make it back to the outdoor season. I'm happy about that. Even if I'm not ready, I know I would've made it to this point. I'm sure somewhere in the middle of this season I'll be ready to go.
You were the leader last year and you got hurt, and you were tied with Chad in supercross when you got hurt. Do you feel like you have some unfinished business?
I do. I want to win the outdoor title, that's important to me. I think the older you get, you start to put your pride to the side. The biggest problem in this world are people's egos. We have pride issues, and that's the biggest thing that gets you in trouble. I want to win the outdoor title and I want to do it because I want to do it. I think at this point in my life, I just love racing and like to have fun. Being put on the couch for almost a year makes you realize how much you miss this sport and how much you miss racing.
Now comes the hard part: Can you talk about 2009?
[Laughs] Hmm, 2009 I will be at Angel Stadium in Anaheim and I will be racing supercross!
I can understand that you want to focus on the summer right now, but we're going to corner you…
Ask Kawi, I know as much as you do. I haven't heard from them at all regarding next year. I hear rumors that they signed Villopoto but as of today I do not know what direction they are going in because no one at Kawi has called me. All I can do is focus on my racing at this point and everything will eventually work itself out.
So they have the right of first refusal if you, say, signed a letter of intent with L&M?
No. To be honest, Davey, I've been waiting on Kawasaki to make an offer or at least tell me they're interested. It's been a long season and I haven't raced in a while. I know business decisions are decisions, but either way they go I have nothing but respect for Kawasaki. I've been with them for so long, but I'm just waiting to hear from them to tell me they're at least interested about next year.
Well, maybe after the races this weekend we'll get to ask you again if you got that phone call, but in the meantime I don't want to tie the line up!
[Laughs] I appreciate that! Please, don't call me again—I'm waiting for an important phone call!
Let's change subjects real quick. You got Boston and Detroit, then L.A. and San Antonio; who's going to play in the NBA Finals?
I'm a big Kobe Bryant fan, but the reason I have a hard time rooting for the Lakers is because everybody in California, when the Lakers start doing good, they all jump on the bandwagon! So I just root against them. Every time I do I usually lose or gain some money because I like betting with my mechanic, Mike (Williamson), so I'm picking San Antonio and Boston.
All right James, we'll see you on Saturday at Glen Helen, and we can't wait to see you back on a dirt bike.
Thanks, Davey! I will be there.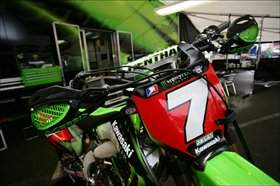 It'll be good to see the #7