5 Minutes with ... WMXF's Antoinette Gress
The WMXF (Women's Motocross Foundation) is doing great things within the sport. A collective group of women involved in the industry raise money via auctions and various events throughout the year in order to support the Asterisk Mobile Medic Unit, Motor Racing Outreach ministries, and any rider or industry member who has need. It is a great group of ladies who truly have their hearts in the right place. This week they are hosting the annual MotoBowl in Anaheim, so we called one of the gals in charge to find out some details.
Racer X: First, tell us a little about how you got involved with this program and the industry itself.
Antoinette Gress: Sharon Richards approached me a few years back when the organization was starting up and asked me if I would like to be involved. Since then I have held the position of vice president with Jackie Short, and this year I am co-president with Jen Emde. The WMXF is open to any wife, girlfriend, mother, sister, or female racer within the industry. I am married to Cole Gress, who is the motocross support manager for Suzuki.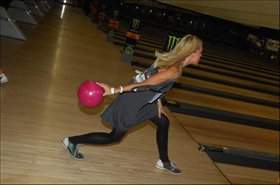 Come out and get your bowl on with your favorite rider!

Who are some of the riders and celebrities that are bowling?
We've had an overwhelming response to the event this year. I think it's helped that Glen Helen is the first race of the season. Our list this year includes all of the team managers: Roger DeCoster, Mitch Payton, and Jim Perry. Some of our confirmed guests and celebrities as of now are Trey Canard, Ryan Dungey, Ryan Villopoto, Davi Millsaps, Davey Coombs, Erin Bates, and the Sheckler family, as well as you!

Is Andrew Short going to be playing the part of Terry Boyd [announcer] like he did last year?
Absolutely. He did such a great job last year that we are going to put him to work again this year. It also helps that his wife, Jackie, is heavily involved in the WMXF.
Is bidding still available? How do people bid?
Yes, there are spots still available. Our eBay auctions closed as of Monday, therefore if people would like to bowl they can send an email to Jen Emde at jen@partsmag.com and she will go ahead and place them on the teams that are still available.

Can people just show up and hang out or take part in the auction? Is there an auction again?
That is one of the best parts of MotoBowl. People can just show up and be part of the action. The riders and industry "celebrities" are all hanging out and it's a very casual environment. There isn't a line to wait in to sign autographs or take pictures. I consider it more of a fan fest where there really is interaction within the event. Where else are you going to be able to walk up to these champions in such a casual environment? We provide Sharpies to all of the invited guests, and they have them on hand ready to sign autographs at a moment's notice. We always have an amazing silent auction with such great items and VIP passes to the supercross races, all kinds of signed memorabilia, Ogio golf bags, Volcom donated some items…. Cycle News this year framed the covers of some of the racers and had them autographed so they will be up for auction as well.

Which riders are the best/worst bowlers?
The bad bowlers' names will remain anonymous, and Marshall Plumb from Dunlop is always the ringer, and Tool Time from Suzuki is in a close second. Of the riders, I am curious to see how Nico Izzi does this year since I know he's been practicing every night in order to win.

What about the outfits? I noticed Rick Johnson had his own bowling shirt last year. Is there a prize for the bowler that looks like Jeffrey "The Dude" Lebowski?
No, we don't have any prizes, but there definitely should be. If Roger DeCoster grew his hair from those '70s pictures I always see, he may be some stiff competition for that award.

What time does everything get underway?
Our doors open up to the public at 5:00 p.m. We have a reception for the invited guests that begins from 5:00 p.m. until 6:30 p.m. We serve a spaghetti dinner until 7:00 p.m. While all of this is going on the silent auction is up and running. We close the silent auction before 9:0.0. pm and then we do awards and have open bowling.

Where can people go for more information about MotoBowl?
They can check our website out at www.wmxf.org or they can email me at agress@wmxf.org.
Anything else you want to mention?
We want to thank the industry and the "celebrities" who come out and help us raise money for our sport. We would also like to thank our title sponsor, Monster Energy Drink. Without their support, none of this would be possible. We have recently just donated to some people in need, and with their support we have been able to do just that.
For directions to Concourse Bowling Center, click here.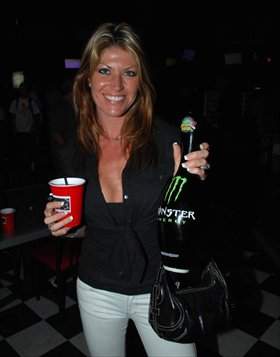 Can Erin Bates bowl? Find out Thursday!