5 Minutes with ... Paul Whibley
New Zealand's Paul Whibley is the ultimate journeyman off-road racer. After spending time in Europe, he's raced the Can-Am Grand National Cross Country Series here for the last three years and has become a real title contender. After riding Hondas for Scott Summers for two years, Whibley switched to the FMF Suzuki team this year to campaign their new RM-Z450, and over the weekend he delivered the bike's first win at the super-muddy Wiseco John Penton GNCC in Ohio. Consider the reliability of that bike and rider well proven. For more, we gave Paul a call this week.
Racer X: Well Paul, what's the week like after a win?
Paul Whibley: It's pretty awesome to win, yeah, it's good, but my ultimate goal is a championship and there's a long way to go.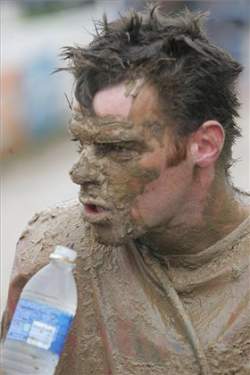 Paul Whibley won the very muddy John Penton GNCC

photo: Jason Hooper

Well you've been pretty good at every race this year.
Yeah, but I had a bad race at Loretta's, at least a bad race from my perspective. We had a few weird things go on there.
Yeah well I heard at Loretta's, you ran into a rider while pulling into the pits, and then he came over and attacked while you were pitting!
Yeah [laughs]. It was pretty crazy.
Did you all hit the ground?
Yeah, I guess he got up and he was mad, so he shoved us. I hit the ground, and the bike fell down. The fastener was sticking out of the top of the gas cap, so gas was spilling everywhere. We were all on the ground for a few seconds.
This past weekend was one the weirdest races ever. You've raced all over the world, and you think this is one of the worst you've ever seen?
Yeah. I can only think of one other race that was this bad, it was one of Paul Edmondson's Fast Eddy Cross Country races in England. Same thing, we had a big thunderstorm just before the race began, and there was water everywhere. But it wasn't as bad as this one. But the same thing happened there as happened here. First, they had to cut the race a half hour short because it was so bad. And then, Eddy was leading it and everyone expected him to come around and win, and then I got into the lead on the last lap and won! It was just like this one.
Yeah that's the same thing that happened here. Do you have any idea how you got the lead on the last lap?
Not really. The track, people were just going everywhere. I just kept plodding along and got into the lead. Sometimes that works out.
The goggles thing, this weekend, a lot of riders weren't even bothering to get them. What was the story there?
The goggles would last about a half a lap for me, and after that I could ride faster without them. The biggest problem for me was the gloves. They kept getting wet and I couldn't hold on. So every lap I would have to stop for gloves and goggles. And Shane (Nalley, Suzuki mechanic) would pressure wash the bike. That was good.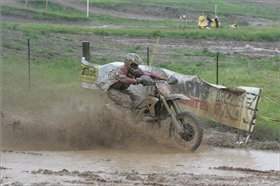 That's a new EFI Suzuki RM-Z450

photo: Jason Hooper

Yeah you guys were pressure washing during the race. Who came up with that idea?
Shane did. Before the race, he said he planned to do it. It was cool.
You were in the lead at the beginning. That has to be the first time you ever led a race from the beginning.
[Laughs] Yeah that's not my style. I didn't get arm pump like I normally do, but my arms were tired just from holding on so tight, because everything was so slippery. I got an average start, and I think so of the other guys might have been going too fast, because I was just trying to play it safe and then I was in the lead.
Then you lost the lead when a fan pointed you the wrong way?
Yeah. I guess the trail was blocked, so a guy told me to go another way. I ended up off the track and losing a lot of time. I couldn't figure out where I was supposed to go. Same thing happened to Knighter, he ended up with me, and we were just riding around trying to figure out which way to go! He yelled "Over here, Whibs!" and went back where we came from.
And you didn't know what position you were in?
I didn't after that. But another funny thing, on lap two, when I stopped, they told me I was in the lead. Glenn Kearney went past me, and I thought "Okay, I'm in second now." But I talked to him yesterday, and he said he was a lap down at that point. And it was only the second lap! So I guess he was having some bike problems or something.
Was it fun, or was it torture?
It was tough, but I didn't look at it like I would be busting my ass for a good result like in a normal race. Yeah you're going to get mud in your eyes, yeah you're going to get stuck, yeah you're going to be wet and cold, but you're not really attacking like in a normal race.
And this one proved those new fuel-injected Suzukis run.
Yeah, the bike worked perfect all weekend. It never sucked in any water or anything. The Suzuki, it has good response with the fuel injection, but it also has a good, controllable power delivery, and it actually works really well for off-road.
In a muddy race like this, it doesn't get hot and hard to start?
No, the cool thing about these bikes is that even when you do tip it over, it keeps running. They have some sort of sensor that will shut the bike down after awhile, but in the races, if you just tip over, they don't stall. I've probably only had to start it once all year.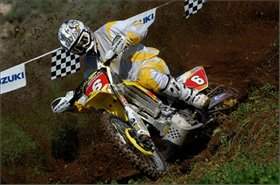 This is what Whibley looks like when he's clean

photo: Kinney Jones

You're like the ultimate racer. Year round, New Zealand or in the U.S. you seem to be racing. Do you do like 50 races a year?
Yeah, I added it up, and few years ago, I raced a race every weekend. For here, the racing is intense, and I find the racing is the best form of practice. When I go back to New Zealand, it's kind of fun racing. I've been pushing it racing over here all year, so when I go home, all I want to do is relax and ride my bike.
Ben Townley told me that in New Zealand you used to race everything; supercross, motocross, whatever.
Yeah. In New Zealand, you were not allowed to race off-road until you were 18. It's not like that now, but that's what it was when I was younger. I always wanted to race off-road, but I rode motocross and supercross until then. I've always wanted to race the GNCCs, because the three-hour format suits my style better than sprint races.
Well good job, Paul. Anyone you want to thank?
Yeah my girlfriend Kathrine who is a big help, and everyone at the Suzuki team.
(Check out an extended interview with Paul right here.)