5 Minutes with ... Andrew Short
Earlier this week we ran some Racer X Flash Trivia and posted a photo asking you all to identify the year and the rider. We received a plethora of responses and various answers ranging from Ricky Carmichael and Scott Sheak to Erick Vallejo and Brad Hagseth. But as you've probably realized by now, the rider is Andrew Short and the year is 2001. (We'll announce the three winners in Racerhead on Friday.) Anyway, we decided to call Andrew today and see if he remembers that year, and while we were at it we asked him a few other questions. Check it out...

Racer X: Do you surf the web much, Andrew?
Andrew Short: No, not really that much.
The reason I ask is because earlier this week we ran a picture of you for our online flash trivia contest asking people to identify the rider. It was from Glen Helen in 2001. Do you remember that year?
Yeah, with Kawi. I was #79!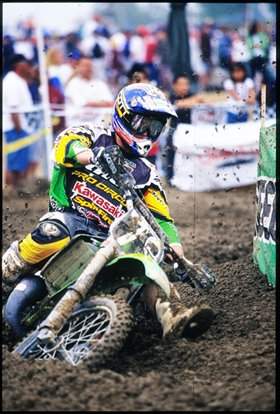 That's Shorty!

Yeah, you were on a Pro Circuit Kawasaki...
Yeah, I was doing like a tryout-type deal that year. Me and Josh Woods were on the program with Team Green, and we got to do the first three supercrosses and the first three outdoors, just to kind of see how we did and get our feet wet.
Your result from that particular race at Glen Helen was 16-20 for 22nd overall.
[Laughs] The tryout didn't go that well, as you could see! It was a good experience for me, though. I was still riding amateur nationals in the pro class, and also rode a national every once in a while just to get going and see where I was at.
Didn't you race Loretta Lynn's that year, too?
Yeah, and I actually won! It was the only time I won at Loretta's, so that was good for me. It was kind of disappointing though, because I had a great opportunity with a good bike and good people, and I was expecting to do a little better, but it didn't turn out that way. At the end of that year I thought I had what it took, and I was hoping to continue on with Mitch's team, but my good friend Paul Lindsey helped me out and I moved on to Motoworld Racing and it ended up being a great situation for me because it was less pressure and it let me find my way. In the end it worked out for me!
Switching gears, man, I thought you had a win in Seattle!
[Laughs] Man, I did too!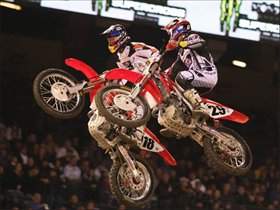 Andrew narrowly edged out his teammate Davi Millsaps (118) for third overall in the Monster Energy SX series.

Tell us about your supercross season.
My supercross season started off really slow. In the off season I felt I had a lot of speed and endurance and a lot of the elements it took to get up there on the podium, but I just put myself in a lot of bad situations; I was getting bad starts and was crashing. As the season went on I learned a lot and started getting up there on the podium. It was a good feeling for me and at the end things just kept getting better for me. I was fortunate to stay healthy. It was my first full season, so I learned a lot and gained a lot of confidence.
You had a total of five podium finishes, and they were all third places. What did you need to put you in the top two positions?
Definitely more speed. I don't think there was one time all year where the gate dropped and I was on Chad's or Kevin's pace. So obviously I need a little more speed and a little more mental strength. All of those little elements, it's a combination of everything, not just one thing. That's what's cool about our sport; it takes a lot of different things to win.
Things got pretty heated with you and Chad Reed towards the end of the series. You want to elaborate?
That's racing. He was in a pretty big situation with the championship, and like you said, I finished third a bunch, and at Seattle I was put in a spot where I was fighting for second; we had three corners to go and I was still in second place, and I guess he wanted me to back down and not race him. I don't know, I think I did everything right. I raced as hard as I could. But, I went on vacation to Hawaii after Vegas, and I read Racerhead from the week before Vegas, and he cracks me up, because after the race I didn't even say a word to him, and he's saying that I was doing some stuff. But it's just different personalities. I respect him as a racer. He's really fast and does a lot of things that I look up to, but I don't agree with his mentality of wanting me to let him by, or team tactics. I race him the same way he races me. It's just a part of racing I guess. It's a long series and when it comes down to the last few races, there are a lot of emotions. That's how it should be. If not, there wouldn't be any reason for the fans to show up or for the manufacturers to race. I was excited to just be in the mix.
Well, moving on, how are things with the Honda Red Bull Racing team?
Things are going well. Davi [Millsaps] and I had a strong supercross series, and we're two young guys that they brought up and I think we were where they expected us to be towards the end of the season. At first it kind of started off rough, and Ivan [Tedesco] and Ben [Townley] got hurt, which was a bummer. But I think for outdoors, all four of us are healthy and ready to go for the first round, and I think the team has a lot of talent and a lot of good people, which is fun to work with. We're just all real excited to get racing.
You think it's going to be weird with all four of you guys racing against each other and being in the same truck?
Yeah, it's going to be interesting. All four of us haven't been healthy and racing at the same time. But I expect big things from all my teammates. We've been testing and a lot of us have the speed, and we all want to beat each other, so there's a lot of competition. It's good testing together, too, because we all push each other.
Are you guys all riding together now?
Well, Ivan and I are out at Glen Helen today, but Davi and Ben went back home.
Who looks the best right now?
[Laughs] Me! No, I'd say we're all pretty close. You never know till the gate drops. The checkered flag will tell the truth.
You looking forward to motocross?
Oh, for sure. I learned a lot last year and the big bike is a whole different animal outdoors. It's a long season and I felt I did really good last season. I was in the hunt for the championship at the end, so I'm looking for more of the same. I want to enjoy myself more, too. It's just really cool that I get to ride the bike that I do with Honda and to be associated with those guys.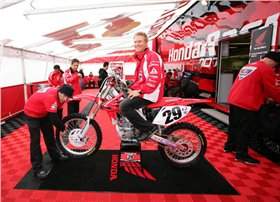 "Gothic" Jason Haines torques Andrew's spokes

Your home-state track is having a night race this year! How cool is that?
I can't wait! It might be a little sketchy in places, but I think it'll be really cool for the fans and riders. It's a good thing for the sport in general. The first year there might be some hiccups, but in the future it might be the way to go. It's really cool for the state of Colorado just to have a national, and now to have a night race is awesome! I think the promoters do a really good job and I'm always excited to go back there and race and just be part of that event.
One other thing; there has been a lot of silly season gossip lately, so what's your deal? Is your contract with Honda up?
Yeah, my deal is up, and I'm just waiting to see what happens. I'd love to stay at Honda. They've always been really good to me and they have a really great bike and a lot of good people. This whole program is first class and I'd love to continue, so we'll see what happens.

To learn more about Honda Red Bull Racing, click
here
.