Privateer Profile: Forrest Butler
At the Monster Energy Supercross Awards Ceremony this past Sunday night, the Team Manager of the Year Award went to the DNA Energy Drink/BTOsports.com/BBMX's Forrest Butler. To say that he was in shock is an understatement, yet he still managed to keep himself composed at the podium in front of the entire supercross industry. At 31 years of age, Forrest is one of the youngest team manager/owners, and you have to be impressed with the operation he has going. We called him up today to talk about their 2008 supercross season. To learn more about the team, check them out online at www.butlerbrothersmx.com.
Racer X: Forrest, wait, you're not on vacation yet?
Forrest Butler: [Laughs] No, I'm actually going on vacation next week, and we stayed an extra day in Vegas. But these past few days I just have been catching up on some work.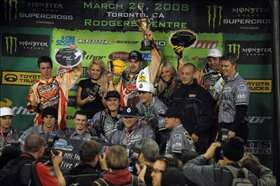 The BBMX team swept the Lites podium in Toronto

photo: Steve Cox

Are you catching up with team stuff, or do you have another job besides BBMX?
Yeah, I have another job with insurance. At the end of my racing career, I moved into that, and that's what I was just supposed to do full time. And then the team evolved in 2004, and it just slowly got bigger and bigger and it pretty much consumes my life. But I'm an insurance agent from home, and I work for the family agency, but most of my time is dealing with the race team.
What's the name of the insurance agency?
Butler, Buckley, and Deets.
Well, congratulations on getting the Team Manager of the Year Award at the SX banquet! Did you have any idea?
No, not a clue! None at all!
But you did have a piece of paper in your pocket ready just in case. Good job of being prepared!
[Laughs] If anyone could've seen the piece of paper, all it was were names of all the guys on the team, because we have about 20 of them. To be completely honest, I took a list of the guys just in case we got anything. I thought maybe we had a very small chance of getting the 100 percent award for the team, or something like that.
Getting that award had to make all of the hard work worthwhile.
It really does. I don't know how to explain it. Every racer has stories, and I definitely won my fair share of races back in the day, but I never won anything that wasn't athletic. So receiving this award, it's still a shock. I still don't believe it, just because I don't see myself on the level of factory team manager. And also the fact that it was voted for, wow, thanks to everyone!
Let me put you on the spot: What was more rewarding: sweeping the Lites podium at Toronto or getting this award?
Getting the award, for sure! I was already asked this, but getting this award just wiped my mind completely clear of all of the worries I have had throughout the season.
I'm assuming it's safe to say that your team exceeded the expectations this year.
Yeah, for sure. Willie Manning and I had a goal this year just to build competitive bikes and if we got one podium all year, that would make the year. And between Toronto and all of the heat races, we had seven podiums, so that meant a lot.
Are the results the most important thing to you, or just having a professional appearance and presence in the pits?
I definitely feel everything is important, but at the end of the day it's the results that count. With what we do, it's a combination of everything. When we achieve something, we know of all the hard work that went into it, so it's pretty rewarding.
You have to be one of the youngest team managers ever. How old are you, Forrest?
I'm 31.
People are always wondering how you guys do it. I mean, having one semi truck has to be tough, but you guys have two!
Yeah, it goes with the question you asked me before about the presence in the pits—it's pretty important to us, and I think that's one reason we're so grounded. I don't want to stick my foot in my mouth, but I think one day I think we can win and possibly become a championship team. Over the past few years, we laid the groundwork and we've kept improving each year. We started from nothing but marketing; there were no results. I think the future is looking bright for our team.
You're definitely in this for the long haul, huh?
Oh, for sure. If not, I might as well declare bankruptcy!
Is the goal to be a full factory-supported team one day?
Oh yeah, for sure. I think one day you may see the four factory teams go away and you'll see more satellite efforts. Being that we ride Hondas, the Geico Powersports Honda team is what we look up to. They backed off to one semi this year, but it's business and everyone has their reasons. This past year, we could afford to have two semis, so that's what we did and that's our plan for next year. But if the economy changes we might cut to one. But whatever it may be, business comes first with the team. We have to run it like a business or it's not going to be around.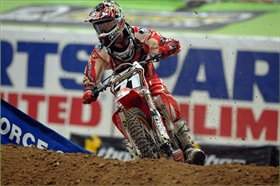 Kyle Keylon looks ahead

photo: Steve Cox

For people who don't know, give us some background about yourself.
We rode when we were little. My dad and uncles raced, and we were doing hare scrambles stuff, and then we got out of that and got into football. In '93 we got back into motorcycle racing, and from then till now it's been C class to where it is.
Did you ever imagine you'd have your own team?
No, there was never a plan for a team. The three brothers being pro at one time and being pretty equal, it just evolved from that. At first when we tried to do the team we were just trying to get better stuff for ourselves, just like any racer. In mid-2005 is when I thought I could make a business out of this and took out my first loan.
You're probably definitely experiencing the fact that once you're in the industry, it's difficult finding time to ride yourself.
Yeah, actually, last week was one of the first times I put a leg over a bike in over 14 months. I raced the Mini Os in Plus 25 in 2006, and that was the last time I raced. Work is just overwhelming!
Tell us about the team headquarters.
The team is based in Miami, and then the race shop is up in West Palm Beach. And all the riders are then set up at home. We travel a lot for testing, but motors are brought home by the mechanics. This year in the Lites class, we knew what it was going to take to be competitive, and that was having good engines and good mechanics to do the work.
So, what's the plan for the outdoors?
We're only doing five nationals as a team. The riders are doing different ones. Matt Boni is doing four extra ones, and Cunningham is doing the two California rounds. It's nothing to do with us not liking outdoors; we love the outdoors, but it's a business decision we made this time last year, and it just wasn't financially feasible for us to do all 12 rounds. We chose to stay at home this summer and start working on 2009. Hopefully next year we can get stronger so we can do outdoors in '09.
Will we see a truck at Loretta Lynn's this year?
Oh yeah, for sure! Unless I'm kicked out, but still to this day, hands down, Loretta Lynn's is my favorite place to be. Having the semi there is awesome. I love being there and I love supporting it.
You also support an amateur rider, right?
Yeah, we have Lucas Crespi. Again, we're on a small scale of what Factory Connection is doing, but we're sticking with him and he's been slowly coming up and next year he's going to be riding the outdoors. We're expecting good things from him.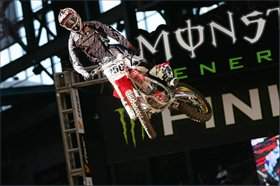 Bryan Johnson whips it

photo: Simon Cudby

Can you give us any idea of who will be on your team in 2009?
[Laughs] That's confidential team information!
Last question: Who is the Butler Brothers MX employee of the year?
Oh man…our rider of the year is JT [Jason Thomas], for sure. I know that Skinner won his first race and all that; they all did good. But at the end of the day, JT is one of those guys that is often overlooked, but he's so solid. People don't realize how tough the AMA Supercross class is, and he's always there and making the main event. He came from a crappy start of the season and pulled through. And as far as mechanics, every one of them is an employee of the year. They all step up and bend over backwards to make the team work. It truly is a team effort, so I just want to thank all of them.
Well, it's Friday, so we'll wrap this up. Congrats again, Forrest.
Thanks, Billy.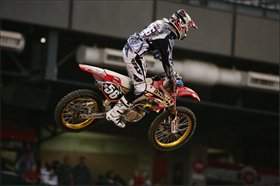 The Toronto SX Lites class winner: Shaun Skinner

photo: Simon Cudby

BBMX team sponsors:
DNA Energy Drink, BTOSports.com, Rick Case Honda, WMI Racing Development, FLY, Stellar MX, Bel-Ray, FMF, Sunline, 661, Wiseco, X-Brand, Visuwalls, ASMF, ICW, Dunlop, QTM / Talon, CV4, Exceldine, Applied, Dream Traxx, MX Press, Regina, Sponsorhouse, Twin Air, Ogio, Acerbis, Mx ID Systems, DeVol, Leatt Brace, FLmx, Reactor Watches, Merge Racing, Group D, Pit Posse, Alpinestars, Kinetic Animation, Engine Ice, Seminole Tribe MX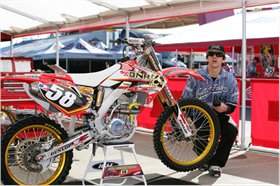 Paul Perebijnos tunes the spokes
photo: Simon Cudby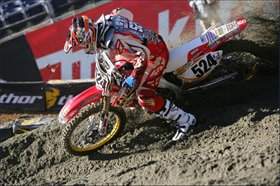 Brandon Butler
photo: Simon Cudby