Privateer Profile: Michael Willard
You might know him as a two-time Canadian national champion. Or maybe you remember him as the guy that qualified for the Seattle Supercross last year on a KTM125. Either way, Michael Willard is quietly growing his list of accomplishments. He put in a top ten ride in Seattle last weekend and he is the subject of this week's Sponsorhouse.com Privateer Profile.
Racer X: Seattle has been good to you, Michael. You made some money last year by getting into the main on a 125 and this year you pulled down a ninth in the final.
Michael Willard: Yeah, last year they had a purse saved up for anyone that got in a main on a two-stroke. I think I made about $5,000 that weekend. That was nice. This weekend I really didn't even ride my Honda much. I'm going to be riding Yamahas outdoors so I've been riding those. I came out last week and rode my Honda a couple days and headed up there. I got sick from the plane flight up there. I was feeling like crap on Saturday. Then, I didn't make it out of my qualifier; I got second in the LCQ. I got a pretty bad start in the main, too. There was a big pile up in the second corner and I kind of weaseled around that. Then I just put in consistent laps for the rest of the race and passed a few guys. I didn't even know I was in the top ten until my dad told me after the race. I was pumped.
You've been riding for the Cycra/Roland Sands Designs team until now. What is your new team for the summer?
There a shop in Ohio right next to Cyrca; it's called K&G Cycle. They are putting together a deal for me for the summer to ride a 250F. It's pretty much the same deal I had on the Honda but just with a different brand. The guy that owns the shop, Al Charles, he does my motors on my bikes. They are really good so I'm pumped for the nationals. I'm also working with Fox Shox again and they have some really cool stuff coming out. They have a new shock that has all kinds of external adjusters. You pretty much just put a standard valving in it and then adjust everything from the outside. It's bad!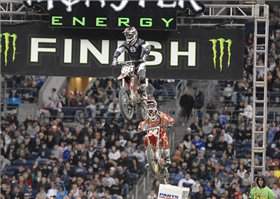 Willard finished 10th in the Seattle Lites main.

photo: Steve Cox

You've been up in Canada every summer for a while. Why didn't you go this year?
The last three years I've been going up. After you win two titles you can't go back and ride the 250 class again. This year they made the 250 class one big series instead of an east/west thing. I thought they would open it back up after that but they didn't. And I didn't get an offer to ride a 450 so I put something together to race here.
So, screw Canada… Is that what you're saying?
[Laughs] No, not screw Canada. I figured I'd try it out down here and see how it goes. I always had a good time in Canada.
How did Supercross go for you this year?
I think I ended up 17th overall on the west. My goal was to be top 15 in every main. I didn't quite get that; I missed two mains and then got 17 in another one. But, the rest of the season went well. And I finally got a top ten last weekend so I was pumped with that.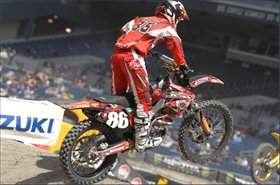 After riding Hondas in supercross, Michael is switching to Yamahas for the AMA Toyota Motocross Championships.

photo: Carl Stone

Where do you think you can be this summer?
I want to be top 15 every weekend. Outdoors is more my thing so I am looking forward to it. Hopefully I'll be ready for it. I have a trainer from Ohio that trains some Olympic guys and he really helps me with my diet. That is big for me because I'm a junk food eater. Hopefully I can put in a good season and get something hooked up for next year.
You are staying with Zach Osborne out here. Are you staying with him all summer?
We leased an apartment in Corona together here for the winter. We are both leaving after Sacramento and driving home. I'll probably spend some time at his house in Virginia this summer. He's got a couple great tracks back there so it makes it awesome for doing motos. He also has some land in South Carolina with a couple tracks on it down by Camp Coker. We'll probably roll down there this summer, too.
Who has been helping you out?
Cycra, Roland Sands, Parts Unlimited, Moose, Motorex, Pirelli, One Industries, Von Zipper, Renthal, Twin Air, Championship Powersports, RG3 and Fox Shox.
Good luck this weekend and the rest of the summer.
Thanks Ping.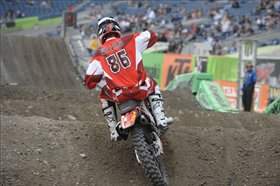 Keep an eye on #86 this summer!
photo: Steve Cox