5 Minutes with ... Ryan Dungey
Team Rockstar Makita Suzuki rider Ryan Dungey began his 2008 season with a bang, winning round one at Anaheim, placing second at Phoenix, and winning again at Anaheim 2. But then things slowly started to come unglued for the friendly teenager from Minnesota. His quest for the #1 plate ran into trouble at the rain-lashed San Francisco Supercross, where he finished seventh while soon-to-be adversary Jason Lawrence won. Lawrence won the next two rounds, capping his late-series run with a runner-up finish at San Diego. Dungey floundered, going 11-6-4 in the last three rounds before the long break between Qualcomm and the series finale, set to run inside Qwest Field this Saturday night in Seattle. Six points down on Lawrence, he has just put the finishing touches on a training program he hopes will allow him one last lunge at the AMA West Region Lites Supercross Championship.
Racer X: Ryan, what do you have going on today? It sounds like you're in an airport.
Ryan Dungey: I am in an airport. I'm just getting ready to leave Florida and fly up to Minnesota tonight. I'll sleep in my own bed for a night and then head out to Seattle.
How long have you been down in Florida?
I've been down here in Florida since Minneapolis ended. Flew out to California to some outdoor testing and some supercross testing, also. But besides that, I've been in Florida the whole time.
You've been staying at James Stewart's place, correct?
Yes, exactly.
Do you guys interact with each other much when you're down there?
Yeah, we talk a lot. We do a lot of stuff together. I see him every day.
Does he watch you ride at all?
He does. He helps me with some things that I can be better at. He'll watch me do certain sections and we'll talk about it. He helps me out.
Have you spoken with James about Seattle?
Yeah, we definitely talked about it a little. We talked about preparing for it. We talked abut where to finish, what would happen, where everyone ended up. We pretty much left it at that.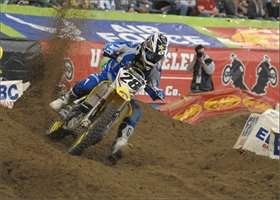 Dungey finished a very impressive second on a 450 in front of his hometown crowd in Minneapolis

photo: Matt Ware

Did you get to watch Jason Lawrence compete in the ESPN Moto X Championship supercross race?
No, I didn't. I didn't even know it was on TV. I heard what happened, though. I heard he fell on the first lap and pulled off. [Broc] Hepler went on and won it.
Have you heard from Jason at all?
No. The last I heard he was in some big confrontation. I'm not trying to be funny, that's just the last thing I heard.
I asked Jason about you and the championship showdown in Seattle and he wasn't by any means taking you lightly. I asked if he had watched you race the 450 and he replied, "I saw him and he was doing good." I also asked him how he felt about his point lead heading into the final round and he said, "But it's only six points and I still have to go get a third if Dungey wins that race."
That's interesting to hear.
After the Houston Supercross, I had a cup of coffee with Johnny O'Mara. During the conversation the topic came up that there was a good chance you were going to try racing the 450. Johnny seemed to think it was a good idea because the break between Houston and Seattle was so long. He felt that racing would be good for your motivation and confidence.
Yeah, like you said, there was, what, eight weeks between Houston and Seattle? And the last round I did at Houston was not a good race for me. I was not happy. When racing the 450 came up, at first I was like, Man, I do not want to make a fool of myself. Bu then I looked at it and thought, What if I do good and pull off a podium? Then what? So then I was like, Let's do this. So we went to the Suzuki test track — the whole team was there to check it out — and my lap times were good. It was just a matter of doing 20 strong laps. It wasn't until Minneapolis that my fitness finally kicked in and I was able to run hard all 20 laps.
What was the pace of the top 450 riders like? Was it more or less than what you expected?
The speed, at the first race I did at Indy, surprised me. It was not exactly what I expected. The guys were faster than I thought they would be. I'm not going to lie: Doing 20 laps at a hard pace was difficult. I realized that everybody is fast. I ended up liking the extra laps, though, because it takes more fitness to do the five extra laps on the 450. The bike is heavier and has more power and is harder to hold onto. I liked that racing in the class comes down to fitness. The three races I did — Indianapolis, Daytona and Minneapolis — went great. I felt great on the 450. I think racing in the class was really good for my future. I think it'll make me improve on the 250F. And when I do move up to the 450, it won't be such a new thing. I'll know where I'm at in the class. It was a great experience. A lot of positive came from it.
You placed second in Minneapolis. How did it feel to stand on the podium at your hometown race?
To be on the podium is great, but to be on the podium in front of your hometown crowd is even better. That's always a good thing. It was not a win, but I was second and I was happy with that. It was a great night to hear the crowd cheering like that. I felt like I knew everybody in the stadium. Having all the people screaming for you like that.… You work your whole life for something that awesome.
When did you go back to riding the 250F?
Right after Minneapolis. It took me a few days to get back to Florida, but once I did, I have been on the 250F since.
RD28 trails Jason Lawrence by six points with one race remaining.

photo: Simon Cudby

Okay, the big question: can you still win the championship?
First of all, it's not over until it's over. Whatever can happen, will happen. I have a game plan and we'll see what happens. If it happens, great. If not, I'm not stopping. I'll just keep going. I'm not going to give up on myself. If I can pull it off it would be great. I'm going to try and make it happen, but nobody can do it for you. I'm going to try and put myself in a good position. I'm going to try and get a good start and get away. The rest of the situation will sort itself out in back of me.
The Canard and Villopoto showdown last Saturday night was a classic example that anything can happen in racing, huh?
Yeah, any situation like that can happen. I was listening to the race on the computer. Canard got passed and came back and passed Villopoto. It was a good fight. I think everybody had made a decision of who would win the championship in their head, but then while listening to the race, Villopoto went down and I was like, "Holy crap! Did that just happen?" I was pumped for Trey. He deserved it. Like you said, things happen in racing and it's not over until it's over. I'd definitely like to be on top on Saturday. I'll do my best.