Privateer Profile: Tyler Bright
Tyler got his first arenacross win this year and he was hoping to carry that success into the bigger stadiums of supercross. While he didn't get a win, Tyler did make a few mains and get some experience in the big show. His ride with the Bad Boy Energy Drink Honda team is ending after Las Vegas and Bright is looking for a ride to the nationals. We checked in with him to find out what he has going.
Racer X: Tyler, you had a breakout season in arenacross this year. Tell us how supercross has gone for you.
Tyler Bright: I got picked up by Rick Ware and his team right before Atlanta and I've been doing it ever since. It's been going really awesome for me. I made the Daytona and Minneapolis mains but haven't made the past few; but I've been close. Overall it has been a great series for me.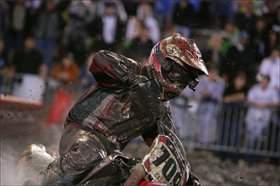 Bright qualified in Daytona and finished 21st.

photo: Simon Cudby

How is that team working out for you?
Everything has been working awesome. Rick Ware, Ronnie, Cal, and everyone on the team has been working really hard. Their hard work motivates me to go out and work really hard during the week. That's always a good thing.
Are you finishing out the season with them?
Yeah, I'm doing Seattle and Vegas and then my deal with them ends. I'll be on my own for the summer as of right now. I've been asking around looking for some support but if it comes down to it I think I can get on with the Wonder Warthog guys. But, I'd love to get on a full-on team for the summer.
What has been your best result so far?
I got a sixteenth in Minneapolis in the final. That was my best finish so far. I know I can improve on that and hopefully at one of these last rounds I can get in there and prove it.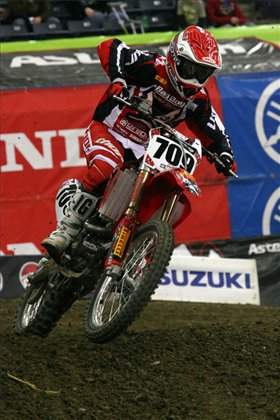 He improved to 16th in Minneapolis.

photo: Matt Ware

You've been very successful in arenacross. What's the difference between those and the supercross series?
I think the bigger tracks are the main difference. And also the competition is so much faster and deeper than in arenacross. I like the long laps because I'm in great shape. It also helps being aggressive. In arenacross you have to be aggressive the whole time or someone will catch you and pass you. That helps out a lot.
What are your goals for the nationals?
I'm looking to be in the top twenty every single moto. I want to get some points and get me a national number for next year. Those are my goals.
Would you rather ride a 450 or a 250.
I'll ride anything, but I prefer the 450.
How did you do in the nationals last year?
I did six or seven and I qualified for five of them. My best finish was a 20th at Mount Morris. I've improved a lot since last summer and I'm anxious to get out there and show people what I've got.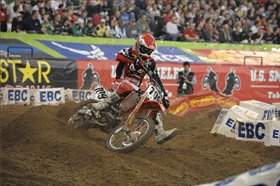 Tyler is looking for a ride for the AMA Toyota Motocross Championship. If you're interested in getting in touch with him, e-mail us at online@racerxill.com.

photo: Steve Cox

Who has helped you out this year?
Rick Ware and Bad Boy Power Drink, Cal at Full Travel Innovations, Pirelli, Thor, Bell, Alpinestars, Scott, FMF, Applied, Hinson, Carbon Fiber Works, VO, Cometic Gaskets, Vortex, Enjoy, Hammerhead, and Regina chains are the guys behind me.
What do you want to say to someone that is looking for a rider this summer?
I'm a hard worker and I would love to get a chance to do the nationals on a good team and show them that I deserve to be out there. They can call me on my cell phone at (336) 225–2631.