5 Minutes with ... Justin Brayton
MDK KTM's Justin Brayton jumped into the 450 Supercross class in St. Louis and, like so many young riders this year, did pretty well. Justin went and led his heat race for a few laps and then scored an impressive seventh in the main event. This comes on the heels of a pretty good ride on a 450 at ESPN's Moto X World Championships.The 24-year-old from Fort Dodge, Iowa, has been climbing the ladder of professional motocross one rung at a time. He's spent a few years in the Arenacross grind before getting a shot this year with MDK. After such an impressive debut, we thought we should track him down to find out more.

Racer X: Justin, congrats on your finish. What are your thoughts from the weekend?
Justin Brayton: It was just a lot of fun, really. It was so last minute – I found out Tuesday before that I was going to race. I had to go and switch back to the 450 and get used to it again. It was awesome for me. The bike worked really well and I had just gone there to have fun.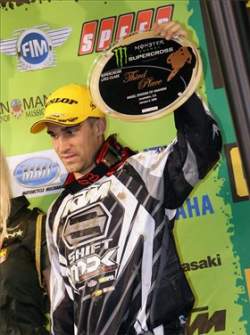 Justin Brayton finished on the podium at Anaheim 1.

photo: Simon Cudby

Did you spend a lot of time on the 450 before showing up at ESPN's Moto X event?
Yeah, I have been doing some outdoor testing on the 250F during the week and would grab a 450 on the weekend to go ride – just on a Saturday or whatever, go and put some laps in on the supercross track. I had no testing time on the bike, I only rode it four or five times before the ESPN thing and then I was planning on switching back but got the word that they were going to let me race St. Louis, so I prepared for that. My bike had a bone-stock motor, just a little bit of suspension work for me and I was set.

What was going through your head when you were leading your Heat race?
Well, I always knew that I was a good 450 rider, I had just never done it on a supercross track before. I feel at home on the bigger bikes. I remember back in the arenacross days with 125s and 250s, I always seemed to do better on the 250s. I knew going in that [Chad] Reed and [Kevin] Windham were out of reach, but I thought I could fit into that next pack, you know? I just got a good start and [Josh] Hill got me on the third lap and Windham on the last lap, so that was good. I just kind of rode around out there and did my thing. It was cool.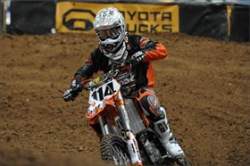 In his first AMA Supercross at St. Louis, Brayton finished an impressive seventh in the main.

The KTMs seem to get a bad rap from people when it comes to supercross. How is the 450 for you?
I think the bike is very similar to a 250F – it feels real close to the same – it just has more power. As I said, my motor was bone stock and I loved it. It's a great bike and is as competitive as any of the Japanese bikes out there. I know it gets a bad rap but I hope that one day I'm the guy that can prove all the critics wrong. I can see it winning supercrosses one day.

Were there any surprises to you in the main event – anything that was maybe easier or harder than you thought?
Not really. The 20-lap thing is a long time. You wouldn't think the extra five laps would be much of a difference, but it is. It's a long time. The last five took forever. Around lap 10, I landed on a tuff block, and then Davi [Millsaps] got me with five or six laps to go. At that point, I was in defense mode. I knew that I had done pretty well for my debut and just wanted to get it done. I didn't really get that tired, I just didn't want to make any mistakes like hitting another tuff block.

What about your Moto X Championship experience?
That was cool. ESPN definitely knows how to treat their athletes. We got a ton of time on the track – we had two full practice days on the track before the race. I just got a horrible start in the final. I felt like I had the speed to win but by the time I got to third, [Nick] Wey and [Broc] Hepler had already checked out. I got a lot of time on the bike to get used to it, and you do have to ride it different than a 250F for sure. The track was really fun. After the first day of practice, I was contemplating switching back to my 250F because the track was pretty tight, but I didn't do that, and in the end was happy with my decision.

What's your status for next season?
I signed a two-year contract with some performance clauses that I have to meet this year for the second year to kick in, and I hope I make them and I want to stay with KTM for a while. The goal is to ride a 450 eventually, but for now, I still have some goals to meet in the Lites class and I think with another year under my belt in the Lites class, I'll be ready to make the jump in 2010.

Thanks Justin..
Hey, are you going to put me in Observations and give me some love?

For sure man! You rode great and deserve all the love that you get! Who do you want to thank?
I would like to thank MDK KTM for helping me out and letting me ride the 450. I just want to show everybody that the bike can do it. I appreciate it. To all the team guys that work so hard and all of my sponsors, thank you.