5 Minutes with ... Chuck Sun
Chuck Sun grabbed his first Veteran's FIM World Cup points in the mire of the Grand Prix of Spain at Bellpuig last weekend. The sole USA representative took 12th place in an incredible second moto—incredible for the depth of mud, ruts, and water held by the Catalan venue. It certainly was an interesting debut for Sun, the 1980 AMA 500cc National MX Champion, who had support from CAS Honda and should have competed in the inaugural 2007 edition if it were not for an administrative error.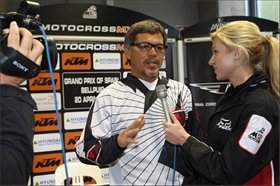 Chuck Sun

Racer X: Can you try to describe that experience?
Chuck Sun: Well, from the worst conditions ever, I never thought I would be so happy with such a poor result! When I got 12th place and scored GP points, I was thrilled. The track was so horrid that if you made it up to the top of one of the hills it was time to celebrate.
So riding was not a blast?
Not really but it was fun in a weird way. You could not see the ruts and the best part was when spectators were pointing to the right line because it was all full of muck. If you got stuck in the wrong one then your race was over. It was a crapshoot but I am grateful to Youthstream and the FIM for organizing a veterans' championship because the reception from the spectators and the fans is amazing. I am excited to come back and have the health to still be racing after 27 years.
How did you find the standard?
I'm really impressed with the depth of talent and speed. There were 17 countries represented out there and it was really cool to a part of that. I train pretty hard but when you have a guy like Peter Iven, who was racing only a few years ago and doing lap-times just five seconds away from qualifying for MX1, then I know I have to go away and work harder on upping my speed for Mallory Park (England) and round two.
Being here in itself is quite a feat?
Absolutely. It is not something you can do on your own. I have to give big thanks to the good guys at CAS Honda for helping me out a lot, and I could only give them a muddy bike in return! I appreciate Honda and all my private sponsors for getting me here. On www.chucksun.com I am logging stuff from the races about my activities and some video clips. I'm also thankful to Glenn McGovern for sorting out my paperwork because we had a small problem last year.
Is it still enjoyable after all these years to get out in those kinds of conditions?
You get all these different voices showing up in your head and some say, "No, no, it isn't worth it," and I would never choose to ride in the mud but then you change your outlook and say this is actually quite exciting. Out of the adversity there were some accomplishments and I am pleased that we got out there. I certainly would not have wanted any more rain!
What is your program now?
I ride a lot of vintage races back in the states and I'm involved in the development of some new and decent products that might help racers and riders out there. I'm heading back to the U.S. now and will train harder to hopefully have something for David Thorpe and Iven at the next round.