Kevin Windham was back in the hunt. He was trailing his rival, Chad Reed, for the AMA Supercross points lead. But at the last race, Reed crashed and came up injured. This time, heading into St. Louis, Windham had a golden opportunity to capitalize. But he didn't.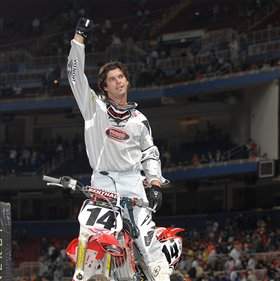 Unlike 2004, Windham was able to capitalize on Reed's injury this time around.
The race we speak of here isn't the 2008 St. Louis round of Monster Energy AMA Supercross, an FIM World Championship. No. Back in 2004, a very similar situation broke out. Chad Reed won the Daytona SX but crashed on the very last lap, and he came into the next round of the series, St. Louis, nursing a sore hip and ribs. Windham had a shot to get back into contention, especially when he closed in on Reed halfway through the main event. But Windham couldn't make the pass, and eventually let Reed get away.

What did they say that night four years ago?

"This week was a pretty tough week for me," said Reed. "I was sore and beat up. Luckily nothing is broken or torn, but my ribs and my hip are sore. But all that matters is 20 laps on Saturday night."

"I was able to tighten it up on him, but I got out of riding my own race," said Windham in '04. "I'm totally disappointed with my performance tonight. At some point in the race, my focus went away from the lead. My focus here for the remaining weeks is to quit worrying about name dropping and lap-time dropping and just worry about myself. It's troubling and upsetting, because I know I'm better than what I showed tonight."

Facing a similar situation in St. Louis this time, Windham stepped up and challenged Reed again, only this time he was able to make the pass and ride away for a victory. Reed's injuries in 2008 are probably worse than what he dealt with in '04, but you can't deny the fact that Windham stepped up under the pressure this time, which is something he really hasn't been known to do in the past.

Plus, some would say that Reed was trying to play mind games with Windham. There was the much-discussed move last weekend when Reed, at least in Windham's opinion, moved over on the #14 while getting lapped. Then there were sightings of Reed driving a go-kart at Pole Position during the week while nursing a broken shoulder blade. As soon as Reed rode well in Saturday's first practice session, doubts began to creep in about the status of his injury. Was he really hurt?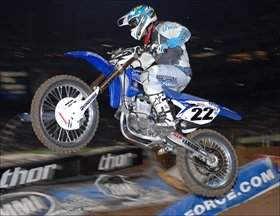 Was he really hurt?
Well, one look at Reed's crash from last weekend should erase any doubts. The crash was a bone cruncher and the two-two had to be hurting in St. Louis. And last week's move while being lapped really didn't look like a take out attempt, either. There's a very good chance that everything Reed is doing is pretty much as it appears, but hey, you don't always get good, dramatic title battles like this in AMA Supercross, so you can't blame people for exploiting every possible angle.

The best thing for Windham is that he's moving past such controversy and just trying to win the races.
Results:
1. Kevin Windham (Hon)
2. Chad Reed (Yam)
3. Andrew Short (Hon)
4. Nathan Ramsey (Yam)
5. Thomas Hahn (Kaw)
6. Davi Millsaps (Hon)
7. Justin Brayton (KTM)
8. Paul Carpenter (Hon)
9. Travis Preston (Kaw)
10. Jason Thomas (Hon)
11. Nick Wey (KTM)
12. David Vuillemin (Suz)
13. Heath Voss (Hon)
14. Eric Sorby Honda
15. Bryan Johnson (Hon)
16. Josh Hill (Yam)
17. Jeff Gibson (Kaw)
18. Kevin Johnson (Yam)
19. Troy Adams (Hon)
DNF Kelly Smith (Kaw)
DNF Timmy Ferry (Kaw)