Hello, everyone, and welcome to the Rev Up. Now it gets interesting. Just when we were ready to watch the series lay down in its waning moments, the roof blew clear the hell off. Now it's time to roll up the sleeves and get nasty.

St. Louis always plays host to a barn burner and each passing year we see crazy things go down. From Emig ending McGrath's 13-race winning streak in '96, to Ernesto landing on Kelly Smith on the last lap in '99, to Chad Reed cleaning out James Stewart last year, St. Louis is where the drama is.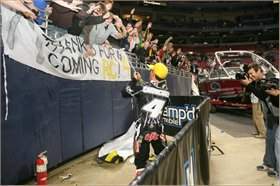 The last win of RC's SX career came here last year. This weekend will be his first real NASCAR race.
photo: Paul Buckley
Well, look at the scene we're preparing for this time! We have RV Park and Ice Trey staring down the East Coast Lites championship. It's a full on "two men enter, one man leaves" scenario for those cats. Then we have the aforementioned Reed laying in a world of hurt. No pun intended. The Thunder hit the deck in a bad way last weekend, but he put his balls on the tank and gutted out 11 of the most important points of his career. I tell you what though, man, shoulder injuries like that are gnarly. It's going to be really, really sore this weekend and the big question is, can he hold on? And, if so, how well? It's been an amazing two weeks in our sport, and it isn't showing any signs of slowing down. Let's take a closer look at both classes and get revved to the moon for the upcoming madness in the Midwest.
Lites
It all comes down to 15 laps for Ryan and Trey. Wouldn't you like to climb inside their heads right before that gate drops and listen to them think? They are both going to say, "I'm just going to go out and ride the track and ride my own race." But the major thing weighing on their mind is that 800-pound gorilla called the 2008 East Coast Lites Championship. There are a couple different agendas between the two. Bottom line, if Villopoto loses the title, it means his supercross season was a total failure. Bum wrist or not, he should have waxed those guys with his experience and resume.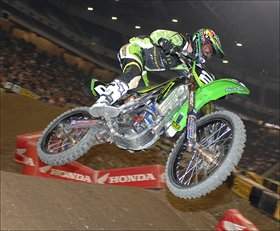 Can RV win the East?
photo: Carl Stone
It's not as desperate for Canard. Trey's already made his roar heard loud and clear and if he loses the title in the final round he can still look at his title run as one of the most astonishing rookie charges we've seen. But he can taste it. He has a chance to grab that gorilla, choke him out, and pile-drive the bastard through the floor. Let's all hope both warriors have strong practices, win their heat races, and line up elbow to elbow. It's going to be good, folks. I think Canard is going to go for it.
Supercross
How hard is it to win a Supercross championship nowadays? Two years ago, Ricky Carmichael won his last Supercross title after suffering a huge endo (at St. Louis) then blowing a shock in the main event later that night. A couple weeks later he whiskey throttled into the back of a freaking boat, and mowed down a pack of photo hounds. He didn't win the title until the last lap of the Vegas race on live television.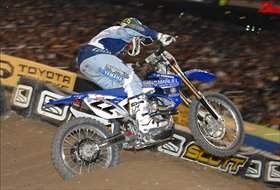 Can Reed tough it out in the next three rounds?
photo: Carl Stone
Last year
James Stewart
had some really big crashes on the way to his first title and was at risk of throwing it away all season. Only the hard and the strong can wear the title belt in our sport. How strong is Reed? I'm not trying to blow smoke here, but he should have been toes up on the couch after that slam last weekend. That Aussie is tougher than 20-year-old Bazooka bubble gum. With three rounds remaining, he may need more than toughness. Riding supercross is dangerous and you can literally wreck at any time. When you ride supercross favoring one side of your body that chance for disaster becomes even greater. I'm nervous for him and his team.
Can Kevin Windham finally capitalize on Reed's misfortune? He hasn't yet. With Josh Hill, Davi Millsaps, and Timmy Ferry riding at full song, KW is going to have to get pissed off and make it happen. He has to win. To fully appreciate it if he wins this title he needs to win races. Ten years ago, Windham rode a Yamaha to the win in St. Louis wearing number eight. This Saturday night he'll wheel his Torco Racing Fuels Honda wearing #14, which is also his career SX win total. Reed has eight wins on the season. Things have a way of coming full circle. Let's get pumped up and watch that circle spin this Saturday night!
Thanks for reading, see you next week.