5 Minutes with ... Tim Ferry
Right about now, a lot of readers are throwing up in their Cheerios when they see me interviewing my favorite rider, Monster Energy/Kawasaki's Tim Ferry. But I just happened to be standing by the Kawi rig when Red Dog walked by, fresh off his best ride since coming back from injury. We found the big one-five upstairs in the semi with his teammate Travis Preston and got him to give us five minutes of his time.

Racer X: Tell us about your race because after you really sucked so bad in the heat, I'm sure there wasn't too many people thinking you could get second.
Tim Ferry: Well the main event was great, it obviously helped getting such a good start and finishing second was the best I could do tonight. I was gaining on Davi [Millsaps] a little bit in the middle of the race but ran into some lappers and some of my lines got taken away from me. The heat was absolutely horrendous for me; I have to talk about it, I don't think that I could even qualify for Lorretta's going that fast! With that said, I'm glad it's over.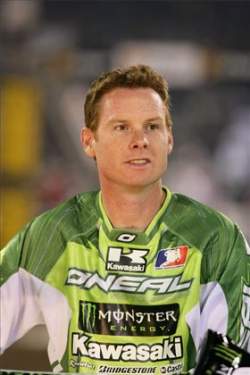 Red Dog was runner-up in Detroit.

photo: Simon Cudby

What went wrong for you in the heat?
The gate bounced and then it actually bounced back up before I went, not very good reactions. Then I wheelied and it was downhill from there. The main was good, though. My endurance is coming back and the main thing is I'm getting my rhythm back. I still don't have that last five laps that I need, that I had at the beginning of the season but it's coming back.

Were you worried about getting the start with that bad gate pick? What went into the decision to go outside instead of the inside?
Y'know, as Jason Thomas would say, even if I had first gate pick I would go out there. I just like it out there! I actually wasn't worried about it, it was comforting to see Chad Reed, Nathan Ramsey, and Nick Wey out there as well, because that meant that there was other fast guys that chose to go out there. (Ed note: What Red fails to realize is that Wey, Ramsey, and Reed were 1 and 2 in the LCQ and a provisional respectively , those guys had no choice to go out there!)

Were you seeing that you were catching Millsaps in the main?
I was just trying to ride as hard as I could for as long as I could and not make any big mistakes. I could see that I was catching him a bit but I needed him to make a mistake. There was one lap I didn't jump the finish line and it cost me two seconds, I was just trying to not do stuff like that and give myself the opportunity to be there if he made a mistake, which was easy to do because the track was gnarly! I wasn't riding over my head or anything like that; the main thing was to get on the podium and try to get back to where I was at before the injury.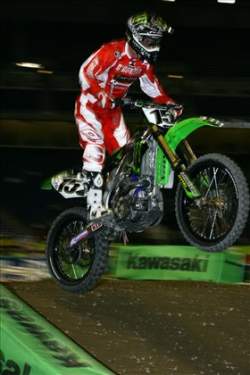 Red wearing red.

photo: Matt Ware

Before you got hurt you were a top three guy and a threat to win; now you're in a battle with everybody. Was it a case of the guys stepping it up or are you off of where you were before the injury?
I think it was me missing time; obviously Davi has been riding well. I think he's been racing his way into shape. I feel like that if this race was earlier in the season, it would've been my race to win. At least that's what I think! [Laughs]

How did the lappers affect you out there?
Troy Adams has been hard to get by the last few races. It's funny because he rides with me a lot and I'm sure that he's not doing it on purpose, but he seems to hold me up now and then. And what's up with your guy (Josh) Summey? He was racing me the last couple laps.

Yeah, he might've been but Summey's cool, you know that!
Yeah he is. Is he like your favorite rider?

No, you're my favorite rider but he's tied for second with a bunch of guys.
Ahh, OK, well it really wasn't that bad, I'm just bugging you. I'm sure that Davi had it just as bad, if not worse than me. At least from what I could see out there, you know those guys are battling for positions out there and at the same time they are trying to stay on two wheels which wasn't easy tonight.

Talk about the track tonight designed by Le Cobra; it was pretty tough even if the dirt was good.
I think the design was really cool, the dirt just didn't allow it to shine kind of like my track in Toronto. I think it wasn't as bad as Toronto, obviously, but it was tough.

Travis Preston: Dirt Wurx tried to do something though to help us out by really smoothing out the landings and getting rid of the ruts. Those gnarly rhythm sections, they saw what we were doing and fixed the landings for us. Just flattening it out and helping out. So good for them, I just wanted to say that.

Ferry: They did fix it, the ones we were tripling off of they fixed really good and I hope it didn't take Chad getting hurt to do that, but that was cool. They did a good job of maintaining the track from the practice to the main event. The first practice I was actually scared. It was a crazy track; you had to have crazy balls to do the stuff. I was 13th fastest in the first practice and I'm usually top five, so that should be proof I was scared.

Do you think David Vuillemin just tried to fit in as many jumps as he could on a blank track map?
There was a lot and he actually rode really well this weekend, better than he has been doing. Maybe they should let him design some more and he would win a bunch.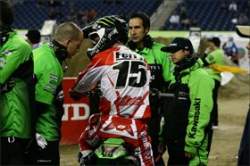 The Monster Energy Kawasaki team is constantly striving to be better.

photo: Matt Ware

Who do you want to thank?
I want to thank the Kawi guys, they came to my house to test supercross and with four races left and me not being in the title hunt, a lot of teams would not have done that. I want to thank Monster Energy, O'Neal, etnies, Kicker, CTi, Scott, 661, my wife Evie, and you for getting me on the Racer X website. I want to thank Mark Russell, my mechanic back at home for helping me out; he's been working really hard and is a big part of what I do on the weekends. Oh, and also Dana Wiggins, my Kawasaki mechanic, he's doing pretty good for a rookie!