5 Minutes with ... Broc Hepler
This past weekend at the NAVY Moto X World Championships in San Diego's Qualcomm Stadium, Team Yamaha's Broc Hepler made a triumphant return to racing after a thumb injury to take the win at this inaugural event on his YZ250F. Hepler didn't miss a beat in the 10-lap main event, topping the likes of MDK KTM's Nick Wey and Justin Brayton, as well as the multi-talented Travis Pastrana, among others. We gave Broc a call this morning to get his take on his win.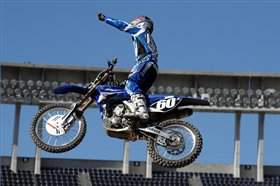 Yamaha's Broc Hepler pulls off the biggest trick of the weekend, a one-hander!

Racer X: Broc, was it me, or did you pull off a one-hander lander after winning on Sunday?
Broc Hepler: [Laughs] I believe I did! I didn't care how I landed, I already crossed the finish line.
It was impressive, but I don't think Nate Adams is too worried right now.
[Laughs] Yeah, that's the best I'm going to do, so….
Speaking of Adams, you joined him and Mark Burkhart as Yamaha-mounted winners at the inaugural ESPN Moto X World Championships. Congrats!
Yeah, Yamaha cleaned up, so it was good for them and good for us.
Before we get into that event, let's back up a bit. You were an early contender in the Western Regional Lites class in Monster Energy AMA Supercross, but an injury sidelined you at Anaheim 3. What happened?
They just had some whoops and they had one of those walls and more whoops after it, so we were launching the single into the whoops. And I guess I just grabbed a little too much and jumped too far into the second set of whoops. I don't know if I hurt my thumb when I landed or after I flew forward, but I bent my thumb back and dislocated and cracked it, so that's why they needed to put pins in it.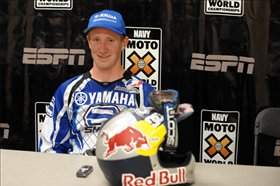 Hepler is super pumped!

So you picked the ESPN event to return to racing; how long have you been on the bike?
I rode probably four or five times back in Pennsylvania, but most of it was trail riding because it's pretty cold and muddy back there. Then I came out to California a week ago, and I practiced for a few days last week before the event. But another good thing was the ESPN crew was great and let us practice for four hours on Wednesday, and then Saturday and even Sunday morning; we pretty much practiced a total of five hours on the track, so it was easy to get dialed in.
What were your thoughts on the track?
It was harder pack, more so than a normal supercross. On Saturday and Sunday it was in the 90s in California, so it was really hot. With them doing so many events on parts of the track we ran, especially Supermoto, it was hard for them to have the track as good as a supercross would be. And it was hard for them to keep it watered for how hot it was, but I'd say it was the best for what conditions they had.
Coming in, did you think you had a chance to win?
Umm, actually I didn't even want to race! I came to California because Yamaha wanted me there. They were talking about it for the past few weeks, so I tried my hardest to be ready, but I didn't know what to expect or how my hand would hold up.
Who did you think would be your toughest competition?
Jason Lawrence and I were pretty fast in practice, but any of the guys on the 450s had a little advantage on the start. I don't think they had too much of an advantage on the rest of the track, but just on the start. It was a short race, so I knew anyone had a good chance, so I just had to put myself in a good position.
Well, that's exactly what you did, because you were in a great position that first lap when Lawrence and Gracyk got together.
Yeah, I barely got on the brakes quick enough to get around them, but I was lucky to sneak through. I can't say I would've won if they wouldn't have went down, but that's how it goes. Everyone makes their own luck, I guess.
After you inherited the lead, did you try and sprint away and put a gap on those guys?
Actually, I was a little nervous. I didn't want to look back, but Brayton passed me in the Heat race earlier that day. I was riding a little cautious in the heat because they only took two guys and I didn't want to go to the Last Chance, so when that KTM was behind me I was getting a little nervous because I knew he was a little faster in the Heat. It was hard to push it to the limit just because I did make a few mistakes when I tried going faster. You could push it, but you had to really watch yourself so you didn't make a big mistake.
About halfway through you bobbled on that step-on/step-off. Do you remember that?
Yeah, I think it happened so fast that it really didn't scare me. That was right after the finish line sweeper, so I asked my mechanic if he saw it. It was tough because we were jumping from the right side to the left side, and it was a little step up and I just lost the back end enough to where I didn't hit exactly where I wanted, but I think I was in control.
All of the Yamaha guys had to be pumped, huh?
Yeah, Jimmy Perry and Keith McCarty were at the race. Jimmy flew in from Detroit, so it was good to have everyone there helping us out.
So will we see you in Seattle?
Yeah. Actually we're planning on doing a race this weekend at Glen Helen, because I tend to struggle there a lot. Actually, last year was my best finish there. I believe it's a four-stroke national this weekend, and then after that I'm going to race Seattle and Vegas, so I'll get some racing in before the Glen Helen National.
Is the main focus for you on the AMA Toyota Motocross Championships right now?
I don't know, I think the focus is on everything because we still want to do well at the last two supercrosses. I think we'll have enough time to be prepared for the outdoors, too.
Since you do tend to struggle at Glen Helen, are you happy that it's the opening round this year?
I'm kind of in between, because I don't want to start out bad, but I do want to get it out of the way. I think it'll help that I'm riding and racing on it this week, so if I'm going to be ready for it, this will be the best time.
So is the thumb 100 percent?
Not exactly 100 percent; I have to tape it up a little bit when the track is rough or if I'm riding supercross on hard landing, but I don't think it's really holding me back too much. I'll grit it out.
Another question I wanted to ask: Did you get to watch the other events at the Moto X World Championships, and if so, what did you think of the level of tricks those guys are doing now?
Those tricks are too wild. They were wild for me 10 years ago, and now they're even crazier. But the one event that impressed me the most is the Step Up. I've always watched it on TV and it looks pretty difficult, but I thought any of us racers could attempt that too. But when we were practicing we would sit up on that Step Up jump to watch everyone else, and that Step Up wall is straight up and down—you can't even ride down it! So that Step Up is definitely scarier than what it looks on TV—I wouldn't even try it!
Do you plan on doing this event in the future?
Yeah, I believe they're working on a summer event in L.A., so hopefully they'll invite me to it and we can fit it in our schedule and win it again.
Who do you want to thank, Broc?
I just want to thank Yamaha for helping me get back and get this win. I've been off for a little while, but they've been really supportive. Hopefully we'll be dialed in for Glen Helen in a few weeks. I'd also like to thank Red Bull, Shift, Scott goggles, DC Shoes, Arai helmets, Alpinestars, GoPro cameras and Bridgestone for sticking with me throughout my down time.