Welcome to Racerhead—thanks for stopping by. It's been a busy week all over the place. There was the Dallas SX, and now Detroit. The Grand Prix series got kickstarted in the black sand of Holland with two surprise winners, and now we have the Navy Moto-X World Championships in San Diego this weekend, as well as the World Mini GP in Las Vegas running all next week.
I'd like to dedicate this column to a promising young rider from Kentucky named
Nick Howard
, who lost his life in an automobile accident this week. Nick was already well on his way to Loretta Lynn's and a professional career before the accident, in which he was a passenger. Godspeed, Nick.
Chad Reed put on an excellent, if uneventful, ride in Texas Stadium to win last Saturday night. Now he's got four races left in the series, though he will clinch this thing in three if he keeps up his pace. Reed is also featured on the cover of the brand new Racer X (June '07), which dropped yesterday. The magazine is packed with different features, from an Eric Johnson opus on the 1990 Battle of Atlanta to a straight-down-the-middle story of the Red Bull-vs.-Monster rivalry. Look for it in your mailboxes this week, or sign yourself up for a Racer X Digital subscription right here.
Looking ahead to Saturday night, the race at Ford Field—one of the nicest stadiums in the world—will probably not have nearly the crowd they used to get one half-hour up the road in Pontiac at the Silverdome. It's a shame that people don't venture into downtown Detroit more, even for the Monster Energy AMA Supercross, because it has the potential to become an Atlanta-level crowd.
You can listen to the Supercross Live! webcast on Saturday night on www.supercrossonline.com starting at 7 p.m. ET as Jim Holley and Jason Weigandt call the shots, with added support from Alan, Fubar and Matthes. You can also watch the race on Sunday afternoon at 6 p.m. on Speed. And don't forget to check out the Dallas Lites race at 6 p.m. Saturday, also on Speed.
Last weekend I was a guest on the
Supercross Live!
show with Holley and Weege, and I took a wild guess - I even called it "a wild guess" - and said that RV2 could end up at Gibbs Racing MX/Toyota Yamaha. Well, I have since changed my mind and - another wild guess - think he's staying green when he goes the 450 class. What does that mean? Stay tuned.
And I promised Steve Matthes I would plug both his Observations and his podcast interview, which this week happens to be with me.
The latest Toyota: All-Access piece is up on Racer X Films, and this time they go into the pits and see what all a mechanic has in his tool box. By all means check this out.
If Saturday night was any indication, there are a lot of guys in the Lites class who might be in for a long summer. Monster Energy/Pro Circuit Kawasaki's Ryan Villopoto was absolutely flying, and he dominated his second straight race. Unfortunately, he's still 17 points down on Trey Canard with two rounds to go. If he doesn't catch the kid, he's going to be even madder this summer when he goes for his third straight AMA Toyota Motocross Championship in the Lites class, which is something that only Ricky Carmichael, Mark Barnett and Broc Glover have ever managed. That's some fast company!
More on the nationals: The NPG's Director of Operations
John Ayers
paid a visit to
Unadilla
Valley Sports Center to check on the overhaul the Robinson family has been working on since last spring and came back very impressed. Ayers reported that new dirt is being trucked in for the track, which has been running AMA and FIM events since 1970, and new sections added. And get this: The new
Unadilla
finish line has the riders jumping out of Gravity Cavity! Also, there is an industry hospitality area with large bleacher section, an improved mechanics' signaling area, a controlled bike wash is going in behind start, and they've added a camping area with electric for the rider RVs.
All of the tracks on the 2008 AMA Toyota Motocross Championship schedule have been working to enhance their facilities and, with the AMA stepping back and DMG joining forces with them, bringing some new ideas to the tour. Thunder Valley at night is another example. The summer is shaping up as a great step forward for American motocross, and with so many top riders coming back after long injury absences—James Stewart, Ivan Tedesco, Grant Langston, Ben Townley, Mike Alessi, Michael Byrne—the series should be epic!
Now if we can just get Ricky to come out for Southwick…
Speaking of RC, he's doing some riding this weekend, but not quite racing, as Steve Cox is about to tell you…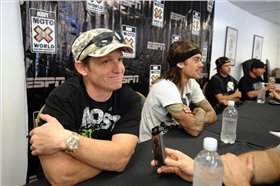 RC is in CA for MOTO-X on ESPN
Steve Cox photo

Ricky Carmichael is making his non-racing motorcycle debut, doing Step-Up this weekend. He's been a bit of a stranger at the races lately, so I asked him why he didn't like us anymore. "I love you guys, I've just traveled enough the last few years," Carmichael said apologetically. "I've been really busy with my car stuff, and when I do have some time, the last thing I want to do is go on the road. My life is great, but I'm really looking forward to Step-Up because I wanted to do it last year at X, but Suzuki wouldn't let me. It's always been intriguing with me, that event, so it should be fun. My expectations, I don't know what they are. I want to use this weekend as a learning curve and prepare for the X Games [in August]."
Step-Up's roots are in California freeriding, where guys would go out and find cliff jumps in the hills around Elsinore, Murrieta, etc. So where does Carmichael get his experience? "I didn't freeride as much as some of the guys in California did because there just wasn't a lot of freeriding area in Florida," Carmichael said.
"Freeriding in Florida would be more flat and through the trails, anyway, but it's a little more than just freeriding. It takes some skill and stuff, and I'm looking forward to it."

With his move to Ken Schrader's team to drive in an actual NASCAR-sanctioned series this year, Carmichael's new career is looking up. "It's hard, but the series that I'm racing now was meant to happen probably last year, but that whole deal, when DEI and Ginn merged, it kind of offset our plans, but now it's finally taking place," Carmichael said. "We bought Hendrick cars, and I'm sure we can get some technical support from them if we need it. We've got good guys over there, and with [Ken] Schrader being a racer, he knows the guys we need to get."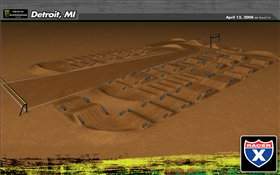 David Vuillemin designed this weekend's track.
Schrader is known for his ability and willingness to drive anything, so is that going to rub off on Carmichael? "He loves dirt racing, and he's always asking me to do it," Carmichael said. "I was joking with him the other day, 'I just want to go straight up to El Dora' [
laughs
]. The biggest one of the year. But I'd like to go do that, though. He's like, 'Anytime you want to do ARCA or any of that, let me know.' What I do this year will determine what I do next year."
Here's a little mini-interview of Brian Deegan, conducted on Press Day:

Racer X: It looks like you have new competition in Step-Up this year.
Brian Deegan: Who, Todd Potter? Twitch? [Laughs] No, I think it's great. I think it's awesome. For me, I'm just stoked to be able to ride with Carmichael. That's cool. I used to race with him and we had some pretty cool races together.

Did you ever knock him down?
Yeah [laughs]. I didn't want to bring it up, but it was his very first race at Steel City, and I was like in twelfth or something, and he like crashed or something and was coming up behind me, and I just swung over in front of him and he ended up
crashing in front of the mechanics' area. I don't know why I remember that, because I used to do that to a lot of people. But we have some funny memories.

Honestly, I grew up racing in the Mini Olympics, Loretta Lynn's – all those races – and he was at them all, and our families got along good. We basically grew up together, and I'm glad there's an event that brings everyone together, and it's not just freestyle guys, so people can't look at us anymore like the black sheep of dirt bikes.

You're one of the last guys who was a relatively successful racer who is still doing freestyle.
It's crazy, yeah, because in the beginning, I thought you had to be a racer to be good at freestyle, but now these guys are coming out of the woodwork that have bike skills but didn't race, so it's kind of weird. But there are some good guys, like Todd Potter and Twitch, and they have good style. It's good to show people that you can go buy a dirt bike and there's a sport for you – you don't have to go grind out motos at a local track. You just break bones and reach X Games stardom [laughs]. As long as you've got medical insurance and a ramp.

When are you picking up more freestyle competitions again?
I'm riding Best Trick and Step-Up, and then I'm commentating the rest of the event, so it's cool for me. I think it's good to have someone who competes doing the TV because you're getting the right call, so you don't get these kooks calling the tricks wrong and dogging the riders. Finally, let me talk some crap. It's good, because now the riders who I owe something to, I'm going to clown them on TV [laughs]. "Oh, it just isn't his day today. He's really riding like a squid."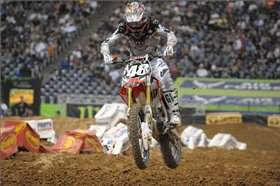 Cox forgot to send a pic of Deegan, so here's one of Trey Canard
Steve Cox photo

Is TV your future?
Honestly, I think I'm already pushing the limits of how long you can ride freestyle, and I've already pulled back a lot from competing, and I ride just to do Best Trick and Step-Up, which is easier for me. I do the TV because it's fun. I helped start the sport, so I think that there needs to be a rider doing the TV to help the sport progress, so that's why I'm doing it. TV's fun for me, and as far as a future in TV, I just landed a deal to shoot a pilot for MTv, and if it's good, it goes to series, and that's what I want to do. I want to do a show that I produce and I created, not something that someone else created. It's based on the Mulisha, something based on the crew like a Bam – not like a Jackass, because it's been done, but we have skill. I think it's a drama with the guys and the girls and everything that has to do with freestyle and riding.

I'm sure you guys have done a lot of stuff that would put Jackass to shame, except that you weren't smart enough to film it...
A lot of the stuff we've done almost tops what the Jackass guys have done. They filmed it and made money off it. But a lot of badass stunts go down every day at my house, but it's more than just that – we have the best characters and images, and if you look at our group, they stand out. It's a made-for-TV group.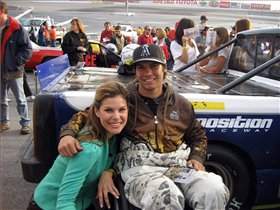 Deegan will be working with Jamie Little, shown here with Ricky James at one of his truck races—he's already winning!
Photo courtesy of Jamie Little
Deegan's first TV duty will be to co-host the ESPN Moto X World Championships Preview Show, with long-time ESPN and ABC on-air talent
Jamie Little
, airing tonight, on ESPN2 HD at 9:30 PST. The live moto action gets underway tomorrow. Stay tuned to Racer X Online all weekend for updates from the Moto X World Championships courtesy of the Metal Mulisha's
Ryan Cropley
and myself.
We saw a familiar face in the pits in Dallas, with Justin Buckelew returning to action. He was actually something like sixteenth-fastest in practice on his Chaplin Kawasaki after taking about a year off from racing.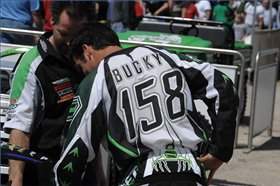 Justin Buckelew is back, but his back said Bucky.
Steve Cox photo
"I raced Arenacross in '07, and then my wife and I had a little baby boy,
Preston
, in May of last year, and I knew I wanted to stay home with him over the summer, so I started doing motocross lessons," Bucky said. "I have a company, Buckelew
Motocross Training [
www.buckymx.com
] and I got really busy with that in the Phoenix area, and I've been having a blast teaching the young kids, and helping them do better. It's been pretty fun to see people win their first race and stuff like that. I've been doing that, and then my manager called me up about two weeks ago and said that this Chaplin Kawasaki team was looking for a rider, and it sounded like fun, so we got it all worked out, and here I am."
We caught a photo of Torco Racing Fuels Honda's Kevin Windham playing around in one of Dirt Wurx's Caterpillar dozers, and he looked like a kid in a candy store. "Cat helps everybody out with the rentals, so I wanted to help their investment by maybe buying a new machine," Windham said. "I like their equipment. I run mine all the time. I was sitting up on it, and it was one of the new models with all the bells and whistles, and I was grinning. It's kind of fun.

Boys and their toys, you know? I like to move dirt. I actually play at the house on my track hoe and my dozer and everything else all the time. Dottie gets kind of mad sometimes because we don't even have any grass to mow in the summer because my yard's dirt where I've been digging holes and playing in my dozer and stuff. I'm into that kind of stuff, and they had a new one out there, so they let me check it out."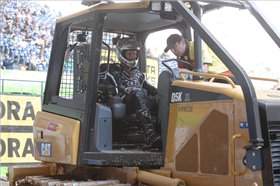 K-Dub gets a tutorial on track-scaping.
Steve Cox photo
Just to be clear, current Top Privateer points leader
Paul Carpenter
of the Atomic Honda team is not going to Canada to defend his 2007 Canadian MX Championship. "I really had a good time in Canada, and that was unbelievable to go up there and bring that title home," Carpenter said. "But it's not where I wanted to be in my heart. I've never been able to do a full series down here outdoors on a 450, and I'd really like to see where I'm at outdoors."
Torco Racing Fuels Honda's Josh Grant ran up front in the main in Dallas, but then stalled his bike, handing the lead to Monster Energy/Pro Circuit Kawasaki's Ryan Villopoto, who ran away with the victory. As it turned out, from the point that he stalled it, Grant's bike had a bog in it and he backed it down for second. "I kept dealing with my bike bogging and stuff," Grant said. "It's some electrical issue that we need to figure out. To be honest, I was just lucky to salvage second with it. I knew that I couldn't ride at my best with the bike being like that, so I just rode conservative. Even riding conservative, I was still an easy second. It was kind of fun, but at the same time, I want to be up there battling with Ryan like we did in Minnesota."
Yesterday was Press Day for the upcoming Navy Moto X World Championships put on by ESPN at Qualcomm Stadium in San Diego. Included were the GOAT Ricky Carmichael, last year's X Games Best Trick gold medalist Kyle Loza, last year's X Games Supermoto X Champ Mark Burkhart, multi-gold-medal-winning Brian Deegan and Step-Up king Tommy Clowers.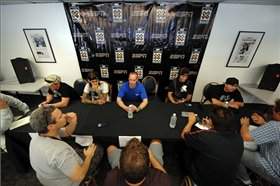 RC, Kyle Loza, Mark Burkhart, Brian Deegan and Tommy Clowers.
Steve Cox photo
I talked to Kyle Loza first, who won last year's Best Trick at X with a body varial that was absolutely mind-blowing. Well, he's stepping it up this year with the "Electric Death," which you can find him practicing into a foam pit
on YouTube
. He has yet to do it on dirt. "I've done it into the foam pit a whole bunch of times, but I figured why do it at home when it doesn't matter," Loza says. "I might as well just do it here where it counts. Into the foam pit, I've landed it 87 times in a row, so I feel good about it, but I'm just not going to do it on the dirt until I have to. It's not worth getting hurt before the event."
And it's not stopping here. Loza has plans for bigger and better. "I've already been working on so much different stuff – just innovative, weird kind of like dance moves on the bike, so yeah, there's a lot more stuff you can do on a motorcycle than just grab around on it," he says.
That's it from Cox; here's something from Ping: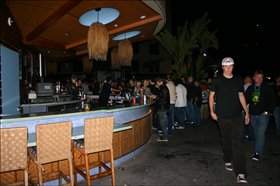 Ping photo

Not much to report from here this week. The biggest buzz revolves around the Navy Moto X World Championships taking place in San Diego this weekend. There are six disciplines: Moto X Racing, Supermoto, Freestyle, Step-up, Big Air and Speed and Style which is a mix between freestyle and racing. The course looks insane and all of the best freestyle and supermoto guys are signed up and ready to go. The Moto X Racing discipline, of course, is a little thin because the major players will all be in Detroit this weekend. It will be up to Pastrana,
J-Law
, Hepler and a bunch of other Lites riders to create good racing. The entire event will be aired all weekend on ESPN and ESPN2. Check you local listings for times, or
click this link
.
I made it to the 199 Lives premiere last night in downtown San Diego. The movie, about Travis Pastrana's life, was entertaining and funny and insane like all the rest of his Nitro Circus films. This one delved into who Travis really is and why he is the way he is. There is a lot of his father, Robert, in the movie too—his insanity is a large part of why TP is the way he is.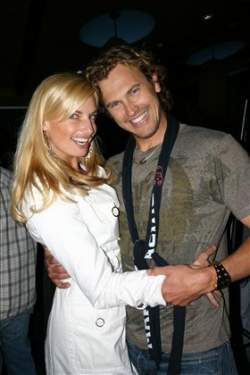 Congratulations to RVE and his future bride Mika
Ping photo
The party was swanky; set atop the Solamar Hotel in Downtown San Diego. I rolled in wearing shorts, flip-flops and a tee shirt ... what a dirtbag. I realized something was wrong when they charged me $25 to park my car. The usual MX-party-scene-regulars were in attendance and you didn't have to look far to find a pretty girl. Congrats to
Rich Van Every
and his new fiancee,
Mika
, who are getting hitched in a couple weeks after a brief two month courtship. They seem equally nutty but totally in love. Here's hoping they will be happy.
Quick update: The Moto X World Championships had Supermoto practice and qualifying today. Unfortunately, Micky Dymond crashed in a rhythm section and appears to have broken his leg, arm, and something in his shoulder. Get well soon, Micky D! The track is super fun but very tight. The road section is winding and narrow, making passing difficult, and the dirt is pretty basic. The transition from asphalt to the dirt is nuts, though. They run us right up the back of the stadium seating, between two concrete pillars and up a quarter-pipe onto the wood roll-in ramps that are the staging area for the freestyle competitions. It should make for good TV.
Troy Herfoss had the quickest time in qualifying, followed by Mark Burkhart, Jeff Ward, Cassidy Anderson and yours truly. The Supermoto program starts tomorrow at 11:30 a.m. PST.
I recently went to get some pictures taken of my daughter. The photographer is a friend of ours and she told me that she has been doing more and more motocross photos recently. I couldn't see her out at the track shooting action shots, since she is more of a studio photographer, and then she showed me what she was talking about. I don't know about anywhere else in the country but apparently it is becoming en vogue to include motocross shots in your senior pictures or whatever type of portfolio you are doing.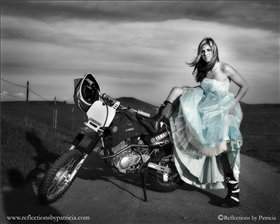 Jenna is obviously a big motocross fan
This girl,
Jenna
, was Miss Murrieta last year and is a big moto fan. This also leads me to another troubling trend in my area. My little sister is a junior in high school and she has informed me that I would fit into the "Bro" clique at her school. I asked her what the hell a "Bro" was and she said it was basically anyone that was into motocross. She elaborated, "Yeah, you know… guys that wear black socks and Fox Tee shirts and hats with flat bills and stuff."
I've since thrown all my black socks away. And apparently girls that are into motocross are "Bro Hos." This is not a good development, and I don't think Miss Murrieta, Jenna, would be at all happy about being called a Bro Ho. Is this ridiculousness going on anywhere other than here in California?
We'll stop Ping right there!
Have you been watching Motoplayground Today? It's a daily online amateur-motocross show coming out of Kansas and hosted by Harold Martin's Moto Playground crew. They show video highlights and tell you the news of the day, every day, Monday through Friday. With the World Mini GP starting up, next week's shows should be full of results and info. Check it out and make it a habit.
Also next week, Wes Williams of Vurbmoto.com and his crew will be at the World Mini GP making things happen for Vurb and Racer X Films, and so will Chris Hultner, who is now three and a half months through tornado season in Oklahoma (it lasts all 12 months there). Check out Chris and the gang's World Mini work at www.amateurmx.com.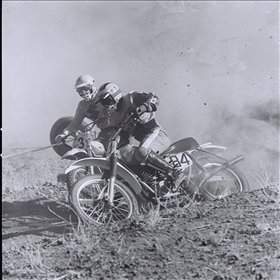 That's Bryar Holcomb on the #84 Maico in the '74 Trans-AMA Series
Steve French photo
I've mentioned the
Dick Miller
Archives many times before. Well, we also have a
Steve French
Archive that is beyond priceless to a motocross historian like myself.
Racer X
photo editor
Matt Ware
has been busy scanning all of the contact sheets in for
Andy Bowyer
to devour in his Shift Number Cruncher, and I am always checking stuff out for the heroes I looked up to as a kid.
Bryar Holcolmb
, now the president of Factory Effex, was one of those heroes, and I am always dropping photos from the old school like this one on the man.
Someday, we're going to do a Motocross Exhibit with stuff that hasn't seen the light of day in 30 years, and it's going to blow your mind…
And speaking of moto history, here's a note from Tom White, one of the world's top collectors/bench racers:
I've been working with the San Diego Auto Museum to get the MX America exhibit installed in there museum. The museum is in Balboa Park (built for the 1935 World's Fair) and has over a dozen museums and is next door to the San Diego Zoo. It's tourist central, with over 100,000 visitors a year.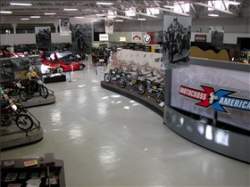 Motocross America is now in San Diego!

Well after two weeks of unloading semis, hanging off scissor lifts, and crawling around mounting bikes to the display, it's done and I'm proud of the results. The San Diego Auto Museum really took a leap of faith in taking the exhibit into their mainly car museum and taking on about $30,000 in expense to get it out here from Ohio and installed in the museum. The Executive Director, Bob Swanson, tells me if traffic is good, he will change plans to bring in another exhibit and leave MX America in until late September. I just think this is a great opportunity to share our sport with a large segment of people that don't like or understand us.
Trust me: The Motocross America exhibit is astonishing. The bikes, the gear, and the stories are wonderful. If you live anywhere near San Diego, take an afternoon and go visit the San Diego Auto Museum.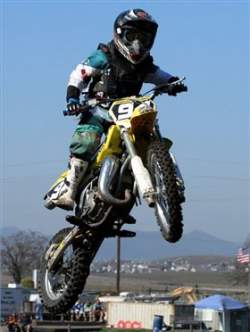 Get well soon, Zach Sawko
Photo courtesy of Mike Subocz from "Traction Action" photography

Zach Sawko from northern California broke his back last night while practicing. He'll be out for 4-6 weeks, according to longtime Racer X reader Rob Dresser. Let's all wish him a speedy recovery.
I spoke to Scott Kandel from Wonder Warthog a few times this week, and he's getting the privateer team ramped up for the summer—and he's got quite a lineup so far for the AMA Toyota Motocross Championships: Jeff Alessi, Benjamin Coisy, Mike McDade, Ryan Mills, Chris Blose and more.
Last week we linked to an article which claimed that Monster was outselling Red Bull. Immediately after reading the article, someone in the know within the beverage industry wanted to clarify that when you look at it from an overall liquid volume for all beverages, Monster is slightly ahead in liquid volume—since their cans are twice the size, they sell more liquid. However, Red Bull is still ahead in terms of market share and dollar volume, which is how the energy-drink industry is measured.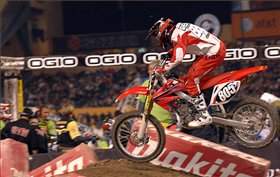 Can anyone help Turbo Reif out this summer?
Carl Stone photo
Earlier this week
Chris "BrownDogWilson" Ganz
told us that
Turbo Reif
is looking for a ride for the outdoor nationals. "He was with Riley Racing, but some things changed," Ganz told us. "He has made the big decision though. Moto is his thing. He is moving down here this week with not much to his name, and going for it one last time. This time he is totally on his own; no mom or dad footing the bill for him anymore. I hope it works out for him!"
Freecaster.net is offering up free highlights from the GP of the Netherlands, and we spotted one familiar face that we normally see in the U.S. pits. Monster Energy's Scott Sepkovic was on hand to help introduce the Monster Rinaldi Yamaha team along with team namesake Michele Rinaldi. Check out their interview here.
Someone tipped us off to a cool new track in the south called Dairyland MX. It's in Amite, Louisiana, and was built by Mark Barnett. Check them out online at www.dairylandmx.com.
And don't forget to check out the 500guy TV Dallas recap. This time it's his King of the Hill edition.
David Bulmer is doing Another Year in MX, only this time he's going even lower-budget than he did last summer and living la dolce vita in Europe. He went to the first GP of the year in The Netherlands, and you can follow his exploits right here.
Mark Deering from MXReplay.com put together a nice video from the Hangtime Loretta Lynn's Area Qualifier. Check it out right here (Windows Media format).
Dear Racer X:
Not to be a buzzkill or sound like an old guy, but I think your latest vid at Racer X Films is a poor choice. I know the Reche Canyon area very, very well, having grown up riding there. The vid opens with shots of riders doing big gaps, with No Trespassing and No Riding signs transposed in between. It kinda glorifies the type of behavior that got the area pretty much shut down to begin with. Then later in the vid, it has the guys wheelying down Reche Cyn Rd, on the asphalt, past cars. To young, impressionable minds that eagerly go to RX Films to watch their heroes, it just reinforces the attitude that dirt bikers just don't give a @$#!. Just wanted to let you know that it's in there….
Steve Bauer
President
Wonder Warthog Racing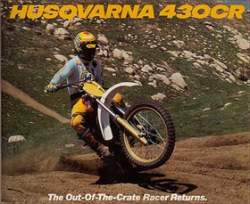 That's Steve Bauer testing back in the day at Reche Canyon
Bauer, I hear you, but I think those signs that said "RAMP CLOSED" were planted there for effect. But riding down the road like that? Yeah, maybe not a good idea. For what it's worth, I got to ride Reche Canyon once about a dozen years ago with
Jeff Emig
,
Joel Albrecht
,
Tommy Clowers
and
Phil Lawrence
.… Maybe one of my favorite riding days ever! Needless to say, those guys scared the hell out of me on those cliffs.
Simon Cudby's trick new clothing line, based on his bitchin' moto photos, stitched together by Smooth Industries.
From "Bad" Billy….
Since I didn't go to Dallas, I seized the opportunity to head out to High Point Raceway for Round 2 of the American Suzuki Spring Series. Over 500 riders came out on Sunday, and we were all greeted to great track conditions. I ran into "Mad" Mike Jones, who was there rooting on his friend Davey Yezek, who is making a comeback this year in the Vet classes. Jonesy, a former X Games gold medalist, told me that it looks like his next venture will be in monster trucks.
"I met with a few people from Live Nation, and things are going well," Jones said. "I also hung out with Damon Bradshaw at the last event I went to, so this is something I'm really looking forward to." Jones is still in the process of securing a major sponsor, but it shouldn't be too hard. As for the name of his truck, that's still undecided, but "Mad Mike's Mayhem" is definitely a good possibility. Also, Mike told us to check out his travel website: www.madmikestravel.com. It's similar to Orbitz or Travelocity, so next time you're booking a flight, check it out.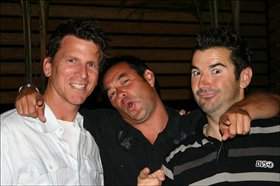 Mark Phares, Toshi Corbet (sponsorhouse.com) and Dano Legere at 199 Lives.
Ping photo
Earlier this week we got an email from former pro rider
Jerrad Fisher
:
I'm the former co-owner of E-Street MX, Inc. I have been working on a permit for a third motocross track in Marysville, CA for the past year and 4 months. The track will be opening sometime mid-June to early-July, as I am in the final stages of the permit process. The track will be located next door to E-street MX. I plan on hosting many events from such organizations as GFI, CMC, and selected AMA events as well as my own. I plan on being opened about 5 days a week with a fully-prepped track, watered by a big gun irrigation sprinkler system.
I am writing you this email to let you know of the new track opening, as well as to address the city proclaiming Marysville as "Motocross City USA." There are three tracks within 2 miles of each other…Marysville is becoming quite the motocross hot spot.
P.s. I am still searching for a track name and would like to offer a free one-year track membership to the person who comes up with a great name for the track. Send your submissions here.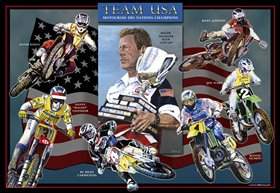 Rob Kinsey print
To celebrate Team USA's dominance in the annual Motocross des Nations event,
Rob Kinsey
has produced this stunning print to honor riders such as
David Bailey
,
Danny Magoo Chandler
,
Rick Johnson
,
Ricky Carmichael
,
Jeff Ward
and
Ron Lechien
. Pictured with them holding the Peter Chamberlain Trophy is Team Manager
Roger DeCoster
, a major part of the team's success since 1981. Printed onto acid free art paper using fade free inks, this edition is limited to just 50 copies at £75($150 U.S.) each plus P&P.
Finally, something from Fubar from Dallas:
Kevin Johnson won the Racer X Gas check for the second week in a row and William Browning won the Asterisk Card.
Some of the arenacross guys showed up this past weekend in Dallas. Brock Sellards, Robbie Reynard, Chad Johnson, Kevin Johnson, Keith Johnson, K. Smith, Demuth, and Gray Davenport. Davenport was the only rider to make the Lites main, and FiberWise Pasta/FLY/Sano/Moore Racing's Keith Johnson made the 450 main as well. He crashed and was credited with 20th.
The NASCAR race was in Texas last weekend and some of the guys showed up to watch the SX included Denny Hamlin, Kyle Busch, Clint Bowyer, Juan Pablo Montoya, Jamie McMurray, Jimmie Johnson, Kasey Kahne, and Joe Nemechek.
Also, Sunday is Sondra Peters's birthday! Happy birthday!
Finally, here's an interesting story: it's a walking testimonial for the Leatt Neck-Brace.
That's it, but that was a lot! Thanks for reading Racerhead, and see you at the races.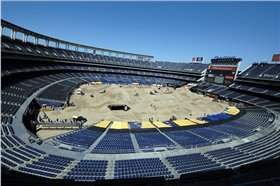 Steve Cox photo