FIM Grand Prix racing gets underway this weekend. Looking ahead to the world championship season on the cusp of round one in Holland

The FIM Motocross World Championship enters its second half-century this weekend under chilly Dutch skies and a stone's throw from the city of Eindhoven as the Grand Prix of the Netherlands at the Eurocircuit Valkenswaard christens the 51st edition of the competition and the first foray of fifteen over the next six months.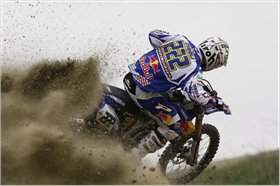 Tony Cairoli is the defending MX2 World Champion.
photo: Courtesy of Yamaha
Stefan Everts largely ploughed a path to Grand Prix history in recent years dominating the MX1 class since its inception in 2004 but the field was cleared with the Belgian's retirement in 2006 and now the seeds that were sown in 2007 – a glut of riders not yet able to stare at their 24th birthday cake - are starting to sprout and bloom ready for the next champion to reap harvest. Last August it was factory Yamaha racer and man-most-likely Josh Coppins who was sharpening his scythe, but the New Zealander's bitter misfortune with a broken shoulder at the Czech GP due to rear-brake failure meant that Steve Ramon swiftly claimed '07 as his property.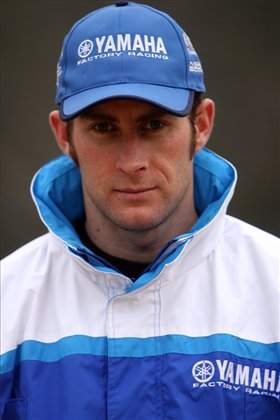 Josh Coppins is seeking that elusive World MX title.
photo: Adam Wheeler
It may be harsh to dismiss the consistent Belgian's winless crown as unrighteous, but common opinion in the media throng is that the 27-year-old will be lucky to enact a successful title defense. MX1 sophomores like Sebastien Pourcel, David Philippaerts and Billy Mackenzie all won Grand Prixs in 2007 in their first stabs with the 450. Slightly more experienced blades like Kevin Strijbos, Jonathan Barragan, Ken de Dycker and Tanel Leok add more potency to the pack. Add the possibilities of people like Marc de Reuver and Max Nagl and the MX1 world championship is once more a chaotic, bubbling mass of action. Seven riders walked the top step last year and 11 claimed moto checkered flags. Many believe this melting pot of results is likely to be repeated in '08 with each Grand Prix to unveil a new story but the larger tale remaining in the echoes of several key figures. That Coppins finished third overall despite only taking seven points from the final five rounds indicates that if this scenario is to be repeated then the Kiwi is again the one whose points tally should be carefully noted each week.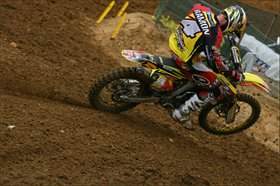 Defending MX1 World Champion Steve Ramon
photo: Simon Cudby
What questions have been answered by the preseason buildup of international events and initial domestic championship races? There is little to indicate any major surprises, but the ascension of activity since the Mantova Starcross awoke European motocross from its slumber in early February has already claimed a number of high-profile victims.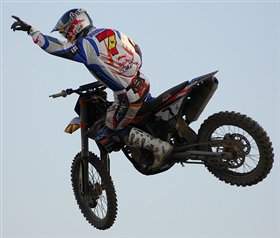 MX1 contender Jonathan Barragan
photo: Max Ludwig
Coppins limps into Holland with two broken toes on his right foot, Strijbos – runner-up for the past two seasons and now on a works Kawasaki after six years with Suzuki – had shoulder problems and was also ill, and one of Kawasaki's three works representatives in MX2, the luckless Gareth Swanepoel, faces four months on the sidelines after a late wrist operation. The green faction have not had much to smile about over the past eight weeks with MX1 racer Tanel Leok – in the last season of his two-year deal and still to win a moto on the KX450F after three campaigns - also needing time off with a shoulder ailment. MX2 World Champion Antonio Cairoli has seen his teammate, house-mate, and good friend Matteo Bonini wreck the start of his third GP season in a row with a dislocated shoulder. Even Marc de Reuver – relieved of his Yamaha berth last season beside Coppins after a torrid spell of crashes, injuries and wounded confidence and now in the last-chance saloon with the HRC-boosted Martin Honda – is not 100 percent in the wake of damaging his ankle at a local meeting two weeks prior.
Names to emerge from the hive of results already recorded across the continent involve Brits Billy Mackenzie (unbeaten in four British championship motos on the new HRC-backed CAS Honda), 20-year-old Shaun Simpson (previously hovering around the border of the MX2 top ten on privateer Honda and Kawasaki machinery in the past two years now already a victor in Britain and Belgium on a KTM) and AMA-bound (in 2009)
Tommy Searle
, last year's world championship runner-up and full of juice after three months in the U.S. over the winter. New works MX1 Yamaha pilot David Philippaerts enters his second term on a 450 after notching six MX2 GP wins in two years and has been impressively fast with the Rinaldi-fettled YZ450FM, winning races in his native Italy. Even the MX1 world champion himself has looked lively on the new fuel-injected Suzuki, leading Coppins to admit: "He is pushing harder and looks more aggressive. He is going for it early on this year because I imagine he is angry with people saying he 'never won a GP,' 'he got lucky' and so on. I think he will be a better rider for this."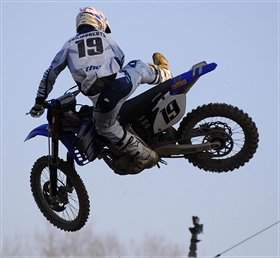 MX1 contedner David Philippaerts
photo: Max Ludwig
In 2007 the MX2 series was like a bug squashed under the imposing foot of Antonio Cairoli. While the Sicilian showed not even an eighth of the speed and form at
Budds Creek
that the rest of the world's media had seen during the GP series, his numbers over the past twelve months were still unequivocal: 10 wins from 14 rounds, 21 motos victories from 28, overall making the podium on 13 occasions.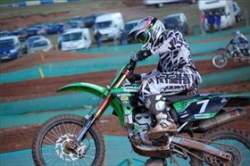 MX2 contender Stephen Sword
photo: Paul Harris
Where is his challenge likely to come from in surely his last season on a 250? The most obvious source is Searle – another year wiser and only his third as a full pro. KTM teammate Rattray could not even purchase a start to run with the Yamaha in 2007, and unless this weakness has been addressed then he will be another favorite for second place. Look for cameos from the likes of Gautier Paulin (works Kawasaki), a French teenager with astonishing - if raw - talent on a motorcycle, a rejuvenated Stephen Sword (also Kawasaki), Nicolas Aubin (works Yamaha), currently France's top MX2 hope with
Christophe Pourcel
still in the wilderness of injury recovery, and Pascal Leuret, now that Suzuki have finally thrown their weight behind a 250cc project.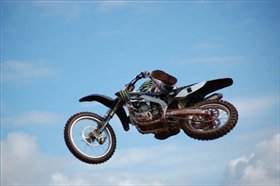 MX1 contender Billy MacKenzie
photo: Paul Harris
The U.S.'s principal interest again lies in the wily hands of
Mike Brown
, once again a CAS Honda rider. The former AMA champ scored points in 29 motos from 30 in 2007 and if he can unshackle his arms of the pump that nullified his routine excellence out of the gate then he will also join the wide rank of MX1 contenders.
It will be a hectic year. Fifteen rounds not only houses MX1 and MX2 but also three rounds for the Veterans and the very first Women's World Championship (five events).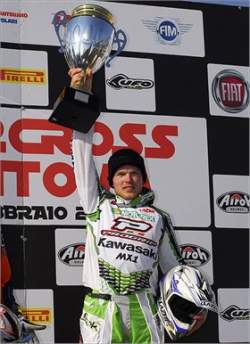 MX1 contender Tanel Leok
photo: Max Ludwig
And what of Valkenswaard itself? The circuit is derided by the Benelux racing clan as not truly representative of a typical deep sand track, and their claims are partly true when comparing the technical force of the terrain to the ravines carved through the grains at a place like nearby Lierop (the penultimate stop on the calendar this year). However this is not to say that the course is a breeze. Reversed, reduced, reshaped and enlivened, the second year of the new-look Eurocircuit still poses problems, most notably through the waves section that sees riders tentatively negotiating 30-odd meters as though riding across a pit of fluffy cushions. The combination of first-race nerves and anxiety coupled with a dose of impish enthusiasm mean that the location is a busy crash site.
Before the first rumble of four-stroke machinery punctuates the spring air for practice on Saturday morning there are no less than four manufacturers (there are seven in total filling the paddock) presentations on Friday as the world championship continues its upgrade and polish into a viable corporate and commercial entity, enforcing the essential communication of racing as a means to market and expose two-wheeled products. Youthstream may not have their foot in the AMA door after a winter of pitching, and this may draw comments of disappoint or relief in the paddock this weekend depending on individual viewpoints. The majority may feel content that all their energies are once more focused on Grand Prix racing and this same collective – consisting of fans, personnel, media and followers – eagerly await what is sure to be an unpredictable and entertaining opening act of this 2008 revue.

Who do you think will win the opening round in the MX1 class? That is the subject of this week's Racer X Online Poll.