5 Minutes with ... Troy Adamitis
If you ask No Fear's Jeff Surwall or even filmmaker Troy Adamitis, they'll tell you that their passion for motocross is a passion for motocross regardless of "brand names." The goal is to make movies that make people want to go ride. They continue in this vein with the latest release by Adamitis and No Fear, "MXoN: Sixty Years and a Day," a 75-minute-long movie about last year's Motocross of Nations, and the sixty years that preceded it. We caught up with Adamitis today to talk about his newest project.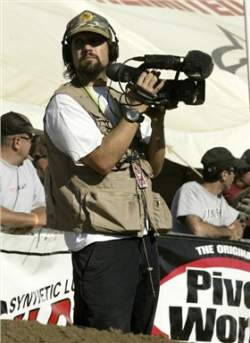 Troy Adamitis

photo: Andy Trecki

Racer X: You worked on this new video – Sixty Years and a Day – for quite a while. Can you describe it to us?
Troy Adamitis: You know, we wanted to go to England last year to do it, and it just never happened for some reason. It's something that I've always been interested in trying because I know almost nothing about European motocross. Everything lined up this year, and it was the perfect time and place to do it, so with all of the stories that were going on – with Ricky [Carmichael] in his last year – I just really wanted to document it just to have something historical like that.
Another thing is that I really didn't know what I was getting into, and how much history I was going to be intrigued by, and it just kind of got deeper and deeper. The more people we talked to, the more footage we found, it just became a very historical thing, which I was actually more interested in than what happened that day, so it's kind of two little mini movies back to back.
You've been doing this with The Great Outdoors and other movies for a while now. How would you rank this as far as the content and putting it together compared to the other movies you've done?
This is one of my favorite experiences. Usually, you have to cover 12 rounds, or if we're doing supercross 16. This was difficult and fun at the same time to get a much larger crew together and to try and really shoot a moto as it plays out, because normally it's just highlights – a start, a couple passes, and that's all we really have time for. But for this one, with three motos and 30 minutes or so to do it in, we're able to spend a lot of time and use a lot of angles and let the motos play out. It's different for us, and that part is a challenge for us – to keep the motos interesting. But for me, the history is what I really loved, and I was just learning as I went. I learned about people like Joel Robert and people like Heikki Mikkola. I had always heard little stories about Johnny O' in '86, and that was before I even knew what a dirt bike was. Just to talk to all of those guys, and just to kind of find out what it was like for them was awesome. I have never seen anything on them, so I felt like we were kind of doing something different.
How long have you been into motocross? Did it start with your passion for videos?
Yeah, it started with the video thing. The first project I ever did out of college was a mountain-bike movie, and at the time, motocross movies were really exploding. They were outselling anything else. The idea to do a motocross movie came about, and the first true motocross movie that I did was called Wrath Child, and that was mainly freestyle motocross. I just learn as I go, and I think that's what's been kind of good about it, because I didn't come from a riding background, so I look at some stuff in a different way. But it's cool because I have to rely on the professionals and the people that I work with, like Jeff Surwall and Eric Johnson and some of the riders. I ask them, "Is this cool? Is this a cool shot?" because sometimes I don't know. But I don't think that's a problem. Sometimes, I feel like if you know everything about it, then the creativity becomes less and less.
I agree with that, actually. As someone who does know a lot about the sport, sometimes it's easy to get jaded and sort of lose perspective on things.
Yeah, that's kind of how it's always been. Now, I'm a complete motocross-history buff, but I never thought I would be. There's just something that's so cool about a guy with just a plaid flannel riding a scramble. You see this footage, and it's just cool because these are the pioneers. Just to talk to some of these people and learn what it was like for those guys in 1981 to go over to this foreign land and beat the Europeans. To try to capture that feeling is what we were trying to do. So many people were helpful. Gary Bailey gave us all of his footage of the '80s, which was huge. You can only do so much with photos, you know? [Roger] DeCoster gave us footage, Alpinestars gave us footage, Racer X gave us photos... But that's kind of what our movies have been about. We want to do this for the sport, to make it look good, and you can't do it alone. It's this big, group effort to do things for the sport, and that's kind of what I like about it. It's not about a brand or anything like that. It's just more of like, "Hey, somebody should do something like this. Why not us? Then we can check it off the list."
So what's next for you now that you've tackled the history side of things with the Motocross of Nations? What's your next thing?
Well, we're definitely doing another Great Outdoors. It's cool to do those because every year's different. Even though there are those years where [Ricky] Carmichael's winning every year, and there are those years where you don't think there's going to be much excitement, there's always these stories and these new kids coming up, and people like Grant Langston reviving their careers... It's fun for us, and it always seems like we can sort of approach this sport from a different angle, and that's always the challenge and the fun of it.
But I got really excited about meeting some of these European riders and finding out a little bit more about the history. I would love to do another historical documentary. It would be cool just to do something like that, like maybe the history of Honda, or the history of American motocross, or something like that. I think the historical stuff would be cool, and I think there are plenty of people who would like to see that and to be involved.
If you're interested in purchasing "MXoN: Sixty Years and a Day" click this link and it will send you straight to the place to buy it.