5 Minutes with ... Fred Andrews
Fred Andrews, team owner and manager of the Monster Andrews Yamaha Off Road Team in the Can-Am Grand National Cross Country Series, was a top-ten-caliber motocross rider for Honda during the 1990s. He retired from motocross and began racing GNCCs in 1993, winning the championship in his first year. In his new role, he oversees Dustin Gibson and Josh Weisenfels in the ultra-competitive GNCC XC2 Pro Lites class. They sit second and third in the standings. We caught up with Andrews while he was packing his gear bag for the Steele Creek GNCC at Morganton, North Carolina.
Racer X: Fred, as far as being a racer goes, 2007 was your last year of competition, correct?
Fred Andrews: Right. I did a few select races and began winding it down to put more focus on making the team work.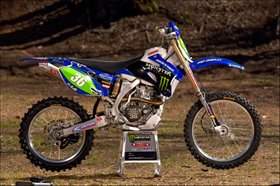 Yamaha and Monster Energy stepped up to help Fred Andrews put together a team for 2008.

Did you ever think you would wind up being both a team manager and team owner?
During my last year with Suzuki [2005], Kawasaki came to me and asked me if I'd be interested in running an East Coast team for them. It was a two-year deal. In the first year I was the rider manager, and in the second year, I ran the team.
Did you find making the transition from rider to manager difficult?
It wasn't that hard last year. I had good riders, and I like to help people out. Plus I had the whole new deal with the XC2 class. That class was my baby, plus I had guys racing in it, so it was fun to watch; it was easy to watch.
You were instrumental in the creation of the class, weren't you?
Yeah, I went to the Coombs family with the idea. The XC1 class was very competitive and all the good rides were taken and nobody, as far as the teams go, were hiring. A lot of young guys were trying to race the class and were getting hurt or were not doing that well and were losing interest. I felt like the talent pool was drying up. I thought it would be great to have a young guy class.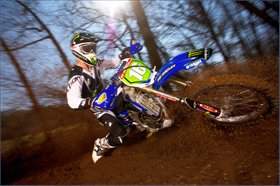 Dustin Gibson

Much like the 250F-based Lites class in supercross, then?
Right. Just like supercross. That's exactly where the idea came from. I also felt that manufacturers having the opportunity to advertise two class championships would be good for them.
How did your guys do in the new class in 2007?
They finished second and fourth overall in the XC2 class. We did good. I was happy with what did. My two guys did great.
How did you guys end up racing with Yamaha in 2008?
Towards the end of the last season, Kawasaki started telling us they didn't feel there was enough interest in the class and it wasn't getting enough exposure. They kind of told me they weren't going to back it in 2008 a few races from the end of the season. They really caught me off guard. My guys were in first or second or on the podium week in and week out. I got the call from Kawasaki telling me they were out and I was like, "You're kidding." I did not expect it. I had to sit back and think things through. It was like, this is all I know. This is all I do.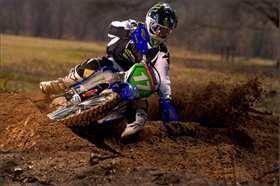 Josh Weisenfels

Then what?
I made some phone calls. My parents own a dealership and I knew that Yamaha and Suzuki had teams and that Honda wasn't that into it. So I approached Yamaha and Suzuki and both were highly interested. I wanted to make sure before I really started anything. It was also good to know at that point that Monster was with me 100 percent. Monster has been with me a long time now. A friend I used to race motocross with, Scott Sepkovic, helped put me together with them. In fact Monster, Maxxis, Thor, Parts Unlimited, Pro Circuit, Andrews Yamaha and Alpinestars were all there for me. I knew I couldn't do it without them and they told me they'd help fund the new team. I felt a lot better.
Did you have your riders lined up?
I didn't have a true program going yet and one of my riders had already been hired away, but I told my two guys, Dustin Gibson and Josh Weisenfels, "Somehow I'll do a team. Even if I have to take the money out of pocket, I promise you I'll run a team." But then Yamaha and Suzuki both made an offer. We chose Yamaha and went that route. As far as my riders, they were getting ready and riding while all this was going on. I had a trainer up here in Ohio by me that showed them what to do and helped them out. I had Josh last year and he really came on strong. Dustin won a race last year and gives it his all. When you're a rider and then become a team manager, you want guys who go home and ride and train and get ready. All I can do is give them things and let them in on the knowledge I have. Then it's up to them.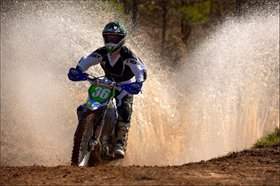 David Snyder

What does it take to be successful in the GNCC series? Racing for three hours straight has to be hard as hell.
It takes somebody who isn't a quitter. You can fall several times on the first lap and be three minutes down, but if you put your head down and ride with heart, you can be there at the end. A rider needs to be in shape, hydrated, and have fun. I always tell my guys to find one or two places on the track they enjoy and where they can have fun. It helps keep them motivated while they're out there.
Is the pace different now than when you competed?
It used to be more of a pace, but now the guys are really in shape and pull it the whole way. Back when I was racing with Scott Summers [a five-time GNCC champion] and Scott Plessinger [a two-time GNCC champion], we'd just sort of ride around for two hours and then race the last two laps.
When did the Yamaha deal for 2008 become final?
To be honest with you, we did not get our bikes until two weeks before Florida. It all happened so late. Everyone's budgets were so late it wasn't until January before we knew we were going to be getting bikes and parts.
At the season-opening Triton round in Melbourne, Florida, Josh placed second and Dustin was third. A fine start to the series. Were you pleased?
Going into that race our bikes were really late, but the Yamahas were so good, we had a lot of confidence in them. Josh led at one point and Dustin really came through by getting into third a half a mile from the finish. It was sweet. For our first race out we did great and were real professional. It was nice to be noticed like we were. At the second round in Georgia, all my guys got taken out in the first turn at the start. They all came back, though. Dustin was third and Josh, who was sick, was fifth.
Are you happy with the way things have been going?
I am. It takes time to win races. We're just going to keep pushing and take it race by race. It's not time to concentrate on the title. To worry about the championship now would be crazy. We just want to be consistent and not give points away. Our goal is to win it. Both my guys can win it. Our goal is to win the XC2 championship and have Yamaha re-up our program for next year. In fact I'd really like to thank Yamaha and all of our sponsors: Monster Energy, Andrews, Yamaha, Parts Unlimited, Thor, Maxxis, Pro Circuit, Cycra, Silkolene, Renthal, Cornwell Tools, Athena, Ogio, Zip Ty, TM Designworks, SDG, PG Graphics, Realtree, Hinson, Uni, IMS, DP, RK, Hot Cams, Pivot Works and Alpinestars. I'm not sure about what we'll do in 2009 yet. If my guys give it their all and we have a good team, we'll do it again. If we don't, we'll all be looking for jobs.