5 Minutes with ... Rick Zielfelder
It's been a good year for the Torco Racing Fuels Honda squad. Kevin Windham is in the thick of the AMA Supercross title hunt, rookie Trey Canard is out front in the East Region, Jake Weimer has a win out west, and Josh Grant almost won at Minneapolis last time around. Australian import Dan Reardon will be a threat in the nationals, and even at the 32nd Annual GNC International Motocross Final at Oak Hill, Texas, amateur recruits Blake Wharton and Justin Barcia each won three class championships.
However, since he first founded the Factory Connection team in 1998, it hasn't been all wine and roses for Rick "Ziggy" Zielfelder, as the sport has taken him and his team through all kinds of radical ups and downs. However, Zielfelder feels that it's certainly has all been well worth it.
A few days before the Toronto SX, we sought out Zielfelder at his shop in New Hampshire. Taking a lengthy break from bleeding shocks, the team co-owner spoke at length with us about the risks and rewards of racing motocross at the highest level in the world.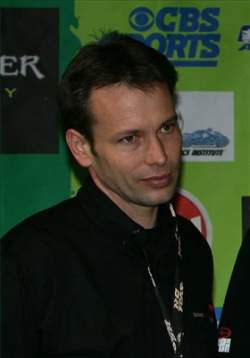 Rick "Ziggy" Zielfelder

photo: Simon Cudby

Racer X: Rick, how did you become involved in professional motocross?
Rick Zielfelder: Well, as a kid I grew up racing motorcycles and as a young adult I realized I wasn't going to be the next AMA National Champion. I was still very passionate about the sport and that that I wanted to continue to be more involved in the sport so I turned more to the technical side of things and became a mechanic. I did well with that sort of thing and had opportunities to work at various places. Ultimately, I ended up working as a mechanic at Honda for Larry Ward when he had a Honda support ride long ago ('89). That kind led me to doing some work for HRA and their R&D group. I met a lot of the people at Showa and that kind of led me in the direction that I ended up. I enjoyed the technical R&D side more than I did spinning wrenches on a weekly basis, I guess.
How did Factory Connection first come to life?
Actually, it was started by a friend of mine — Mike McAndrews. It was started in 1988. Right around '92, he had an opportunity to go into the mountain bike industry just as that whole sport was blossoming. He was at a crossroads and he didn't know whether to grow Factory Connection or take the mountain bike opportunity. I had a business I had launched and was catering to racers and was helping Mike already when he was very busy. So he and I structured a buy-sell agreement and he went and did the Mountain bike thing and I took over Factory Connection ownership in 1992 and have been running with it ever since.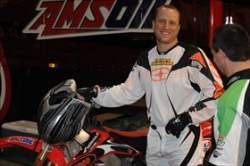 Mike LaRocco was Factory Connection Honda's first rider.

photo: Steve Cox

Rick, when was it that you went AMA Supercross racing?
1998 was our first professional series and it was with Mike LaRocco as our rider. It happened purely by chance. There was no plan behind it. When Mike LaRocco was having a hard time in the industry and was looking for his next ride (after leaving Suzuki) I called his mom just trying to offer suspension services for whatever he was going to do. I believed in Mike and I think he had had a hard time with equipment which didn't suit him and I kind of believed he wasn't done yet. That first phone call led into us putting a one-man team together and taking him racing. That first year, we were naive and we were under-funded and we had more success than we should have. I always looked at it as a David & Goliath thing — we just swung hard with one little stone and made a dent. We came back and backed it up with some better results and a better effort the following year and it's been growing ever since.
As far as the modern era is concerned, your team was one of the first satellite operations of the modern era, correct?
Well, there have been a lot of satellite efforts over the years. Mitch [Payton] has been there a long time and longer than us and he's had a very successful run. We started a little different. We went to the premier class first and added Lites — or 125 racing — after the fact. So, we were probably one of the first satellite teams to have success in the premiere class, but not the originator.
Rick, the team has grown exponentially in recent years. How does the team operate now, in 2008?
You know when I formed the team early on it was just three of us. It was Mike LaRocco as the rider, it was the mechanic Paul DeLaurier, and it was myself. Between Mike doing what he needed to do — training, riding, racing — Paul and I did everything else. For years and years I was "hands on" on everything: The logistics of traveling, scheduling, ordering of parts.
In recent years, we hired on J.C. Waterhouse as the team manager. The team had grown as we had taken on 125 racing. Jeff Maijkrzak was a friend that was helping me in a lot of ways with the race team. Going into 2003, I really, really enjoyed his company and I trusted him like my brother. I was from a technical background and he was a finance background and brought a skill set that was needed. So I just said, "Let's make it a partnership" and we split it 50/50 and the team has grown and become better because of that partnership.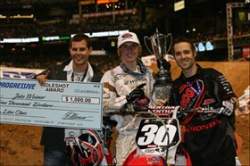 Jake Weimer got the Torco Racing Fuels team their first win in 2008.

photo: Simon Cudby

How was the 2007 off-season and how did you feel about the team and the sport heading into 2008?
The off-season was interesting to say the least. It's no secret that with the economy kind of in the state of flux that it's in, the first thing to go away is marketing dollars and that presented challenges for funding our race team. But my partner and I were committed that no how, no way were we going to go away and stop. We were going to find a way to make this happen. You now we were willing to, and have always been willing to, take personal dollars to help fund this thing. We weren't going to let it stop at this point. It was interesting and it was difficult. Luckily the sponsors that we have, they all stepped forward and we love them to death for it and they are a huge part of the success that this team has experienced in 2008 thus far.
It didn't take long for the team to begin experiencing success this season…
Of course the initial high was Jake Weimer winning at Phoenix. It was a great win for Jake. It was a great race to watch. I know I'm biased because we ended up winning the event, but regardless of that, you couldn't help but be excited watching all the lead changes and the drama at the front of that race. That was big. And then Kevin Windham starting to catch his groove… You could just tell there was something different about Kevin this year. He was having fun again. And when Kevin is having fun he is just awesome to watch. And when he has those events and then has a few in a row, he gets his confidence going and he's a much tougher guy to deal with then after having the injury in 2006 and coming into 2007.
And then this Trey Canard kid shows up in Atlanta and dominates. Did you expect that?
Um, you know I can't say I expected that, but I can say that I believe in Trey Canard. He prepares differently than 95 percent of the others. He's a special kid. He's a special racer. But more importantly, he's a special person. And he will always be successful in whatever he tackles in life because of the mindset that he brings.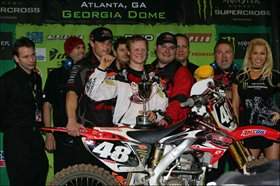 Trey Canard won his first professional SX in Atlanta.

photo: Simon Cudby

How has the season been for you and Jeff? Does winning make the headaches and digging deep down into your pocket all worthwhile?
You know what? People will never know how much blood, sweat, and tears has been invested in running or starting or growing this race team. It was never done for money; it was done purely for the love of the sport. And that's why Jeff wanted to get involved. He and I have a joke. We've both been involved in several business ventures, and usually, and luckily, successful ones. But in dollars and cents, and in black and white terms, this business doesn't make sense. You know accountants and lawyers would laugh at you, but it's truly a passion. And no matter how hard things get, when we get ready to watch our guys in a main event, it's an awesome feeling. It's why we're all fans of the sport. You know we just decided to be a little more involved than just being a fan sitting on the sidelines, I guess.
The Factory Connection amateur program has really taken off. Can you explain the genesis of the program?
The amateur thing is something I've been paying attention to since 2005. I've been watching a lot of these kids. What we did with amateur racing last year was unique. We hired Canard while he was still an amateur. His first year under contract with us was his amateur year with us in 2007 and it was a banner year. He had tremendous success as an amateur racer and he made an impact as a professional in the last four rounds that he did. It was a home run. So we did the same thing in 2008 with two riders: Blake Wharton and Justin Barcia. The idea was to kind of continue to create our farm system. It's done in most other professional sports. You know, I don't like that term "farm system," but that is kind of what it is. Part of the mentality behind it is to bring these guys around the pro guys and to bring them to tests and to expose them to a bunch of different things so it's not a shock to their system. It's not new when it becomes their job.
That's a great point. I watched how you guys did it with Trey Canard last winter. You would bring him out to the supercross races and he would hang around the trucks and watch exactly what was going on around him and learning from it…
That's exactly right. It makes a difference. It allows you to focus on what's important and not just have sensory overload to all these changes.
Well, your amateur program appears to have been warmly received by the amateur racing community.
There's no question that people want to be on it. We were overwhelmed with phone calls from dads and riders trying to put their name in the hat. We really believe in the two kids that we have and we want to do the best job that we can for both of them and want to make sure that they're ready to come out winning when they come out.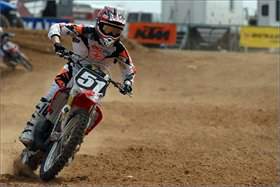 photo: Andrew Campo

And has Honda been supportive of the program?
It couldn't have happened without Honda's support. They're a huge part of it. I love working wit those guys. Bill Savino and Dave Thomforde and all of Honda racing make all of this possible.
How long are you going t stay at all this racing stuff, Rick? As long as you can get around?
Yeah, I think I'll be around a long time. They have handicap-equipped elevators at those stadiums and the nationals are getting easier to get around all the time, so I don't see me go away.
Okay, Rick. Thanks for the time and good luck in Canada.
Thanks, Eric. As always, great talking with you.