5 Minutes with ... Charlie Mullins
Much of the off-season hype for the Can-Am Grand National Cross Country Series focused on Charlie Mullins. Entering his third year as a pro, "Hot Rod" made a big switch from the Am-Pro Yamaha factory team to the FMF Suzuki squad, and he was expected to be in the championship hunt just like he was in his first two seasons in the big class. After enduring a grueling off-season training program with Rodney Smith, Mullins was ready at the season opener in Florida but ended up running into a few mechanical troubles and finished 11th. He bounced back to win round two in Georgia, however, and he will try to make it two in a row this Sunday at the FMF Steele Creek GNCC in North Carolina.
Racer X: Are you going riding today?
Charlie Mullins: Yup, I'm headed to a track right now.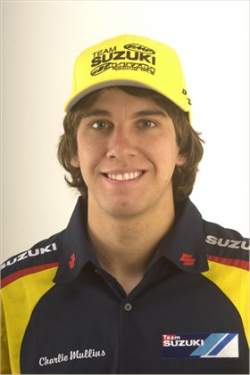 FMF Suzuki's Charlie Mullins

photo: Kinney Jones

Do you ride every day?
It depends, but I'll ride all the way up to Friday if I can. Today, me, Jimmy [Jarrett] and Josh [Strang] are going down to a motocross track in North Carolina. We've been here ever since we were done racing in Georgia. We've been staying at campgrounds, just trying to get as much riding in as we can. It's been fun. There are so many top riders who are down here to go riding with. We have Jimmy and Josh, and Rodney and Lori Smith are staying with a friend not too far away, and Paul [Whibley] and [Shane] Watts and Jesse [Robinson] and Glenn [Kearney]. It's great to have so many people to ride with. The only thing is that it has been really dry, we need some rain down here.
Well, things are going well now that you have that win under your belt in Georgia already. Last year's North Carolina race was tough for you [Mullins crashed hard with David Knight on the last lap and barely finished]. This year, are you stronger?
Yeah, last year, I think I was in good shape, but it just seems like this year I'm more self-motivated than anything. I want to do the best I can. I've definitely been working hard. But this weekend, it looks like it's only going to be like 60 degrees on Sunday, and last year it was in the 80s for this one. We've been lucky with these cold races so far but eventually it's going to catch up to us.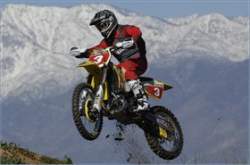 Mullins is currently tied for second with his teammate Jimmy Jarrett.

photo: Kinney Jones

In Georgia, after you crossed the finish line you didn't even look like you were sweating!
Well, it always feels good when you're winning. I could have done three more laps there! It was just one of those days—everything feels good when you win.
You were battling Nathan Kanney there for half of the race, and then you went to the lead. Was that a strategy you're planning this year?
For me, basically, my plan is, if there is a flag drop, I like to be leading. I like to lead. But Nate, he was riding extremely well. We got into lappers and it was getting congested, and I made a move but then he got back around me. Then I made another move and he got stuck behind a lapper and I was able to build a cushion. I just like being in the lead.
Everything seems to be going well for you now on the Suzuki.
It was good to get a win. After Florida, I was disappointed. At least I was able to get some points, but it wasn't what I wanted to do there. So going into Georgia I still had confidence, but after winning, it just keeps you motivated to keep working harder at it during the week.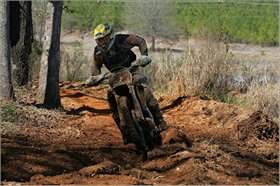 Mullins is looking forward to a great race this weekend in North Carolina.

photo: Jason Hooper

One of the odd things is, have you even really seen Knight during these first two races?
Not really. I saw him in Florida, like on the first lap he passed me really quick and then I didn't see him after that. Then I didn't see him in Georgia. Obviously, he is riding well since he won Florida. He's a big factor in every race, of course. But I'm sure a lot of riders are going to be going good too. All of my teammates, Josh and Jimmy and Paul, they're all riding good, and the Am-Pro Team, you know those guys are going to be good, and Nate's riding well, and Jesse; it's definitely going to be tough this weekend. I think everyone is going to be fresh for this one now that we've had three weeks off. I'm sure there were a few people tired going into Georgia, because Florida was so rough and we only had five days in between. This weekend, it should be good racing because everyone will be ready.