Between the Motos: Ricky Carmichael
When 15-time champion Ricky Carmichael stepped away from professional motocross competition, his life was complete both on and off the track. But what does a man with a competitive drive such as The GOAT do with his time? He went car racing.
There was almost zero lag time between Ricky's motocross career and his beginnings in car racing. In fact, he had already spent a considerable amount of time in a Late Model when he lined up to win the last moto of his career at the 2007 MXoN at Budd's Creek. While Ricky never won a Late Model race, he gained much needed, and valuable seat time in a race car. He also performed well enough and displayed enough focus and determination to attract the attention of Nextel Cup legend Kenny Schrader, who just so happens to own and operate a team that competes at the next level of big-time auto racing. The Camping World East Series is a big step above the Late Model events Carmichael was competing in, and just below full blown Craftsman Truck, Nationwide, and Nextel Cup competition.
To put it in even better perspective, the man (Joey Logano) who won the 2007 Camping World East Series is now a full-time Nationwide competitor for the powerhouse Joe Gibb's Racing organization. Make no mistake, this new opportunity is a very big deal and will provide Carmichael the chance to fulfill his dream of racing in NASCAR's divisions.
We got RC on the phone and spoke with him three days before his debut in the new Camping World East car. Here's what he had to say.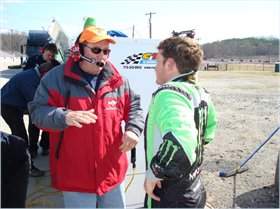 Ken Schrader (left) and RC.

photo: Scott Taylor

Racer X: Well, it looks like you finally have your new deal put to bed and things are moving up!
RC: Yeah, I'm looking forward to this Camping World East series. This is a real NASCAR sanctioned series, and I couldn't be happier that Monster Energy and Kenny Schrader have stepped up to put this deal together for me. I was in the fold there at DEI, and, you know, I don't know if it was because Junior left or what it was, but I really never got a good vibe there. So, I talked to Kenny Schrader and things just clicked right away. I made my decision pretty quickly and well, here we are.
Your team has some backing from Hendrick Motorsports, right?
The technical support is there if we need it. Kenny has a long standing relationship with Mr. Hendrick, and he bought the cars that I will be driving from the Hendrick stable. They are actually Kyle Busch's #5 Cup cars from 2007, so they'll be good.
Hey man, before we get any further in this at all, we have to know if you're going to be able to run the #4?
Yeah, we're going to have #4! Somehow that number was available, and somehow Ken was able to grab it for me. We were also able to get some owner's points to go with it, so that's good.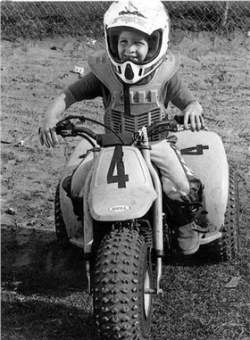 RC and the number 4 have some history.

photo: Racer X Archives

That has to give you a little boost getting your number, man.
Absolutely! You know, I've been trying to do my thing with my number and it's been so great to me. That number has a lot of history behind it, not just with how many races I won with it—I mean, hey, that was my first number I ever used at all so to have it at this level is great. If I'm able to graduate to the Craftsman Truck or Nationwide series I'll have to let it go, but it's cool to have it now.
As I'm sure you've learned by now, one of the most important aspects of auto racing is your ability to communicate with your crew chief. Who is going to be calling your races from the pit box?
Mike Fritz is going to be my crew chief. He was my guy with the Late Models and he is coming with me over to Kenny's shop. I mentioned to Kenny before we did the deal that it would mean a great deal to me to bring Mike with me. I just have a good relationship with him, a lot of trust in him. I think he's good. He was an old racer and I think he and I are going to be able to learn and develop together.
That is one of the things I was able to learn in my Late Model races: I drove another guy's car during speed weeks and had a different crew chief, so I definitely gained an appreciation for how important he is to me. It's kind of like motocross. There was only one guy I trusted working on my bikes, whether it was Goose, or Chad Watts before him. That's the same way it is with the cars: you confide everything with your crew chief.
This series is a big deal. Sprint Cup race winners Martin Truex Jr. and Ricky Craven are graduates of this series and the driver everyone is expecting to be the next big thing—Joey Logano—won it last year. How do you feel about racing in this series?
I really think that the series is going to be getting a lot of attention. Logano brought a lot of attention to the division last year and NASCAR brought in this new sponsor. I think they will be pushing hard to promote the new series name and its competitors, and I believe the series has become the main stepping stone to the premiere series. The teams seem to be putting their development drivers in the series. I mean, you drive the heavier car and the competitiveness is going to be high. I think all of that is great for me. I'll know if I'm going to make it as a race car driver at the end of the season. I have to focus on is setting realistic goals, keep the fenders on it, and do good in the races.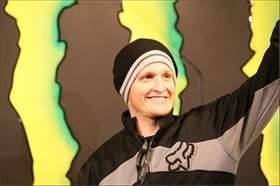 RC has gotten major support from Monster Energy to compete in the Camping World East Series.

photo: Simon Cudby

Speaking of your friends, we saw you had some of your boys out for a spin in the Late Model to get a taste for themselves! Were there any surprises with that?
Yeah, you know, I wasn't surprised ole Paggio spun her around! If anyone was going to do it I had a feeling it was going to be him. [Laughs] He said, "Hey, no stop watches, none of that, let's just go have fun." And I told them all, "Hey, you wreck it you bought it!" Then Paggio puts it in the fence!
It was nothing major. But seriously, I just wanted to give a little back to those guys and show them a good time. I also wanted them to see what it's like! When they're on my ass this year about why I'm not going faster and telling me, "Dude, just do it!" Now they'll have a better appreciation that those guys are real athletes and this stuff is hard. Now they understand how much distance that 1/10th of a second is.
Right on, Ricky. Thanks for your time and good luck on the 19th.
You're welcome, I'm looking forward to it. And I'd really like to thank Monster for helping me make this deal come together.
Carmichael's Monday test session was a considerable success. He spun his first laps in his new Ken Schrader machine and ended the session as the second fastest car in a field that included Joe Gibbs Racing's hot prospect, Marc Davis. For a Photo Report from that day, click here.

There has been some skepticism about the possibilities of Ricky succeeding in his car racing endeavors. With that in mind, his Late Model efforts have earned him much needed experience, and this new opportunity will most likely be a big deciding factor. He'll be driving good equipment, he has good financial support, and it goes without saying that he has the determination. It all begins April 19th. For more information on RC's new team check out: www.schraderracing.com.



2008 Camping World East Schedule
| | | |
| --- | --- | --- |
| Date | Track | City, State |
| April 19 | Greenville Pickens Speedway | Easley, SC |
| May 18 | Iowa Speedway | Newton, IA |
| May 31 | South Boston Speedway | South Boston, VA |
| June 8 | Watkins Glen International | Watkins Glen, NY |
| June 27 | New Hampshire Motor Speedway | Loudon, NH |
| July 12 | Thompson International Speedway | Thompson, CT |
| July 19 | Music City Motorplex | Nashville, TN |
| July 26 | Adirondack International Speedway | Lowville, NY |
| Aug. 16 | Lime Rock Park | Lakeville, CT |
| Aug. 23 | Mansfield (Ohio) Motorsports Speedway | Mansfield, OH |
| Sept. 12 | New Hampshire Motor Speedway | Loudon, NH |
| Sept. 19 | Dover International Speedway | Dover, DE |
| Sept. 28 | Stafford Motor Speedway | Stafford Springs, CT |