5 Minutes with ... Ron Tichenor
Former factory Suzuki rider and Japanese National Champion Ronnie Tichenor has been back on the circuit this year. No, he's not making a comeback; he's mentoring young up-and-coming star Nico Izzi of Rockstar/Makita Suzuki. Nico has made a podium this year, so we thought that getting a hold of Coach Tichenor would be an interesting read.
Racer X: Ronnie, what's going on with you these days?
Ron Tichenor: I'm training Nico Izzi right now and that's getting me to the races. I'm still doing the schools and have the surf shop that my wife runs for me. Being a dad also is a full time job! I keep pretty busy, really.

What are your thoughts on Nico's first supercross season?
You know, there have been a lot of ups and downs. Coming into the season, there were some issues that we were dealing with that are starting to work their way out. For his rookie year, I think he's been doing pretty well. Everybody is judging him on Trey Canard, but that kid's having an unbelievable season. I've never seen a rookie start off so great. He was one of Nico's rivals as an amateur, and when you sit back and see the guy that you can run with do so well, there's a bit of pressure there to think it should be you.

How long have you worked with the Izzi family?
Since Nico was eight. He was 54 pounds and on an 80 when I started with him. [It's been] a real long time and I love working with him, you know? We don't have a contract or anything – it's just something that feels comfortable for him and I. We've made some real improvements together over the years. It seems to be working.

Is there anything that he's told you that surprised him about life in the pros?
No, not really. The only thing I can think of is that in the Lites class in supercross the first lap is crazy. It's like demolition derby or something like that! Everybody kind of shuts off their brains and goes for it. In the 450cc class, they think about the consequences a little bit. The 450 guys are a little less blood-thirsty. Nico has had so much success as an amateur that he is used to being up front, I have to tell him to just chill out sometimes and let the race come to you.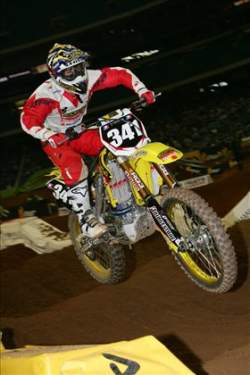 Rockstar/Makita Suzuki's Nico Izzi is under the watchful eye of Ronnie Tichenor.

photo: Simon Cudby

I've seen you at every east coast race so far. What's it like for you being back on the tour?
I like it. It's fun to come out and see everybody again. The downside is my wife and kid are at home and I don't get to see them as much. I have some amateur kids that I work with that make it hard to get enough time in with all of them. I don't want them to feel like they're not getting enough of my time. I want them to feel like I'm there for them. Kids like Ian Trettle, Adam Cianciarulo, Derek Rogers and some others are also depending on me to help them. So I'm pretty busy.

And of course no interview would be complete without me talking about Tim Ferry. Are you still working with Red Dog?
Yeah, every once in a while Red needs a tune-up! I've worked with him and been friends with him for so long that I can go over and watch him ride and know exactly what bad habits he's slipped into. He can trust me and he knows that he can call me anytime if he wants help. I've been bringing Nico over to his place and out of the corner of my eye, I'll watch Timmy and notice something. I'll ask him, "When did you start doing this or this?" He'll say, "Yeah, I was thinking of that and my bike makes me do this or this," or whatever! It's funny because I can spot something pretty quickly with him since I've known him for so long.

What do you see him doing different from his Yamaha days to now?
It's weird but when he hurt his wrist so bad, rode injured and switched bikes, he developed some bad habits from all those changes. I didn't work with him for a few years and went out and was like, "Whoa, what happened?" He got his wrist fixed, switched onto the Kawasaki and I went out and gave him a few pointers and he ran with it. He works hard, his bike is good and him being an older guy with a family, there's just no distractions for him. He just goes out and gets his job done. He's also really good at setting up a bike and that's one less thing for him to worry about.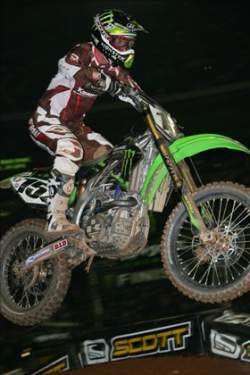 Tichenor still helps Tim Ferry, too.

photo: Simon Cudby

Yeah, he got better at setting up a bike after he got a new mechanic. Talking about your career, looking back on it, what would you have done different?
For me, I had a lot of natural ability to ride and I thought I worked hard off the bike. It had a lot to do with confidence with me because that's what it's like at the top level – just believing in yourself and having good confidence. I just never really believed in myself, you know? Looking back, that was the only piece that never happened for me. Times were different then, also. When I got fired from Suzuki I went and rode for TUF Racing and got third in the 125s and never even got an offer! That wouldn't have happened today. So I wanted to keep racing professionally and decided that going to Japan and racing over there was the way to do it. I tried for two years and did well as a privateer and needed to make some money so I jumped at it.

I was there in Miami 1989 when you led the 250cc main for 11 or 12 laps. Was that the closest you got to winning a main?
Yeah, probably. The funny thing was that I had food poisoning the night before and sat on the toilet for most of the night. I probably only got three hours of sleep. I was so tired and relaxed that when the track got rutty and tough to ride, I was like Jell-O and just adapted easily. I was the only guy jumping the triple that night. I cased it one lap and went off the track and was so exhausted that I thought about pulling off then! I finished sixth or so, and when the race was finished, I thought, "Man, I could've won this thing!"

Thanks Ronnie, how can people get a hold of you for your school?
Well, probably the best way is by email at rtmxschool@aol.com. Just let me know what you're looking for and how I can help you and we'll go from there.