5 Minutes with ... Tommy Hahn
Young riders have taken the premier class of Monster Energy AMA Supercross by storm this season, as we saw three young pilots (Ryan Dungey, Josh Hill, Tommy Hahn) in the top five of the AMA Supercross class at the last round in Minneapolis. This may come to a surprise to many industry members and fans, but if you ask any of those three riders, they expect to be up front. One rider we haven't really heard from after Minneapolis is Motosport Xtreme Kawasaki's Tommy Hahn, who placed fifth in Minnesota in his AMA Supercross-class debut. It was a stellar performance by any standard for the full-time Lites SX rider, but it was sort of overshadowed by Josh Hill's first win and Ryan Dungey's impressive runner-up finish. Hahn currently sits fifth in points in the West, so we gave Tommy a call today to get his take on that impressive ride inside the Metrodome.
Racer X: Tommy, what's going on?
Tommy Hahn: Ah, just getting ready to go riding.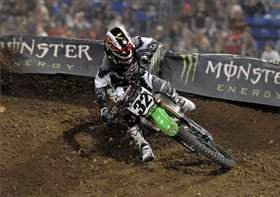 Tommy Hahn finished fifth in his AMA Supercross class debut in Minneapolis.

photo: Steve Cox

Getting right to the point, dude, Minneapolis!
[Laughs] Oh man, it was good. I just tried to get a good start and ride good for 20 laps, and it worked!
What were your expectations going into your first AMA Supercross race?
I really wanted to finish in the top seven because I thought I had the speed and I felt comfortable on the bike already.
Did you put much time in on the 450 prior to that race?
No, I started riding it a week before the event, so I had like four days on it, with two days of testing.
Your biggest fan, Andy Bowyer, has been telling us that you're a better 450 rider anyway. Any truth to that?
Yeah, he's seen me ride a 450 as an amateur, and I always did better and had better results on the bigger bikes. I definitely feel more comfortable on it, and I definitely want to consider going full-time on the 450 in the next few years.
At what point this season did you decide you wanted to ride a 450 on the East Coast?
Well, I wanted to do it last year; I wanted to ride the West Coast events on a 450, and Honda wanted to do it too, but they made that rule to where if you get in the top 20 you can't go back. Now that they took the rule out, I think it's good. It's also good for the guys in the 450 class that can get a ride in the 250F class. I think it's good just not to have that rule. But I considered riding it maybe one race this year and the team thought about it, so we decided to do it. I felt really comfortable after getting on the bike, so the team shipped it out to Minneapolis and I raced it.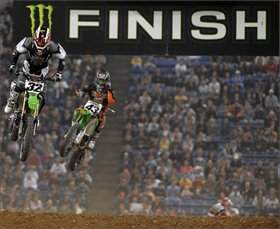 Hahn will ride a 450 at three more rounds before switching back to a 250F in Seattle.

photo: Steve Cox

Did seeing Ryan Dungey do so well in Indianapolis have any influence on your decision?
Yeah, it did, really. I know Ryan is a good rider and everything, but I know that I'm a good rider too, and I have really good fitness. He had a little bit more time on the 450 than I did, but with more time, I feel I can be up there with him.
Did you happen to read Steve Matthes's Observations after Minneapolis?
[Laughs] Shoot, I live so far in the middle of nowhere, so I don't have internet.…
Well, he gave you a nice compliment about beating your former teammate Davi Millsaps. He said, and I quote, "Are you telling me that Millsaps, a previous winner and multi-podium guy, got beat by a guy moonlighting on a bike that's probably worth about a quarter of his?"
Yeah, I don't know if Millsaps was just having an off-race or what, but I saw him behind me and I really thought he was going to get around me, and I was just going to let him by, because he's won a race and been up there and is up there in points. It would piss me off if somebody that just came in to ride a couple rounds tried to race me. So I was just going to let him by, but he never really got within striking distance; he just stayed in the same spot. So I just rode my own race from lap 10 on.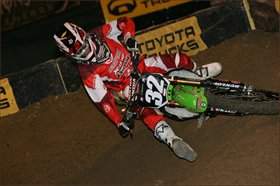 Hahn is fifth in the West Region Lites series.

photo: Simon Cudby

Was racing the AMA Supercross class a lot harder, physically?
I thought it was, definitely. The bike is harder to ride. It's harder to turn because it's a little heaver, and then you add another five laps onto the race. I like it, though. If you ask Andy, I always needed five more laps. So I think that the last five laps were good. I just love riding it. It fits me and I'm happy to be riding it, for sure.
It's good that you like the premier-class bike, because the goal is to eventually be racing and winning in that class, you know?
Exactly. Back in 2004, my last year as an amateur, my dad took me off the 450 after March and wouldn't let me ride it anymore and said, "You're not going to get a 450 ride; you're going to be a 250F rider." So from that point on, I really haven't had much time on a 450. I had one to practice on every now and then but didn't really ride it that much. Now I've been riding it for two or three weeks, and I got some good time on it. I don't know how I'm going to go back to the 250F [laughs]!
Will we see you in Toronto this weekend on a 450?
No, the team's not going to Toronto, but I'll be in Dallas, Detroit, and St. Louis on a 450.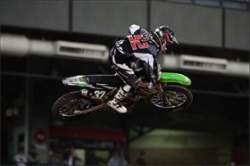 photo: Simon Cudby

Then it's back to the Lites class in Seattle, where you're fifth in points, 12 back from third place.
I just need to get a good start in Seattle and do as well as I can and try to beat the two guys in front of me for third. First and second is out of the question at this point. I had a bad race in Houston, and that hurt me, but I just need to capitalize at this final round. I need a good start and just need to ride smart.
Can you win in the Lites class?
Definitely. I really think that I can. Especially since I've been riding the 450, I think I'll be a lot stronger. If I can get a good start, I have no doubt that I can win.
Your younger brother Wil is having a pretty good rookie season.
Yeah, he's riding strong. I just actually took him to the airport last night; he's been in Texas riding with us, and he's definitely riding well. He's been doing a lot of outdoor riding, and he has most of his testing done already.
Does it piss you off when you get beat by your little brother?
Oh, yeah. But one thing, he hasn't beat me fair and square yet. I either crashed or got a bad start, fell in the first turn, or something. He has not beat me straight-up!
How has the transition been from red to green?
I really like the Kawasakis a lot. Everyone at Honda was really good to me, and they were great bikes, but I really adapted to the Kawasakis and I think the KX450F is the best bike out there. My bike I raced in Minneapolis had a little motor work and supercross suspension, but nothing was done to the chassis, and it was awesome. It's one of the best bikes I ever rode, for sure.
What will you be riding outdoors?
Well, I want to ride a 450, but I don't know if that's going to happen. I'm contracted to ride a 250F, so that's what I think I'll be riding.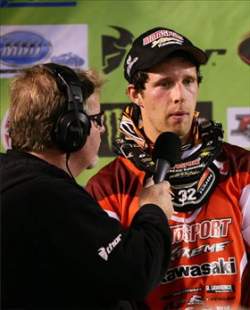 Tom has a lot of sponsors to thank up on the podium.

photo: Simon Cudby

I know you're getting ready to go riding, so let's end this right here. Who you want to thank, Tom?
I just want to thank Motosport Xtreme Kawasaki and everyone there. My mechanic and Bill and Bobby; everybody kicks ass and this is a great team. I want to thank Kawasaki and Mike Fisher for giving me a chance to ride the 450, because it was a lot of their decision too. I want to thank Mitch and Bones at Pro Circuit and Jeremy and Danny at One Industries. Also everybody at Alpinestars, Renthal, Dunlop. Hurley, etnies, I'm not thanking Travis Preston…Smith, Twin Air, ASV, Excel, VP, Maxima…man, there's so many people on my shirt!
You sound like Kevin Walker at Loretta Lynn's! You missed Shift, Fox, O'Neal, MSR, Acerbis, Axo.…
[Laughs] Yeah, Husky, KTM, Suzuki, Husaberg, Can-Am.…