5 Minutes with ... Kelly Smith
Chad Johnson won the war, but it was Kelly Smith on his Monster Energy/Babbitt's Kawasaki that won the battle in Green Bay. Despite Johnson's almost insurmountable points lead, Smith was on a mission, and he dominated both the Friday-night and Saturday-night main events. Although disappointed with not taking the Toyota/AMA Arenacross Championship, Smith was happy about his late-season charge. Moments after his Speed TV interview, I was able to snag a few minutes of air with Kelly.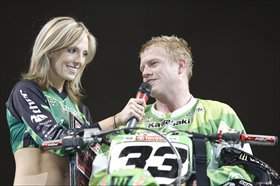 Monster Energy/Babbitt's Kawasaki's Kelly Smith was a regular on the AX podium.

photo: Emile Cooper

Racer X: Kelly, you simply dominated Green Bay.
Kelly Smith: I just came in and did everything that I possibly could. I went out to win both main events in hopes of somehow getting lucky enough to get the championship. That didn't happen; Chad just played it smart and took it by getting on the podium both nights. For me, it was just too little, too late. I definitely got things more figured out by the end of the season – it was just the beginning of the series that hurt me. Still, I'm just really thankful and happy to do what I've done. Hopefully, I've learned from it, and this success will carry into next year.
You tied Chad Johnson with seven race wins. Does that at all ease finishing second in the championship?
Yeah, that does make me feel good, because now hopefully my worth is as good as his is for getting a nice ride next year! I took all my race wins at the end of the year, so hopefully that proves that I was the fastest – just not at the beginning. You're going to have that in a rookie year, though. It sounds funny to be saying my "rookie year" when I'm 28, but I'd never done Arenacross, and had a lot to learn. I hope that everyone sees that I've picked it up, and will have faith in me next year.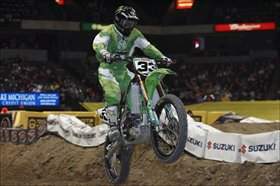 Bike set-up is key in arenacross.

photo: Emile Cooper

With Arenacross racing, what do you now know that you didn't know at the beginning of the series?
Bike setup. Most of the time, I was setting up my bike to skim the whoops, but I've found that you really have to learn to read the soil, as it breaks down a lot. Even this weekend, there were times that I had to skim the whoops, and times that I had to jump them. So the big thing that I learned was bike setup. In Supercross or Motocross, you set your bike up that way for the entire series. Here, it changes much more.
I understand that you're now moving into Supercross.
Yeah, I'm really happy about it. I finally get to ride a 450! I've been on one for about a month and a half, and our entire team is excited. A lot of people saw how well we were doing here, and believe that we are going to mix things up in supercross. We'll probably have some guys mad, but I believe that we can go out there and capture some top-ten finishes – that's my main goal. I want to show everyone that I wasn't just some washed-up Lites rider, and that I still have it in me.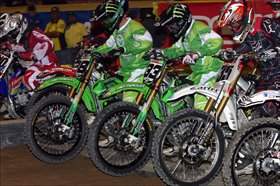 Smith is looking forward to taking this summer off.

photo: Trent Howie

What about this summer? Are you going to race?
I'm just going to enjoy being home in Ludington [Michigan]. I've been doing outdoors for about 10 years now and it's time to take some time off. With doing arenacross this year, I never really had any downtime, so it will be nice to take a little time off. I'll probably do some stuff around home – maybe a couple big-money races here and there, and possibly some overseas events. So I'll still stay busy, but I won't be going to every motocross round, and traveling every weekend. I have a couple of very small children, so it will be nice to stay at home.
I'm assuming that you'll be back in Arenacross next year.
Yes, most likely this is where I'll be. I've built a very good relationship with Babbitt's this year, and I like where I'm at. We'll see how it all plays out; Arenacross seems to get shuffled to the back-burner at times as far as getting things figured out budgetwise. But our team is solid and has been around a few years. They know what they are doing.