5 Minutes with ... Josh Grant
As you probably heard—or saw on Speed TV or online—Torco Racing Fuels Honda's Josh Grant had an ugly collision with a downed Ryan Villopoto at the Georgia Dome on Saturday night in the East Region Lites main event. Villopoto crashed on "the wall" before the finish line, trying to pick his bike up, when Grant came around and hit him as he was down. Villopoto was knocked off the track, and at first it looked like he was badly injured too; fortunately, the AMA West Region and AMA Toyota Motocross Champ is okay. But Grant felt terrible about hitting his friendly rival, and he wanted to explain exactly what happened to everyone, so he picked up the phone and called Racer X.
Racer X: Okay, Josh, what the heck happened in Atlanta?
Josh Grant: Well, Atlanta actually started out bad the week before. I was sick all week, I only got a few days of riding in, so we settled on a program and showed up for Atlanta not 100 percent but with good expectations for the weekend. First practice started off rough and I had some bike problems, so I didn't even get to ride first practice.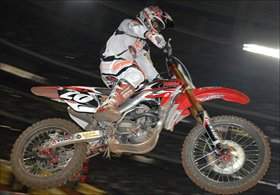 Josh Grant finished 7th in Atlanta after a very eventful main.

photo: Carl Stone

You didn't even get a lap in, right?
Nope. Went down the start straight, had a little problem, turned around and went back, tried something, went down the start straight again, did a few sections, and decided it was better to be safe, fix the bike and go back out next time and get some good laps in. It was just a little setback, we got through it, went back out and checked out the track, got some good times in, and went to the night program.
That takes us to the first turn of the main, and that's when thing went further down hill….
Actually, it started going even worse in the heat race! I had an incident that could have been avoided a bunch of different ways, but I came around a corner, there was a big triple, and you had to commit to it going through the rut. Right when I did that, I saw the red light flicker out of the corner of my eye. I came up short, and I lost more time than I would have had I not jumped it at all. So the AMA docked me a position, or 5 seconds or whatever it was, but I was in the program and that's all that matters. I went into the main calm and consistent. The heat race is just the heat race; the one that counts is the main event. I was just pumped to be in the main event and moving forward.
Okay, so then it starts really going downhill.
[Laughs] Yes, exactly. Then it gets worse. I got a bad jump off the gate and actually clipped my teammate Trey Canard's back wheel just a tad bit. I didn't want to fall the opposite way and get ran over by everyone, but I ended up falling all the way over and got run over anyway. Picked my bike up in dead last, and I was like, Man, just need to breathe and ride calm, do what I need to do. I've been practicing on that a lot this last year, trying to be calm and collective with my emotions and stuff out on the track and I think that's helped out a lot. It helped me move through the pack, and I caught up to seventh or so.
Next thing you know I come around a corner right before the spine—man, those things are just… I don't even know why those things are in supercross.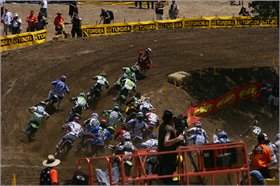 The past four years Josh Grant has holeshot the opening round of the AMA Toyota Motocross Championship at Hangtown. If he could only duplicate that success indoors...

photo: Simon Cudby

Do you mean "the wall of death," as Kevin Windham called them?
[Laughs] Yes, the wall of death, as Kevin said, so I came around the corner, and I had my head down and was focused on the rut, and then I went to go gas it up the spine and I just see Ryan there… There was nothing I could do. I just hit him. I felt so bad. I didn't mean to run him over or anything. We're friends and he knows that… But it ended up being bad for me too because I fell in the deal too. But that's a part of racing motocross, and something bad is bound to happen at times.
Anyway, I thought it was a dead issue because both Ryan and I are on the same page. He knows I would never do that on purpose. He and I are friends and I talked to him today. I called him and said, "Hey, you know how it is, I didn't mean to do it like that…" And he said, "It was the track, it was that jump and just the way everything happened. It just didn't work out for the both of us."
Ryan and I both know what it's about out there. It was just one of those unfortunate incidents that happen.
So you guys talked today and everything is okay?
Oh yeah, Ryan and I are good friends. We ride together and stuff like that, and we've never had problems like that whatsoever. I called him because I felt bad and just said I know we're both going for this championship and I would never do anything to risk the riding careers of either of us—that's just dumb.
Looking ahead, you're seventh going into Indy this weekend. Now that you have one under your belt, do you feel like things will be better this time?
I was actually really pumped to walk away with seventh after what I was dealt over the weekend. I've been working really hard to get that out of the way, because I've always had really bad first races. For the last four years, I've had three zero-points-scored, and this seventh. So these 14 points, after all that happened, was a big accomplishment for me. I want to move forward now that the first race is out of the way.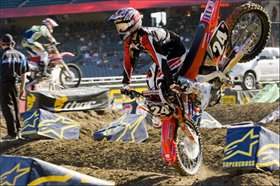 This is how Grant's '07 SX season started in Anaheim...

photo: Carlos Aguirre


Wait, let me get this straight: You DNF'd the last three years and then crashed in the first turn in supercross?
I DNF'd in '05 and then in '06 in St. Louis when I raced Millsaps, and then last year I crashed in the whoops in practice at Anaheim….
But then you've got the holeshot and led the first moto the last four years outdoors?
[Laughs] I know, how crazy is that! It's so weird that I holeshot every year at Hangtown and lead, and I have yet to finish anywhere up front in the first round of supercross. But you know what? We changed that this year, I'm trying a new route and I am really excited about it.
Well maybe you will start fifth or sixth at the first national and actually win the moto.
Exactly. Whatever works for me!
Okay, I am glad to hear you and Ryan spoke, that he's okay and you're okay, and I look forward to seeing you guys get back up there this weekend.
Thanks, Davey, see you.