5 Minutes With ... Kyle Cunningham
Butler Brothers MX/DNA Energy/BTO Sports Honda's Kyle Cunningham is coming off a career-best finish in Anaheim last weekend where he scored a fifth-place in the Lites main event. This is only Kyle's second year as a professional, and he looks to now have the confidence to be a frontrunner each and every weekend. We gave Kyle a call earlier today to talk about the race, among other things.
Racer X: Kyle, what's up?
Kyle Cunningham: Oh, just getting stuff ready to go riding.
First of all, congratulations on your fifth-place finish this past weekend. Correct me if I'm wrong, but isn't that your best finish in your pro career thus far?
Yes sir!
Was that the best you could do, or do you feel capable of getting up on the box?
I definitely feel that I'm capable of getting on the box. I rode a little tight, still, but that's what Kyle [Lewis] is trying to work with me on, just getting up there the first few laps and staying loose the whole race.
Take us through the main event.
I didn't get the greatest jump off the gate, but I managed to squeeze in for third somehow—I really don't know how! But I got in to third and rode there for six or seven laps, and Metcalfe got on the inside of me and I made a few mistakes and Laninovich got by me. I tried to stick with him those last couple laps and I stayed on his back tire and ended up fifth. I'm pumped about it, but I definitely feel like I can go out and do better, and that's what I'm going to try and do here in the next few races.
I remember the heat race back at Phoenix, you gave Ryan Dungey all he could handle in the heat race…
Yeah, I just got the start and put it together in that race. Dungey made a pass on me and I just tried to stick with him. Getting a good start makes it a lot easier and my Honda and WMI motor is helping me do that. I'm also trying to cut out the mistakes and be more consistent.
The track this past weekend seemed very, very tough and technical, and there were more than a few guys that took soil samples. What were your thoughts on the track?
It wasn't too bad. The track was good, but a little soft. It definitely was a little more rutted than a lot of the west coast riders are used to. For the most part I think it was pretty good. It's kind of the first real supercross we've had this year, you know? With the retro race and the mud races, besides Phoenix, it's the second race we've had that has been normal.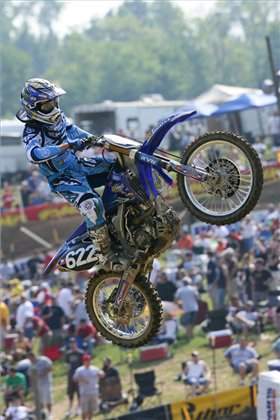 Kyle rode for Yamaha of Troy as a rookie last season.

Well, let's go back to last year. It was your rookie season as a pro and you were on the Yamaha of Troy team. That's not a bad way to start your career, but it didn't go as planned.
Yeah, my first year kind of went down a different path. I thought I rode good last year. I put in some good motos, but I had two injuries. I missed San Francisco and I laid in a hospital bed for five days before Anaheim 3. I collapsed a lung and broke a rib and ended up finishing out the supercross series with a broken rib. I didn't really plan on racing Anaheim 3 last year, but I felt good and went out and got ninth. I put in some good top 10s last year, but I missed five rounds outdoors because I broke my collarbone at Southwick on Saturday and got a plate and six screws. So I kind of had my ups and downs, but I put in a few good rides. Definitely not where I wanted to be, but that's what we're working on right now. The Honda is definitely a great bike this year and I like it a lot.
Let's talk about the switch. Your first race for the Butler Brothers MX team was at the U.S. Open, and I was watching you and it didn't look like it went that well. I think you crashed about 10 times in one race!
[Laughs] That race was horrible. Same deal as the year before on Yamaha of Troy. I kind of rushed in to race it—I only had a week on a stock Honda, so it wasn't the greatest idea to rush in and try and race it, especially with the changes to the program. It maybe was a mistake, but in a way it helped because I got to ride my bike a little and get used to the atmosphere of the team. You know, Forrest, my mechanic Paul and Willie and all the guys—they're all good guys. Even after that they were backing me, and me and Kyle Lewis have been working really hard for the past four months, going to the gym and road biking. I definitely haven't been slacking. There's no substitution for hard work, so I'm going to keep doing what I'm doing.
It's pretty cool that you Lites riders on the BBMX team have your own semi.
Yeah, it's cool they have the two rigs. They did it a little different this year. It's definitely more relaxed. It's a pretty big team, so with the two rigs it makes it a lot easier.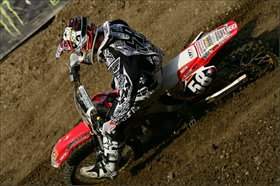 Cunningham is currently 10th in points.

Is there a huge difference between your Honda this year and your Yamaha last year?
I don't think so. My bikes now are really good. They get out of the gate good and I am pulling the factory bikes, so they are definitely fast. But like I said, the team is great. Forrest [Butler] and everyone treat me great. Everyone on the team—including the riders—we all get along real well. As far as bikes, though, they feel good and they've been putting me up front.
I know as an amateur you lived in Texas. Do you still live there?
No, my mom actually lives in Fort Worth. That's where I'm from and where I go back and forth from. I still consider that my home, but I spend a lot of time in California with my sister—she lives out in Valencia. She just got a house, so I spend a lot of time with her. But I wake up between 6:30 and 8:00 a.m. every morning, and drive through the canyon to Kyle's house. We either ride and go to the gym or ride and go road biking.
Well, you're 10th in points with three races left—what's your game plan from here?
I'm just going to go out and plug away. The points are going to end up wherever they end up. I'm just going to get the best finishes for me and try and get up on the box.
Then it's off to the great outdoors. You looking forward to that?
Actually we're only doing five nationals this year. I think we're doing Budds Creek, Southwick, Freestone, Red Bud and Millville. So my first race outdoors will be Freestone, in Texas. It should be fun. We'll do the supercrosses, then do a little outdoor testing. It'll be more relaxed with only doing five rounds and I know the team is trying it out for the first time this year to see how it goes.
Do you have a multi-year deal with the team?
No, it's just a one-year deal.
In closing, I'm sure you have some folks you'd like to thank.
Yeah, I want to thank DNA Energy Drink, Vince at BTOSports, Rick Case Honda, WMI Racing Development, FLY, Bel-Ray, FMF, Sunline, 661, Wiseco, X-Brand, Visuwals, ASMF, ICW, Dunlop, QTM / Talon, CV4, Exceldine, Applied, Dream Traxx, MX Press, Regina, Sponsorhouse, Twin Air, Ogio, Acerbis, Mx ID Systems, Devol, Leatt Brace, FLmx, Reactor Watches, Stellar MX, Group D, Pit Posse, Alpinestars, Kinetic Animation, Engine Ice, Seminole Tribe Mx and just my whole BBMX team.