5 Minutes With ... Chad Reed
San Manuel/Fusion Yamaha's Chad Reed has been here before. After winning more races than anyone in the 2003 AMA Supercross Championship, but losing the title to Ricky Carmichael, Reed came into 2004 ready to do battle, only to have Carmichael sit out the series with an injured knee. Reed still won the championship going away, but some to this day don't think it was legitimate with Carmichael being out. Reed has maintained that he believes he would've won the title Carmichael or no Carmichael that year, but we'll never know. For this season, Reed came in ready to do battle again, but this time it's with 2007 champ James Stewart. Now that Stewart has likely dropped out of the championship hunt, Reed is once again in the driver's seat.
Racer X: It looks like you're in the driver's seat now with two wins and James Stewart out.
Chad Reed
: Yeah, I mean, it's tough. It is. It's racing. I'm not very old, but I've been around it a long time, and I've seen some crazy things happen – and crazier things happen – and, you know, you've got to be there every weekend. I felt like I had my head down and was focused and I think I was ready to take it to him tonight, and it's a real bummer. I honestly know how it feels. I've been there. I know it was probably one of the hardest decisions of his life to pull out, especially when you're tied for the points lead, and there's a lot of racing to go. I hope he heals up, gets better, and comes back as soon as next weekend, hopefully. We'll see.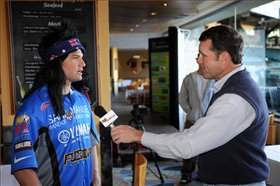 Chad Reed isn't cutting his hair till he wins the championship.

You're the obvious favorite now if he doesn't come back, whereas that might not have been the case before. Does part of you think that this could be another title where people say, "Yeah, he won, but if so-and-so was there, he wouldn't have."? We've talked about that before, that the 2004 title was kind of a thorn in your side because Ricky Carmichael sat the series out with a hurt knee...
The RC thing was kind of different. I feel that this seems like more of a racing incident. I really don't know what his deal is – whether it just happened, or it's happened before, or what. But obviously he had a knee injury [last summer], and at first announcement it was a really bad injury, and then he was back on a bike in a month. Nobody really comes back from a knee injury in a month, so who knows whether he rehabbed enough, or they didn't operate good enough... Who knows? It's all speculation right now, and I'm in no position to point fingers. For me, it's all about going out and doing a job. I felt that everybody has that same possibility [to get hurt]. I've got my fingers crossed. It's about going out and laying it down, and you can get hurt. With Ricky, it was more about trying to take that title away from him, and this year I felt that I showed up at Anaheim I strong, and I won, and I rode strong last week, and in practice today I was fastest. I felt like I was ready to bring it, and it is what it is. That bonus check, if and when it comes in, ain't going to have no asterisk next to it, so I'll cash those things in and have fun.
Did you know something was going on with James?
Oh, there are a few things. I have a lot of opinions about what's been going on with James or whatever, but I'm in no position to really comment. I just need to keep my head down. I want the title, whether he's there or not, and there is still a lot of racing left. Shit can happen. Bikes can... For instance, just before Anaheim last year, I was out there feeling good and feeling strong, and I had a bike failure, and the next thing I woke up in the hospital. Knock on wood, that isn't going to happen, but there are a lot of laps between this weekend and Vegas, so I'm just going to put my head down and try to win this thing.
Speaking of laps, what did you think of this track?
This track was good, I think. It was pretty interesting to go out there and have a tough track. I don't think we've had a tough track in a long time, and when you look at the Phoenix lap times from second through sixth or seventh, there was about 1/10th [of a second] separating everyone. It seemed like tonight we had two or three seconds on everyone, so it's a big difference when you've got a tough track.
Is it better to have a more technical track or an easier track?
[
Laughs
] I mean, obviously I'm going to choose the tough track, but I think that's our last tough track we're going to see of the year, especially with James out. I think they're going to try and do something...
Try to bring people close to you?
Yeah. I've been through this before. It'll be interesting. It's going to be tough. There's a lot of guys out there. The reality is that James and I were ahead of everyone, but all of those guys are good guys. They're on good bikes and good teams and have a lot of great people around them, so they're going to come out and eventually they're going to step it up, and there will be tough guys to beat.
Who do you think will be your main competitor now?
Honestly, I think it's me and the track – just me going out there and trying to get the track down and trying to be consistent. I just need to try to be there on the starts, and I can't give up like what I gave up in my Heat race. It was really tough to try and come through and make up the deficit that I gave Kevin [Windham] and [Mike] Alessi. I was pretty pissed off after that. I was so mad that I just wanted to go out there and do a re-do, but it was time to do that in the main.

We heard that last week before Phoenix you and Josh Hill got into a bit of a scrap. Can you tell us about that?
I mean, we got into a little bit of an altercation, but we were just out at the Alessis' and we were doing the Alessi boot-camp, which is a 20-lap race. I was just going to do a few laps and pull off because I had pretty much done all my motos and I was just out there for a little bit of fun, and Josh did something out of the ordinary. He just turned weird and I ran into him, and from there we started running into each other, and then a little bit of pushing, and it's all good now. I'm actually stoked to see him up there in second this weekend. It was kind of funny, because at our autograph session this week, we sat next to each other, and it was kind of the first time we'd talked. I just said, "Hey, I'm not holding anything against you. Don't worry. You're young, and I'm sure there's going to be a lot more of that, so just put your head down and go out and have fun." Then he came out this weekend and got second. It's always good to have your teammate, or someone you ride with a lot, behind you, because you know them a lot. I kind of knew where I stood with Josh, and I was just letting the laps go by.