Bench Racing Ammo: MC vs. RC
Two guys are walking through the Anaheim 1 pits, checking out all of the cool new stuff, like the Toyota "Old School MX" truck, the new Gibbs Racing rig, and all of the pretty girls. They've been friends and fans forever.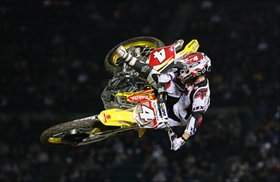 The G.O.A.T.
The first guy looks to the second guy and says, "The thing I miss most is
Ricky Carmichael
being around."
The second guys answers, "For me it's not getting to see Jeremy McGrath race supercross anymore."
"But Ricky was the GOAT," responds the first guy, "and that stands for 'greatest of all time.'"
"Jeremy was the King of Supercross," fires back the friend. "He won 72 races and seven championships, and Ricky's not even close to those records."
"Oh yeah? Ricky won 48 SX races and five titles in less time—he only raced in the premier class from 1999 through 2006, full-time, and he sat out the 2004 season with a knee injury. Jeremy went from halfway through '92 to the end of '02 without missing a supercross race."
"Jeremy won four titles in a row—'93 through '96—then three more in '98, '99 and '00."
"Ricky won five titles in a row in AMA Supercross Series he actually competed in, because he sat out '04."
"You already said that! Jeremy won 13 races to start a season."
"And Ricky won 13 straight races to end a season."
"Jeremy was the last guy to lead on a two-stroke."
"Ricky was the first guy to win a title on a four-stroke."
"Jeremy won two titles in the 125 class."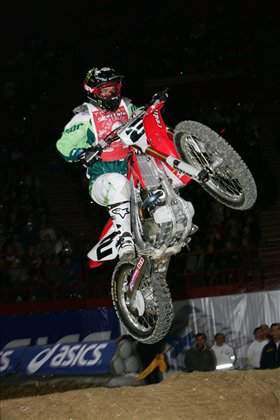 The King
"Ricky went undefeated in '98 in the 125 class, which is something no one else has ever done."
"Ricky won titles on three different brands."
"It took Honda six years to recover from Jeremy's departure—and they only way they did it was to hire Ricky in 2002."
"It's taken Honda three years and counting to replace Ricky after he left in '04."
"Jeremy's nac-nac practically invented freestyle motocross."
"Ricky's training program practically reinvented outdoor motocross and supercross."
"Jeremy had to beat Stanton and Kiedrowski and Henry and Emig and Pichon and Albertyn and LaRocco and even Ricky!"
"Ricky had to beat Windham and Vuillemin and Stewart and Reed and LaRocco and even Jeremy!"
"Jeremy has more supercross wins and more titles than anyone!"
"Ricky has more motocross wins and more titles than anyone!"
"That's why he's the King!"
"That's why he's the GOAT!"
They have reached a heated impasse. Their volatile standoff goes silent, and the two adversaries are left to ponder the dead-end they've reached. Can they ever figure out who was better? Does it matter? Will they ever go back to just enjoying the sport and what those two heroes stood for in their respective eras? They dig in for more….
"Monster girls or Rockstar girls?"

"Monster!"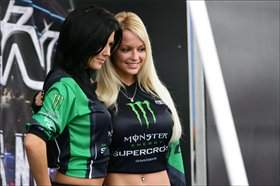 Monster!