5 Minutes with .... Kevin Windham
5 Minutes with Kevin Windham
By Eric Johnson
It was déjà vu. Three years ago, on January 7, 2005, I was speaking with Kevin Windham immediately after the press conference for the season-opening Anaheim SX. Outside the stadium windows, the skies were lead gray and the clouds were oversaturated with moisture. The track was covered in plastic and the weather people were claiming Noah's Ark-style rainstorms were luring off the Pacific Ocean. Kevin Windham, sporting a big beard of facial hair, looked concerned. And he, like the weather people, knew it was coming. And did it ever. Round one of the 2005 season was one of the gnarliest, rain-lashed, mud-splashed races in modern supercross history. And Windham won it.
Now here we were on Thursday, January 3, 2008. The press conference had just completed and here, once again, was Kevin Windham was before me, speaking into my tape recorder and looking out at a covered track the weather people were claiming would be besieged by in rain in less than 24 hours. And not only was he irked by the threat of a multi-day winter storm, he was also a little peeved that he, unlike his competitors Grand Langston, Tim Ferry, Chad Reed and James Stewart, all of whom had been ushered to the front of the room to be interviewed by the media corps, while he, who had placed a credible fourth in the 2007 Supercross Series had been ignored and not even mentioned. Sporting a mustache and a firm, determined look, Windham seemed to internalize what had went down in the room, using the slight to further his resolve to succeed again at Angel Stadium.
Racer X: Kevin, what did you think of the press conference? We didn't get a chance to hear you weigh-in…
Kevin Windham: Well, you know, with a press conference if they talk to you it's good, but if they don't, it's a dog-and-pony show, you know? It's a little different, you know, just to stand here and listen to my competitors talk; that's not really what I consider to be fun for me. If they're not going to talk to you, it's like why even come? I don't really want to listen to what they have to say.
Did you expect to get your shot to talk?
You know, in the years past I have. Obviously, coming off a season where I wasn't quite as strong as what they expected or what I expected of myself, so maybe that's the reason why I didn't get to talk.
What do you think when you look outside at the stadium and see the track all covered in white plastic? Were you going to ride today?
Oh yeah, I was going to. I got all my gear with me and stuff. I actually rode yesterday, too. Things are going good. I don't mind the rain, either. I won here the last time it rained. I'm good either way. I'm just kind of ready to get the season started. Whatever the track or Mother Nature brings our way, I'm just ready to get started.
How is your motorcycle? Do you have any kind of read of how your Factory Connection Honda 450F is stacking up against the factory Honda 450Fs?
Yeah, I've been riding with the other Honda guys a good bit. There's been a lot of hard work put in by the Factory Connection team and, of course, Pro Circuit. I feel like my bike is really competitive. It's not the factory bike that I had been riding, but I think it's equally as good and able to get the job done and I'm interested in putting it on the track in competition and see where we're at. Testing has been going good and from every indication that I've had from riding with everybody, it shows I'm where I need to be. I'm excited about it.
We've heard that you've had a good off-season on testing and training. Are you really motivated for the 2008 season?
I am. That really just came from the off time that I took. After Glen Helen (in September), I don't think I really rode again until right around Thanksgiving. And there was a long period of time where I didn't really know if I was even going to be riding. It took a long time to get the team deal done and I passed up some opportunities earlier in the season to try and stay where I was at and things started falling through. It got kind of wild there and there was a lot of time where I didn't ride. So with all that time off and just being a normal guy made it nice to get back on the bike. I was anxious and looking forward to my riding. Once that happened, it felt like an injury without having an injury, you know? It was just a lot of time away and once I started back it was fun. It was fun again. It was a break I needed. It's just a supercross-only deal, but as of right now, I'd like to get some deals done from some outdoor races. We'll see how that goes. But right now, I'm just focused on the 16 races and getting that done.
You experienced a lot of ups-and-downs during the 2007 Supercross Series. Do you have a plan in place to get out of the blocks quicker this year?
It's tough because so there are so many people who expect to be on the podium and I think all of them, at some point, have a legitimate shot. You got guys like Chad [Reed] who talked today about how bad it is to be consistent and only win one race out off all the rounds last year. I mean, I think that's kind of what I need. I need to get back to the consistency. I'd have some good, stellar rides, but then there were some where I really wasn't in the running. I need to get myself to where I'm in the running. I just need to ride to the best of my ability. I need to be up there week in and week out. That's kind of my goal right now.
Just like in 2005, the weather report for the next three or four days appears to be really bleak. What do you think about that?
Yeah, you know it's three or four days in a row they're calling for rain. And it's like a 100% chance on Saturday and you don't see that out here too often. You can't use guesswork to tell whether it's going to be a mud race or not. It's time to go ahead and start lining the bikes with the foam and putting on the long visor and getting everything ready for the mud race. It is what it is and I'm ready for it either way and I'm just looking forward to the opportunity to get out there and try and relive the start of the 2005 season where I won in the mud.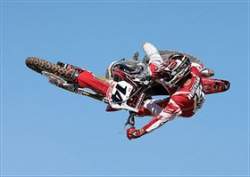 Windham can still whip it like no other.
Simon Cudby photo
Are you okay with the mud?
Yeah, I like it. Whenever it's raining and you're putting on your goggles in the rain and you start in the rain, I don't think it's something anyone likes, but at the end of the day we have to go out and race in it and you just have to make it fun. You have to have fun with it. You have to take the bumps and bruises as they come as almost everyone is going to go down. You just have to deal with it. It's fun, but you just have to look at it through different eyes, for sure.
If you get out of the blocks well, do you see a good year? Can you be in the top three?
I think so. I think there is a lot of competition. I think James is going to be strong, as always. Chad is going to be strong, as always. I think the rest of the guys I think are inching their way up to those guys and are kind of closing the gap. Like I said, being on the podium every weekend is going to be a tough feat these days because there are a lot of guys that have a legitimate shot at being on the podium on any one given week.
Would winning another supercross mean a lot to you?
Oh yeah. Every race I've won, I don't know what the number really is, but it's not enough (Note: Windham has won a career total of 28 AMA Nationals and Supercross main events). But every race I've ever won has been great and memorable. Right now it seems like a lot of the guys are starting to right me off, so to win it now would be that much sweeter.