5 Minutes With ... Cole Siebler
Idaho's Cole Siebler has been steadily improving as a rider. Since turning pro he has traveled overseas to race Supercross events and has ridden for small support teams like the Tamer effort last year. All Cole really needed was a good break on a top-level team. And now he'll get his chance. Cole has been hired by the Hart and Huntington/Rockstar Energy team to fill in for the injured Josh Demuth. Here's what he had to say about the opportunity.
Racer X: Cole, you were planning on riding under the Wonder Warthog tent this year until Carey Hart's crew called you. How did that go down?
Cole Siebler: I was basically putting my own deal together with my own sponsors and everything and the Wonder Warthog guys were going to help me out. Things were coming together pretty good and then I got a call from Donny Wanat. Donny helps with the financial part of things over there and he explained what happened to Josh and what they were looking for. He knows me because he is from the northwest and I've seen him around up there a lot. Obviously I was going to be paying my own way for a lot of stuff with the Wonder Warthog deal so I was excited to get this opportunity. I went to Vegas and met with Kenny Watson and signed my deal. I'm excited about it.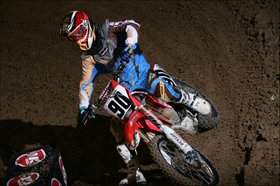 Cole Siebler at the 2007 Rockstar Energy Drink U.S. Open of Supercross.

photo: Simon Cudby

What brand have you been riding?
I was planning on riding Hondas so it hasn't been that big of a switch for me.
So, that was a pretty seamless transition. Still, there is new gear and sponsors and everything else. How is all of that coming?
Everything is new! I was nervous because I wasn't sure I'd be able to do the deal at first. All of the companies that were going to help me out originally were really cool about it though. They let me out of my deals and things have come together really well. Now I'm in Fox gear and I have a new guy doing the motors and suspension and everything. The stuff is really good. Jim Lewis is doing the motors and suspension. He's the guy that works for Merge Racing. He was part of the Holigan deal. We've been testing the last few days and things are going really well.
Have you been riding and preparing a lot for the season before all this went down?
Yeah, I came down to California when it got too cold at home in Idaho and I've been staying with Jake Weimer. His trainer has been helping me and Jake and we've been riding together a lot. It's been going really well. I did have a big crash about a week ago and got a hematoma on my knee. I had to have it operated on and drained so it's a little sore. Hopefully it's okay for the weekend.
That seems like a pretty good program for you. Weimer is on top of his game right now so he's a good guy to hang out with.
Man, he's riding so fast right now. We've been riding and training every day so it has helped me out a lot. We're both from Idaho so we've been buds for a long time.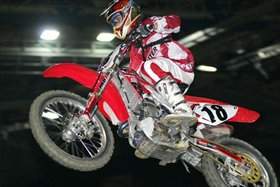 Siebler racing supercross in Dortmund, Germany.

photo: Max Ludwig

Do you guys eat baked potatoes with every meal?
Yeah, pretty much [laughs]. Baked potatoes and steak.
Sorry, I get the Montana jokes all the time so I had to throw that in there. How are you getting along with everyone on the team. Kenny is a character and the whole team seems pretty fun to hang out with.
Yeah, I didn't know Kenny before this and he's always messing with me. I didn't know how to take him at first. Everyone is super-cool and they are working hard to get things ready. Kenny is good though; he knows what it takes to have a good program and whatever you ask him for he gets.
Are you going to get nervous if Pink comes and hangs out a race?
I'll probably be able to handle it.
Is your deal just for Supercross?
My deal is for eight races and if things are going well they will keep me on for the rest of the season even when Josh comes back. So, hopefully things go well here at the beginning of the season.
How did you do last year in SX?
I finished 20th in points. I had a tenth and a few elevenths and I was always between 10th and 15th. I keep improving though. The year before I made three mains and last year I made ten mains. So, hopefully I make all of them this year. I feel like I'm riding a lot better and I've made a big jump in my riding.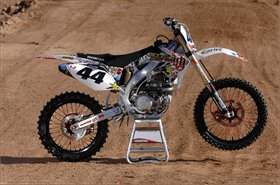 Siebler will be running #53 alongside Troy Adams (44) on the Hart & Huntington/Rockstar Energy squad.

photo: Tony Scavo

What are your goals?
I want to stay healthy and be in the there for the top privateer at the end of the year. It seems like it's pretty open this year now that Nick Wey and Vuillemin are not eligible.
Who will be in the running for that award?
Guys like Jason Thomas, Paul Carpenter, Ryan Clark, Jeff Gibson and Heath Voss will probably be the guys up there going for it. It should be a good battle for it this year.
Good luck this weekend and the rest of the series and congrats on the new ride.
Thanks Ping.