5 Minutes With ... Jeff Emig
December 31, 2007 12:34pm
Ten years ago, Jeff Emig was the reigning AMA Supercross Champion while riding for Team Kawasaki. Now, he's the color analyst for the series, working with Ralph Sheheen and Erin Bates. The trio will be working together this Saturday night on the live SPEED TV coverage of Anaheim 1, so we tracked down Emig to get his take on the season that is upon us, as well as to talk about what New Year's Eve means to him personally.
Racer X: Jeff, this is a strange anniversary for you, because eight years ago today was the day that you broke both of your wrists out at Stephane Roncada's house.
Jeff Emig: Yeah, that was pretty much the day that it all ended—I guess it was the beginning of the end.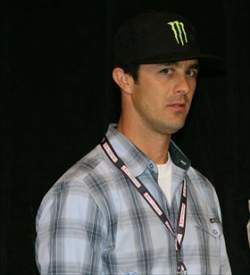 Jeff Emig will be calling the action live this Saturday night on SPEED.

You won the U.S. Open of Supercross, and you did well at the Pasadena SX that was part of the old World Supercross tour, and a lot of people were hoping to see you on a Strategic 3 Yamaha out there battling with MC again in 2000.
At the time that I broke my wrist eight years ago—which I can't believe you reminded me about that because I totally forgot!—I think that I was riding the best supercross that I had ever ridden, and I think that mentally and physically that I was in the best shape that I had ever been in. So it was very heartbreaking and disappointing and everything wrapped up into one when all of that came crashing to an end when I hit the ground and both of my hands were wrapped around my forearms. It was very heartbreaking.
That wouldn't be rock bottom, though. That came in May of 2000 when you were getting ready to come back for the outdoor nationals and you had your big crash at Glen Helen, which really was the end.
Yeah, it's interesting because when I was in the hospital recovering from my wrists, I kind of heard this voice saying it was time to go, if you will. And then I went to the first round of supercross and was like, 'No, screw that. It's time to go race some more races and win more championships.' I took the recovery on my wrists very seriously—all of the rehab—and thankfully to this day I have great movement in my wrists—unbelievable—considering the injuries that I had. I knew to be a professional racer; wrists have to be like new. And I've seen the effects of different riders and friends that their wrists don't work properly and it makes it really tough. So that time after I broke my wrists and I was rehabbing, it was the most painful hours of sitting in the chair with ice and heat and stretching—just everything that goes along with that. It was the most painful thing that I've ever done, and when I broke my back, that injury was severe enough that it really took it out of me emotionally.
Well, the last eight years you sort of reinvented yourself, and now you're the color analyst for SPEED TV and CBS, and you have a big weekend ahead of you.
Yeah, it's going to be awesome. One thing with the broadcasting, as I continue on this journey through motocross and my life is in motocross, and it started the first time I threw a leg over a bike, and I'm not riding or racing right now, but to me I'm still on this journey to see what my legacy becomes. When I'm old and retired and dead or gone, how will I be remembered? The broadcasting is just the next leg of this journey I'm on.
Speaking of the journey, congratulations on your little boy.
Thanks! I'm sure you just heard him scream, that was Jagger Joshua letting me know his pacifier fell out. He's eight-weeks old and he's doing pretty good.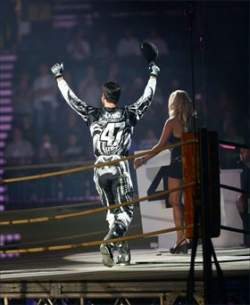 Jeff is still a fan favorite.

Excellent. So what do you expect this weekend? There's a big spot missing on the gate with #4, but you have #7 and #22, but who else?
I think that Langston—he's #8 [laughs]—will be in there. I think the Honda guys are going to be good again this year, and Tim Ferry is at a level he's never been before, so I think he can only get better this year. Suzuki has a new machine and from the reports that I've heard, it's pretty incredible. They've revamped their team, and we're all going to miss RC, but life goes on.
And I do think that everybody is going to be chasing the #7 bike. As any great champion does, he evaluated the past in order to know which direction to go in the future. I think by James Stewart hiring Aldon Baker from the Carmichael camp, that's a great move by James because I have a lot of respect for Aldon and his track record with racers. He's been involved and just about every one of his clients have become champion in their discipline, whether it be motocross, supercross, MotoGP, AMA Superbike, etc. So I think for James Stewart, that was a great move, and it's going to be a lot tougher for the other guys. But my challenge to every other rider on the gate is to not be afraid of that. I've been in this situation before where it just seems like there's no way you're going to win, unless you try and give it what you got. Every one of these champions has been an underdog at one point or another, and they've come up and beat the top guy. So is anybody going to step up and do that this year? For the broadcast and fans' sake, we just want to see a great race!
Chad Reed took the summer off, but I saw him in Paris, and you saw him in Vegas, and it sure didn't look like he missed a beat, did it?
No, I think that Chad is in a good position now. Like I said before, he's a former champion and he's evaluating the season and where he's at, and Chad has always had a tremendous amount of determination, and I think he has something to prove. With Carmichael out of the picture this year, even though he wasn't racing for the championship, his presence was always felt, so I think this year it's going to lighten everybody up and give all the other riders a little more hope. My hope for the year is that somebody just surprised the hell out of us, and we all say, "That was very impressive."
Let me throw a few names at you and you tell us where they're at or what they need to do.
Okay…
Kevin Windham.
Hmmm… I've always enjoyed watching Kevin race. On a personal level I really like the guy and think he's an incredible talent. What I want to see from Kevin is I want to see him risk it a little more; lay a little more on the line. He definitely has speed and potential to win a race. When you talk about it right now, it's one step at a time. First off somebody had to win a race besides the "big two." Once they do that, the next goal is to win two.
Mike Alessi.
Mike Alessi to me is a bit of an unknown. I expected more from Mike at the time he was an amateur up to this point. I definitely think that he's had some very challenging years. He's been there for championship and always had a lot of speed. Hopefully this switch to the Makita Suzuki team is going to be good and the environment around him is going to improve his supercross riding. I'd say a podium finish consistently could be what we expect from him.
Nick Wey.
That's a tough call, because I am one who believes that the linkage suspension—which KTM is missing—is a major advantage when it comes to supercross racing. I've analyzed supercross, especially in the last year with my career, and unless they've made some major changes, I don't think that bike will compete through the whoop sections like the other bikes do. Maybe I'm wrong, but hopefully for Nick they have something figured out. If not, great starts, better corner speed and better fitness will be the way to do that.
Ryan Villopoto is now in the East. Does that break the West wide open?
Yeah, I think he was the favorite by far. He has the aura and the fitness and power—everything that we vote on in the Racer X Toyota Power Rankings each week—he has all of that and he's in the Lites class. If I was a Lites rider and I felt pretty good about where I was at with my training and my machine and all of that, I'd be on the West coast now, for sure, if I wanted a chance at winning the championship.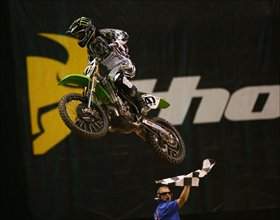 Jeff got second behind Mike LaRocco at the 2007 U.S. Open Rematch Race.

Last month you got to ride with an absolute beginner in supercross, Austin Stroupe, for Racer X Films. Would you be surprised if we saw #51 win again, only this time it's Stroupe and no Villopoto.
I was very impressed with Austin Stroupe. He's very Villopoto-esque in his riding, whether it's his aggression, size or riding style. We talked about him being a rookie and beginner his first few days on the track, but it was all but that. He's an extremely talented supercross rider at this point, and I think we will see him win a race this year, for sure.
Well, I know you got some time to spend with your family before the travel season starts.
Oh yeah. I just wrapped up a wonderful Christmas with my family. My daughter, Pressley, had a great Christmas. We're just very thankful that everyone is healthy and doing well.
Happy New Year, Fro.
You too. And see you at Anaheim.