5 Minutes With ... Zach Osborne
December 21, 2007 12:52pm
Zach Osborne has had an up-and-down career since turning pro. A KTM racer for much of his career, Osborne was a highly-touted amateur racer who seemed to struggle a bit once turning pro. But it wasn't for lack of skill and speed, but rather health issues that held him back. For 2008 Osborne has totally revamped his program with a new team and trainer, so we look for big things from the Abingdon, Virginia native. We spoke to Zach today about his preparation for the 2008 Monster Energy Supercross series.
Racer X: Zach, what's up?
Zach Osborne: Actually, I just came home to Virginia for Christmas.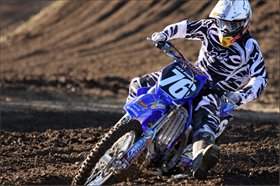 Osborne tests out his new Yamaha back in October at Muddy Creek Raceway.

We saw some recent photos of you, and wow, you look pretty fit. What kind of program have you been on?
Well, I just been working with my trainer, Jonathan Edwards, and I've been doing a lot of cycling and gym workouts, just trying to get in to shape for the season and get some good results for my team and myself.
It appears you lost a lot of weight…
Yeah, since last supercross I lost like 32 pounds. I weigh 157 now.
Do you feel a lot different?
Oh yeah, I feel a lot different. I had a sickness there for awhile that I couldn't rid of it because I kept trying to race. I packed on some pounds because I wasn't able to train because I was always sick. It was a tough situation, but I got through it and I'm looking to start over.
What kind of sickness was it?
I had chronic bronchitis and exercise-induced asthma. No doctors could really diagnose it before, but my trainer helped figure it out and it's been up hill from there.
Ping can't call you "snack pack" any more…
Actually, I was playing football with Ping the other day and he was paying me some complements finally….
So Ping was playing football? He told us he was "sick." What a jerk. Anyway, this is the first time you've been on Japanese equipment in a long time.
Yeah, I rode Suzukis for like a year when I was on 80s, but other than that I've been on KTMs my whole career. It was definitely a tough transition—I was struggling there for a little, but everyone on the team has been really great helping me out. And Ross from Enzo Suspension got me a really great set-up, so I'm really pumped with the bike and I just been riding a lot, trying to get as comfortable as I possibly can. I feel more comfortable now on my Yamaha than I probably have ever felt in my career.
Is Ross giving you some tips on how to adjust to that thing they call "a linkage?"
Yeah, Ross, he's pretty good with Yamaha stuff, for sure. I really appreciate everything he's helped me with.
You're teamed up with Jason Lawrence, Ryan Morais and Tyler Bowers—how is that going?
Yeah, everyone gets along really well on the team. Jason is a character, of course, but everyone knows that. And Ryan Morais has been really good to me; I want to thank him for letting me stay with him. Tyler Bowers is a young kid, but he's going to be good. He's riding East, I think, so we look forward to some really good things out of him.
What coast are you riding?
Right now it looks like me and Lawrence are riding West, and Morais and Bowers will be riding East.
That gives you less time to prepare, so are you feeling more pressure?
No, I'm good. I feel pretty confident in the fact that I'm ready. If the race was tomorrow, I feel like I'd be fine, so that's a good feeling going into the season.
Did you set any goals for supercross?
Yeah, I'd like to be top five on a weekly basis. I think that's a very realistic goal with the bike I have and my fitness and everything. I think if I'm top five at the end of both supercross and outdoors, that would be a big success over what I've done in the past.
You definitely showed that you have the speed to run up front in the past…
Yeah, it was just a matter of fitness before and I got that taken care of.
I noticed you're the only guy running a double-digit number on your team.
After I figured it out I thought maybe I should've stuck with my number, but everything is different now so hopefully it's better with everything being fresh.
Why does everyone run three-digits numbers now?
I don't know! Actually, as an amateur my number was 338, and I wanted that coming into the pro ranks, but Jason has it! I like 76, though, it looks pretty good on the bike.
Who do you want to thank, Zach?
Boost Mobile/Yamaha of Troy—everyone on the team has been really good to me. Also I want to thank Ryan Morais and his girlfriend Hannah for letting me stay with them.