5 Minutes With ... Erik Kehoe
Team Honda's Erik Kehoe has been around the motocross business his entire life. First, he was a SoCal minicycle prodigy, then a Suzuki and Yamaha factory rider, then a top privateer for Honda of Troy, then the team manager, and now he's Team Honda's manager! Going into 2008, he has a rebuilt team, with new riders Ivan Tedesco and Ben Townley joining holdovers Andrew Short and Davi Millsaps. We caught up with Kehoe yesterday to see how the Red Riders were coming along.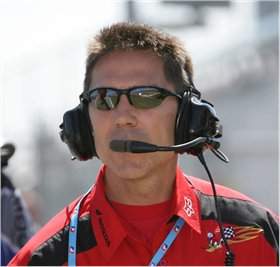 Erik Kehoe and the Red Riders are ready for 2008.

photo: Steve Bruhn

Racer X: Erik, we've had this conversation several times before, with you as a rider and now team manager. So Erik (switch on Terry Boyd voice), Are you ready for supercross?!
Erik Kehoe: [Laughs] Yes, we are ready, and I'm actually very excited! We have a lot exciting things happening with the team, and we have some new personnel, a couple new riders, and I'm just feeling some really good things inside the team.
How has the weather been out there? Is the rain slowing the preparation?
The last few days we've gotten a little bit of rain, but it hasn't slowed us down much. We were actually ahead of it because we went down to Florida and did a little testing and then out to Corona at our own supercross track. We started pretty early, so if Anaheim was next week, we're ready.
Let's start with Andrew Short. We saw him ride at the Bercy Supercross, and although he wasn't on the pace of Chad Reed and Grant Langston, Andrew is a hard worker and said he was there to find out exactly where he was. How has he been doing?
He's been riding very strong. He came away from that race [Bercy] pretty disappointed, and he learned a couple things. That's one thing we talk about all the time; if you go away from a race and you learn something and you can go back and apply what you've learned and work on that—that's what he done, so I look for him to come out really strong at Anaheim.
What about The Duke? I know Davi Millsaps missed a lot of the season last year, and then he had that one breakthrough moto win at Colorado, but then it was downhill after that.
Davi has had some issues going on that definitely prevented him last year from having the confidence to ride, starting with the ear problem. It was really a downer. He started out not really knowing what it was. He thought he had a head cold, and then it turned into something else, and it snowballed from there and he had no confidence. And now that's fixed, his leg is feeling better, they took the rod out and he's on a new program and changed up his training schedule. He's got a new shot of energy and he's feeling good.
Speaking of new programs, you got Ivan Tedesco who switched gear, bikes, and houses! He's a Tallahassee Honda Fox rider now!
Yeah, he switched up his program and is very excited about it and is riding really strong.
He's working and riding with RC. Even though they're on a different squad, Ivan is going to learn something there.
Let's face it, Ricky has shown his heart and determination—he's a true champion, and he has all those pieces of the puzzle. And for Ivan to train in that environment is priceless. And I think that Ivan recognizes that and he has the pieces of the puzzle to make it happen as well. It's a great opportunity for him, and I know Ben Townley will be down there training with those guys as well. But it's a strong program for him and he's liking it.
You mentioned Ben; I understand he injured his foot and he's not on the bike, but he is working.
He had an unfortunate incident at our test track and he fractured his heel. He had some surgery just to stabilize that and he's on the road to recovery right now and healing up. He's going to rest over the holidays, and he'll be riding the East Coast, so we'll be looking forward to him coming back on the East Coast.
Cool, and you guys breaking out his #1 East Region plate?
We're still talking about that—we haven't decided on it yet!
Okay, Erik, good luck and happy holidays.
Thanks, you too, and see you at Anaheim.