5 Minutes With ... Justin Brayton
Maybe Justin Brayton didn't burst onto the AMA pro scene as someone like Ryan Villopoto, but the Fort Dodge, Iowa, native has steadily moved up the racing food chain. Now as a member of the newly formed MDK KTM Lites team, the 23-year-old is poised to move to the next level. Carefully watched by many industry insiders, Brayton could be the dark horse of the 2008 Monster Energy AMA Supercross Lites West series. We reached Brayton on his cell phone as he was leaving a practice session.
Racer X: Justin, as we head into Anaheim 1, how's everything going?
Justin Brayton: Everything's awesome Jim! This team is unbelievable. My mechanic Rich Simmons and I have been working together for a couple months now--he's awesome, and a very hard worker. I'm ready for Anaheim, so if it was tomorrow, I'd be confident. Usually it's not that way, it's all somewhat last minute, but not this year. The KTM team has been awesome and we're ready to go racing.
You've been doing some off-season racing. Has that helped you get comfortable on your new bike?
It has. The first one I did was Bercy, and it went pretty well. The first night I struggled with some things, but the second night I got a fourth and I got fifth on the third night. The guys that I got beat by were no slouches, there was Reed, Langston, and Short. They were all on 450s, so I was pretty happy about my finish. Next I went to Switzerland, but I had some bad luck. I was just at the wrong place at the wrong time. I need to get a little bit better about making my own luck and taking healthier starts. Racing the 450 there was hard, so I'm excited to be back on my 250F again.
Have you been riding much with your new teammates?
Yeah, a whole lot. Billy [Laninovich] and I are racing West Coast so we ride together just about every day, along with Nick Wey who is on the 450. It's definitely a huge benefit, not only to have the track facilities, but also riding with my teammates, who are established guys. They're both great riders. It's helped me out a lot, and I'm excited to start racing and show off what I've been working for.
How has the transition been from Motoworld Yamaha to the MDK KTM Lites Team?
First of all I must say thanks to Paul Lindsey for giving me the opportunity at Motoworld. I was racing arenacross and Paul Lindsey noticed me and gave me the chance to ride supercross - so I want to thank him for that. Motoworld was great, it was an excellent stepping stone, but at the factory level it's different. It's a lot bigger budget, and you have lot of things that the satellite teams cannot get. With the factory team, if there's something better, then you're probably going to get it, or if not, you probably already have it. We do a lot of testing, and that's helped me out a lot to know that I have the best bike set-up possible for me. It's great, no complaints on my part, that's for sure.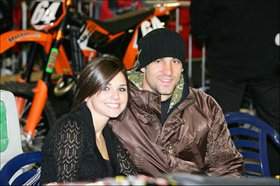 Justin relaxes with his girlfriend in Bercy.

There are also a lot of experienced guys involved with the MDK KTM Lites team, right?
For sure. Danny Paladino is our team manager, but we still deal with Casey Lytle too. Steve Lamson is at the track a lot, and so is Kurt Nicoll. Rick Johnson and Sebastien Tortelli also come out with me a few times a week to help me with my riding. I hired a trainer this year too, so I've covered all the bases that I feel that I needed to cover. I've never had a trainer before that I've worked with daily, so along with the help of RJ and Sebastien, it's upped my confidence, and my riding. Everything's gotten better since the last time I raced.
You put in a great ride at the 2006 U.S. Open, and things looked good for you early in 2007. Will 2008 be your year?
No doubt it's definitely going to be the year. I've got all the tools to win races now. I have the best bike, the best team, the best mechanic - everything's falling into place. Last year was a pretty good year for me; I got some top fives in supercross, but I was really looking for more than that. Then just before motocross started I messed up my shoulder. I had to have surgery, so I missed all the nationals - it was just one of those things. I was really looking forward to riding the AMA Nationals last year as I've never really gotten to race a full motocross season. So that's another challenge for me this year - to really do well at the nationals. Like I said earlier, I've got an awesome bike now and everything's in place - there's not one excuse!
I understand that now you have "officially" moved to California.
Yeah, I bought a house a few months ago in Murrieta, California. I guess it was almost a blessing in disguise by hurting my shoulder - that gave me some off time to spend some money, and buy a home. I got my California license now too, so it's official.
Any big Christmas plans?
No, I'm going to stay out here in California. I would love to go back home and visit my family in Iowa, but I just don't really have the time to take a week off, and I don't really want to take that time off anyways. I'll probably take Christmas Day off, but other than that I'm sticking to my normal routine so I can be as confident as I can be going into round one.
Speaking of that Justin, what is your game plan for Anaheim 1?
At the first round I'm not really going to emphasize the finish. If I go there and get a good start like I've been practicing, and ride to the best of my abilities, I believe the results are going to come. That's pretty much all I can do – just go out there and give it 100 percent and let the finish come to me - instead of me trying to do too much. If I ride the way that I've been riding, I for sure will be where I want to be, and where the team wants me to be. I'd like to thank MDK and KTM for giving me this opportunity to be on such a great team and a good bike!