5 Minutes With ... Sherri Cruse
When Sherri Cruse stepped up to the podium at Washougal this past summer, there was a notable reaction from the crowd around the winner's circle. Their surprise most likely came when they realized that it was this (just shy of) 4' 11" tall rider that only a few minutes earlier had been riding her 250F with authority around the pro national track. Instantly she won fans. Sherri, aka "The Cruser," has the effect on most people who watch her ride and then meet her. She can ride the wheels off any bike and make an aggressive pass on any sized rider.
In November she came out to the WMA Cup for first time and posted a seconnd in the first pro moto, and possibly more impressively she finished sixth in the second moto after crashing in the first corner and working her way up through the riders in the mud without goggles. She was clearly one of the fastest racers of the day. (She also took a fourth place in the (16-24) Mens class the day before.)
Back in Bakersfield, CA, she is waiting for her new Suzukis and preparing for another year of racing. I thought it would be a good time to check in with her and here's what she had to say…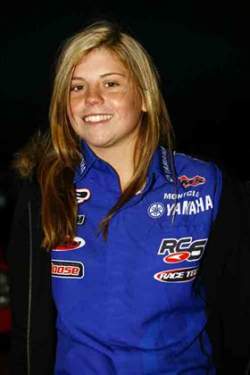 Sherri Cruse

Racer X: We didn't get to see you that much at the WMA races this season, but when we did you rode great. How did you feel about your season and what was the highlight for you?
Sherri Cruse: This year has probably been my strongest year so far. I knew coming into the WMA that you had to be the fastest of the fast to podium. I came in more focused. Ty Davis really helped me with advice. He's shown me how much dedication you have to have to be the best. Kurt Caselli taught me about the Four D's to winning – Dedication, Determination, Desire, and Discipline. Of course those things are more easily said than done. I've learned it takes more than seat time to improve. You have to put as much energy in your cardio workouts as you do riding. As for the highlight, I would say Washougal because it was my first pro podium, and everything I had been working for came together at the WMA Cup because I stayed so focused.

You also raced the WORCS series this year.
This year has been rough for me in the WORCS series. I broke my hand in the middle of the season and had to miss a round, then I had some mechanical problems and DNF'd several times and even with all this I came within one point of winning the championship.

How did you get your ride with the Zip Ty Racing Team?
I had ridden a Big 6 off road race in Ridgecrest, CA. The Women A and the Mens Senior Vet went off the line at the same time and I was beating Ty's dad. After that Ty tried getting a hold of my mechanic Randy and I. We missed each other a few times. Randy finally connected with Ty before the WMA opening round in '06 and I got a ride on the team. Ty asked what my priority was and I explained that it was the WMA, so he signed me for both off-road and the WMA. I get bonuses, gear, parts and some help to the races. Ty Davis has amazing technique. He can do it all and beat pretty much anyone the first time through something difficult. I am happy to ride for them.

You also have a unique situation with the DiFrancisco family; can you fill us in?
My parents were going through a divorce a few years ago and it was a difficult time for my family. It was getting harder and harder to make it to the races. Randy saw me ride on a practice day. Since then his wife Lisa and their family just sort of stepped in to help out. Randy is an ex-pro speedway racer and I guess he saw something in me that he saw in himself. Randy is my mechanic and boss man.

How did you start riding in the first place?
I started riding when I was 9; my parents made me wait as long as my brother (Jeremy) had to. One day we went to watch my brother ride in the desert. When we got there my dad opened the back of the trailer and surprised me with a KTM 65cc. After that I started to race with my brother. He was the person that drove me the most! My brother was the main reason I was so determined. I just had always wanted to show him I was good enough I suppose.

Who do you regularly ride and train with?
I have a personal trainer, Jim Trino, along with friends that I train with most of the time. I ride and practice with Ty Davis, Bobby Bonds, my Zip Ty racing teammates Nick Brozovich and Bobby Garrison, and a few other friends.

Are you still in school?
I graduated High School in July. I do Independent Study now so that I am prepared for community college once I decide what I want to study, but for now I am really focused on my racing career. It is full time.

So what do you do for fun?
I mountain bike, swim, go to the lake, professional goon ride, and hang out with friends and family. I really like to snowboard too. I just got back from Mammoth. I had a pretty good time. I took some of my WMA Cup winnings to go up there, and when I got to the lodge I ran into Kevin from Accelerade, one of my sponsors. He ended up hooking me up with a two-day lift pass.

What is your biggest strength in racing and your biggest weakness?
I try to be pretty consistent through it all but corners are still the hardest for me.

What are your plans for 2008?
I'm riding for Zip Ty again but we're going with Suzuki for next season and I'm really excited to get my new bikes. I want to finish in the top three in the WMA Pro championship and come back and win the WORCS series. I will also race some of the bigger MX events that have a Womens Pro class like the Mammoth MX.

You have another mechanic sometimes, Josh. Will he be around in 2008?
Yes, he will be mechanic for the WORCS series, Randy for the WMA. Josh has become like a best friend. Spending that many hours on the road with a person can teach you a lot about them. He broke my heart when he cried when I podiumed at Washougal and we've been close ever since!

Do you have a ritual you do before racing, or any superstitions?
Before a moto I give myself pre-arm pump and I also shotgun an Accelerade. If I'm nervous I pull out the iPod. Randy is superstitious about green; he doesn't like anything green--he gets all freaked out.

What would you like to see change in the motocross industry?
I am nothing but grateful with how far our girls have come in this thing! NPG and AMA really have started to understand how much this sport means to most the girls! In '05 we started to get our full 20-plus moto and some special parking. Seeing Steel City have the WMA pros run both motos on Sunday in '07 was really cool too. If I could change anything it would be the girls that should be happy to be invited to the Nationals. Maybe if we showed we cared more so would the AMA.

What are your goals after racing?
I want to stay in the industry. I would like to be a Rider Rep.

What piece of advice would you give a young female racer looking to turn pro?
Do it as long as you love it, and have fun!

Who would you like to thank for helping you?
God for keeping me safe, my family, Randy, his wife Lisa for the huge support, Zip Ty Racing, Yamaha, AXO (always looking fresh), Miki Keller of WMA, WORCS racing, Moose, Troy Lee Designs, Pro Grip and Accelerade.

Thanks Sherri, see you in May…
Yeah I'm really looking forward to seeing all of our hard work come together for another great year!