5 Minutes With ... Derek Sorenson
From mechanic, to engine developer, to now team manager, Derek Sorenson has seen a successful rise up the corporate ladder. Managing the newly formed Cernic's Kawasaki team this past season, riders Jeff Gibson and Paul Carpenter landed many top tens in AMA Supercross. Later picking up sponsor Monster Energy, Cernic's Kawasaki then attacked the 2007 Canadian Motocross series, capturing the MX1 Championship courtesy of team rider Paul Carpenter. I had a chance to track down Sorenson, a transplanted Canadian, in his race shop in California to get his thoughts on 2007 and the future.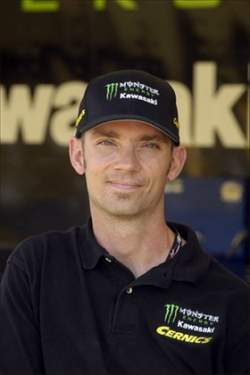 Cernic's Kawasaki's Derek Sorenson

photo: Allison Kennedy

Racer X: Derek, your reflections on 2007.
Derek Sorenson: It took a lot of work, but the year went really fast – the learning curve was almost vertical when I started here! But that's what makes things exciting, and what makes the days go quick. Everything fell together really nice; the crew, the bikes, the sponsors, everything jelled. We had some issues initially, but none of us had experience with the bike before. We got things sorted out, and had a very good supercross series. Jeff and Paul had about 14 top ten results out of 18 races. Paul getting second top privateer and top ten overall was great! Outdoors came together at the last second and both guys did really well by getting on the podium – and Paul won the MX1 Championship! It was also a homecoming for me, as I got to see a lot of people across Canada that I haven't seen in a long time.
What were your thoughts about not racing AMA Motocross and going to Canada?
Well my main focus is racing in the U.S., whether it's supercross or outdoors - the future of our team needs to be here. But it's difficult to get support for the outdoors here, while there is a lot of interest in supporting us in Canada. It's just business; it makes good sense to go to Canada where we are able to do very well. We're supported very well; Kawasaki and Monster Energy in Canada take excellent care of us. Still, I think that being out of sight, you're out of mind in this industry – and we want to be in people's minds. It seemed at times people didn't realize that we were racing in Canada, and that Paul and Jeff were doing so well. It seemed like people here thought that we had taken the summer off. I believe for our team to grow in the future it needs to grow as a U.S. program. Not that I've got anything against the Canadian Series, it was great, and everybody up there treated us like royalty. But having said that, it's like going and winning an arenacross championship. It's a great championship to have, and there are a lot of good guys that you have to beat, but that's not really my focus for the future.
Let's hear about the plans you have for your team this upcoming season.
You've likely heard that Paul will not be back with us; he had an opportunity that he could just not pass up - it was a big bummer, but we are all happy for him. Besides that, we're doing the same program; AMA Supercross on 450s with Jeff Gibson and Dusty Klatt - then we're going back to Canada for the Motocross series. It should be easier on us this time because we've got a year under our belts, and we know well in advance what's going on. Last year things were a little up in the air. I think Dusty will surprise a lot of people. He didn't have a very good season here last year, but the 450 really suits him. Jeff had a great season last year, and he's building on that. I think he's going to surprise people too.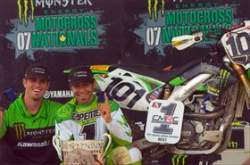 Cernic's Kawasaki's Paul Carpenter won the 2007 MX1 title in Canada.

photo: Jason Griffiths

What's next for you Derek, as far as your career?
That's a good question Jim. One of the things that I always wanted to do is be a team manager, and I've been fortunate to come into that position so quickly. But I know that there's a lot of opportunity to do what I'm doing now, only maybe at a higher level. Right now we're somewhat restricted to the things that we can do because of our budget, but if you're on a factory team, you can work with so many different things. A little bit further down the road my interest is to work more directly with the manufacturer and have a bigger affect on the industry, maybe not so much week in and week out at the races.
Who has helped you become successful in your first job as team manager?
As far as people; I'd like to obviously thank my family. My brother Darrin has been a big part of getting me here, as well as my wife Karen. Also guys like Billy Whitley, Ron Heben, Jeff Cernic, Ron Ashley, Larry Brooks, and J.C. Waterhouse - I've learned from all of them. Even all the riders that I have worked with, I have learned from - everybody leaves their mark.