Monday Conversation: Tadeusz Blazusiak
November 19, 2007 11:58am
KTM's Polish tough guy Tadeusz Blazusiak flew in to Las Vegas to race the Maxxis Endurocross after winning a similar event in Italy the week before. At The Orleans Arena, he put on a remarkable performance, upsetting the favorite, David Knight.
Blazusiak did something hardly anyone has witnessed in the U.S. He dogged down the strongman Knight, and after many attempts, he used his trials skills to throw his big KTM into rocks just enough to shave off enough time to get around him in a turn with a lap and a half to go.

Taddy's win cost Knight the Monster Triple Crown bonus, but Knight still won the championship for the three race series. We spoke with the happy winner right after the podium, and happily discovered that his English is as good as his bike skills!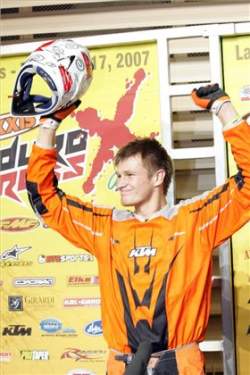 Tadeusz Blazusiak

Racer X: First question, who are you?
Tad Blazusiak: [Laughs] That is a good question, really. I am with the KTM team. I signed a contract at the middle of the year. I won the Erzberg Rodeo in Europe, that was a tough race. I got a proposal from KTM and accepted. I was not really an enduro and motocross rider before. I rode this bike for three months. I never had a big bike. Originally I am a trials rider. I was a professional (in trials) for the last six years and rode for three factory teams and last year finished 8th in the world championships in the general classification.

Did your trials help you here?
Sure. But when you are in the race you don't think about it, you just go for it.

How did you make the decision to race this event?
To be honest, it was a team decision—I just followed orders! The deal with KTM was to do all the difficult races. Endurocross is a different kind of a difficult race. The Red Bull Last Man Standing (in Texas) is a really long race where you have to plan your energy for the whole day. Here it is different, but it is still difficult. We just decided to see what I could do and did quite well.

Before the event, did you think you would be a front-runner?
I was coming here to win. That was the goal. I did an Endurocross last week in Italy and I won it. I knew that I was in good shape. That was the goal, but things happen. In the first qualifying timed lap I broke my back brake. It's racing, you never know what is going to happen. Then in the last chance race I pushed and said I have to really go for it. In the final I had nothing to lose. I was not fighting for a championship like David. He has to think, is he going to crash and not win the championship. It was not the point with me, it was win or lose.

You were jumping into that step-up rock turn, is that a trials move?
[Laughs] No, I think it is just a crazy move! The thing was, all the lines were taken. When I got there I saw (Ty) Davis stuck on a log and I thought 'I am not going down here.' I just thought 'I am going to take a short cut' and jumped over the thing.

What was it like beating David Knight? We have seen him so strong here.
And big! I have known David for a long time. He was a trials rider too—not as a professional but I know him from trials. He is a good friend of Dougie Lampkin, the trials world champion who I know very well. The moto world in Europe is not that big as here; we all know each other as well. I am just really happy, this was perfect.

Congratulations, Taddy.
Thank you!