5 Minutes With ... Jason Thomas
November 16, 2007 12:20pm
While all the hype may have been surrounding the Paris-Bercy Supercross last weekend, there was another indoor dirt cycle race going on in Stuttgart, Germany. Don't know where that's at? Google it. Florida's Jason Thomas, AKA JT Euro-money, took home the win—his third consecutive at that race—so we gave him a call today to congratulate him.

Racer X: JT, what's going on?
Jason Thomas: Oh, just doing some riding over at Tim Ferry's house.
Testing?
Not yet. I'm going to do that next week. I'm staying in Gainesville a few days next week during the Mini Os and we're planning on doing some testing then.
Well, congratulations on yet another Stuttgart SX victory. That's three in a row.
Yeah, thanks a lot! I appreciate it.
DC mentioned earlier this week that each year you won with a 2-1.
Yeah, all three years in a row was a 2-1. Going in Friday night I didn't really know what to expect, and I didn't get a good start and I was just trying to catch up, and I got into second with two laps to go. I was like, Oh man, second again.
Who won that first night?
A French kid named Florent Richier. He's really good at those races. But the rest of that night and the whole next day I was thinking what if I won again how weird it would be, and it ended up working out.
So what is the Stuttgart track like?
It's really tight. I think I had the fastest lap time of the weekend, and it was a 30.1 or something.
Is it similar to the U.S. Open?
Yeah, but tighter and smaller. The dirt is the tackiest that I ever ridden on, but it's a pretty cool race.
So what's the weather like in Germany right now?
It was pretty bad. Last year it was sunny and stuff, but this year it was really cold and dreary.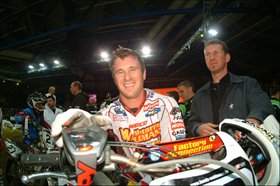 JT and his mechanic that he sees twice a year.

Who helps you out with bikes and equipment when you go over there?
I ride for this team in Germany called Waldmann Honda. I've actually been riding for them in Germany for five years. I've had the same mechanic every time, and the team owner is pretty cool. So it's a very comfortable situation for me to go over there because I know what to expect. My mechanic, he's only my mechanic two races a year, but he knows how I like my bike and it's already set up for me when I get there, and he doesn't even know how to speak English very well.
So you're going to be doing another race in Germany?
The only races left for me is Barcelona, which I leave a week from today. Then I'm staying over that whole week and then racing Geneva the following weekend, and then I'm done.
Is it tough going back and forth just for a weekend race?
Yeah it is—it's pretty brutal. That's why I'm going to stay that next week. Nick Wey is going to stay also. We race Sunday night the first weekend, and then we race Friday night the next weekend. We're then going to try and find a place to ride in Spain during the week.
Will Waldmann Honda help you for those races, too?
No, the promoter will give me a bike for those and I'll just take my mechanic. I'm going to take Dan Truman for those two.
So you're going to be home for Thanksgiving?
Yeah, it's the first time I'll be home for a few years, so that's cool.
Let's switch gears. Here in the States you ride for the Butler Brothers/DNA Energy Drink team. How are things coming together for '08?
Things are going really good. We're just trying to get a head start on our bikes. Last year we were still sorting stuff out as the season started, so we're just trying to get ahead of the curve. We have a lot of the sponsors returning, and everything is going well. I know Forrest [Butler] and those guys are running around, but for me it's easy. I'm just riding, trying to get myself ready.
Are you on the 2008 Honda right now?
Yeah. Actually, I got one a few days before the U.S. Open, and I raced it there, so I've been on one for almost a month and a half. It wasn't a whole lot different—just some little changes.
#37 next year, huh?
Yep, I'm getting everything numbered up right now.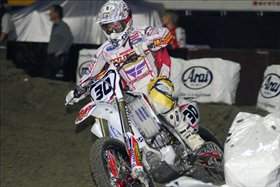 The Waldmann Honda was dialed in Stuttgart.

We're in the American off-season, but the racing really never stops for you. Do you ever take a vacation?
Yeah, I went to Mexico after the U.S. Open, just to not ride for a few days and take a little break. But this year has been better than most. When I get home from Switzerland, I probably won't travel more than an hour away from my house for like five weeks, so that'll be good.
Lately, what is the longest you've went without throwing a leg over a motorcycle?
Probably like 10 days, and that's when I went to Cancun. I try not to take too much time off because it seems to affect me more than other people; I get rusty real fast then I get frustrated not feeling good on the bike.
Well, before I let you get back to riding, do you want to give anyone a shout out?
Yeah, I want to thank my team, DNA Energy Drink/BTO Sports/Rick Case Honda. Those guys are working hard right now trying to get stuff ready.
It has to make you feel good seeing the growth of that team these past few seasons because you're partly responsible for that.
It's very cool. I see how hard Forrest works, and I don't have a clue how he does it. He's married, has a one-year-old kid and has another job besides the team. I see how much he travels and I really don't understand how he does it, but he makes it happen. It's incredible. I'm glad he's young still, for sure!