5 Minutes With ... Mark Burkhart
The 2007 season has been a good one for Mark Burkhart. The Ohio native won the gold medal in supermoto at the Summer X Games and followed that up with the AMA 450 Supermoto championship last weekend. As icing on the cake he was nominated for the rider of the year award given out by the American Motorcyclist Association. I caught him as he was getting ready to play some golf and enjoy a little well-deserved vacation.
Racer X: Mark, congratulations on the title! How are you feeling?
Mark Burkhart: Good. I feel like I can finally relax after everything that has happened this year. I feel like there has been a weight lifted off my shoulders.
That first title must be rewarding.
Yeah, I worked hard for it so I am glad it finally came.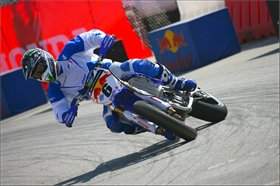 Mark Burkhart is your 2007 AMA Supermoto champion.

photo: Sean Thomas

It seemed like last year you had the speed and were even the quickest guy but you lacked some consistency. What changed between last year and this year?
Mostly my bike setup was a lot better. It's not that I didn't ride as hard but I didn't have to push as much to go as fast as I did last year. That helped more than anything. I also took a different approach, knowing that I didn't have to win every single race. If you screw up just one race your championship is done. All championships are hard to win but our series only has ten rounds and if you screw up just one round you are done.
There isn't as much rider depth in supermoto to make up or lose points between riders.
Yeah, every time I won Jeff always got second. Cassidy wasn't going to get in between us, especially at the end. That makes it difficult.
You have a motocross background. What attracted you to supermoto?
I had about five knee surgeries. I always wanted to road race since I was fourteen or fifteen. I was getting tired of getting hurt racing motocross and I was looking for something else to do. About that time I saw a picture of Ward and McGrath riding supermoto and I wanted to give it a try.
What did you do to try it?
I just bought some wheels, tires and brakes and put it on a bike I bought back from a local dealership. It was nothing special but it got me started.
Where do you see supermoto going the next several years?
I don't know. Some people think it's growing and others don't think it's going anywhere. I know that the numbers keep growing at X Games for supermoto. The biggest problem with the AMA series is that there is no TV for it. I think people would have more interest in it if they saw it on TV. It is also expensive to take a seven thousand dollar bike and then spend a couple thousand more to make it a good supermoto bike. And there aren't that many places to ride yet. Hopefully there will be a more cost effective way to do it and more and more cart tracks will open up to let us ride.
You were at ESPN's press conference for the Moto X World Championships. That seems like a big boost for the sport. What can you tell us about that?
It's going to be like the X Games but just the motorcycle events only. It will feature supermoto, supercross, step-up, freestyle and best trick. It is basically a motorcycle-only version of the X Games before the Summer X Games in Los Angeles. There is a big rider base in San Diego and I think that had a lot to do with it.
There are some misconceptions that riders have to compete in every discipline to win an overall title. That is not true, is it?
No way! [laughs] You wouldn't catch me hitting a freestyle ramp, that's for sure. My best trick is a no-handed endo.
ut this event isn't made to remove bikes from Summer X, is it?
No, they want another venue to showcase the bikes. At summer X there is so much going on downtown at Staples that a lot of people can't see everything. The Home Depot center is thirty miles away so it's hard for people to get to in time.
Do you think supermoto will grow faster at the hand of someone other than the AMA?
Personally, I think it will be better. I think a lot of it depends on who takes it over and what they do with it. The AMA is better at running the events and making rules. I just haven't seen it grow much as a result of them promoting it. Troy Lee promotes the heck out of his race and he puts in a good effort but that isn't the way most of the promoters do it. Right now we need to run in conjunction with other events. Road races or any type of event where people can easily come watch would be good for supermoto.
What else do you have planned for the off-season?
I'm still out in California right now. I have a Yamaha function this week and then the AMA banquet this weekend before I go home. After that I think I will go on a vacation. I haven't had a vacation in five or six years. I'm going to go somewhere and shut my phone off so nobody can call me.
You certainly deserve it. Congratulations on the championship.
Thanks.