5 Minutes With ... Daniel Reardon
On the weekend of October 12-13 in Las Vegas, 21-year-old Australian Dan Reardon made his U.S. debut, lining up for the Rockstar Energy Drink U.S. Open. Atop his Honda CRF250R, the 2007 Australian Supercross Pro Open Champion and '07 Nokia Motocross Pro Open National Champion rode to 7-4 main-event scores. This weekend, Reardon will race in Reno, Nevada's Livestock Event Center, host site of this weekend's Toyota AMA Arenacross Series rounds, though he is not an arenacross series regular. We tracked him down to find out why he's racing AX and how things are shaping up for 2008 AMA Supercross Series debut.
Racer X: Dan, what are you up to today?
Dan Reardon: As a matter of fact, I just finished up riding and am about to do some training. Just a standard day, really.
Where are you living here in the States?
I live in Murrieta with my trainer, Andy Cunningham. He's been my trainer for six years now. He worked with me for six years back in Australia. He was a former pro bodybuilder and is right up there with training and everything. It's been good to bring him over here to work with me.
How do you like living in California?
It's really good. America is not a lot different than back home. But it's the riding places and the facilities that I'm really pumped about. Every morning when I wake up I know exactly where I'm going to go and what I'm going to do. Back in Australia I was always wondering where I could ride and how it would be.
Where have you been riding the most?
The Honda test track, at the moment. But I also like to ride motocross and mix it up. I've been riding at Cahuilla Creek and like it a lot. I'm slowly getting to know people and getting out to ride on some people's supercross tracks.
Do you know the other Australian racers who are based here well?
No. I don't know them, really. I don't know [Chad] Reed at all. I know [Andrew] McFarlane a little better. Byrner [Michael Byrne] I've met a couple of times. [Brett] Metcalfe I know pretty well as I stayed with him for a week last year before the Motocross des Nations. But it's not a bad thing, though. I mean on the track you don't really have a lot of friends. I'm sure I'll get the opportunity to get to know all of them.
The U.S. Open was your first race in America, correct?
Yeah, that was my first race in America.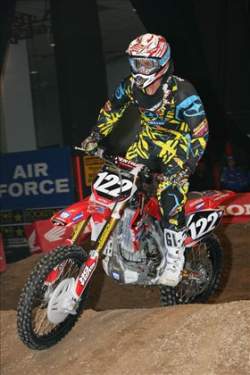 Dan Reardon is headed to Reno, Nevada for this weekend's Toyota AMA Arenacross.

What did you think of the track and the racing?
I thought it was really good. In fact, it was somewhat similar to the races we have at home. The size of the track was like the tracks we race on in Australia. As far as the racing, it was definitely a different environment and I'd be lying to you if I said I wasn't nervous. It was a one-off and I got in some track time. It was definitely a positive weekend for me.
You placed seventh and fourth, respectively, in the two main events, and people came away impressed with your riding. Was it a good race for you?
I was a little disappointed with the way that I rode. I was pretty good the first night, and I crashed in the main event. It was a good experience. There were some places where I was good on the track and some places where I would think to myself, You need to pick it up. I'm glad I did it. I had been off the bike for almost three weeks going into it and that was a little bit of a bump in the road, but the whole thing was a fun experience.
I know it was only your first race and it was on a pretty small track, but could you get any sort of read on the speed of the U.S.-based riders?
The track was pretty different and was only so big, so it's hard to say. There were a lot of riders ahead of me that were 450 guys, and those are the guys I want to race with in one or two years. Those guys are all top athletes, and the experience I got from racing with them was positive.
You won both Australian championships in 2007 on a 450F, and the word was that when you began to consider racing in America, it would be on a 450. Yet once you signed with the SoBe No Fear outfit, it was announced you'd ride the 250F classes. Why the change?
When I came over here [last June] I had tunnel vision. I was determined to ride the 450. That was it. But after riding a number of bikes and talking to people, I felt going to the 250F for my first season in the U.S. was the right thing. Yeah, you make more money racing a 450, but there are no shortcuts. In fact, I think I'll become a better rider by riding in the 250F class.
You tested and tried out with a number of teams and ultimately settled on the Factory Connection Honda team. Why?
I really liked the team and the team structure. Yeah, they have one of the fastest, if not the fastest, bikes, but the team structure really impressed me. All the mechanics, the owners, the managers, and the whole basic infrastructure of the team felt comfortable. Yes, I did test for other teams. I also spoke with the Pro Circuit team but never rode their bike. But when I was done with everything, I was 100 percent happy with my decision.
You're going to compete in this weekend's arenacross rounds in Reno, huh?
Yeah, right. There is no better practice than racing. I could be at the test track all weekend practicing, or I could go race. I decided to race, so we're going to drive up and do the full privateer deal. It'll just be me, my mechanic and my trainer. We'll do the eight-hour drive and pit right out of the back of my truck. It'll be cool and good to race again. There is no better thing than racing. I'm going to do these races to improve. I'm going to this meeting not really knowing what to expect and I'm going with an open mind.
As far as the 2008 supercross series is concerned, do you know what region you'll be competing in yet?
I'm not 100 perent sure what to expect, but hopefully it'll be the West.
This is a dumb question, but are you going into it expecting to win?
Well, nobody races for second place. We're all in it to win. Realistically, I'd like to do so, but it's hard to put your goals on your results. When the time comes, things can happen or you can crash. It's racing, so anything can happen. I'll feel good leaving a race knowing I gave it everything I had. I'm going to work it race by race and not look at the championship right away. I'll go race by race and string things together. That approach has always worked the best for me in the past.
When it comes to racing, do you know much about the American riders?
Not at all. All I've been able to see is what I've seen on videos. If you can do homework on them, that's the homework I've done.
I've read articles in which you said that racing in America is a dream come true for you. True?
Definitely. Definitely. I'm pumped to be here. It's crazy. When I was younger and thought that it would be great to race in America, I wasn't even a top-20 rider in the outdoors in Australia. This was back when I was 16 years old, so it's good to see that hard work pays off. If you stick to your hopes and dreams, they can actually happen.
What are your long-term goals?
To win championships. To win motocross and supercross championships in the Lites class and to move up to the open class and do it again. Basically, I want to be a world-class rider. I've put the effort in and life is short. I've worked my whole life to get here. I'm not here to party. I've worked hard to achieve my goals and make them happen. It's been a block-by-block process, but it's happening and I'm happy.