5 Minutes With ... Troy Lee
Troy Lee is a busy guy these days. Not only is the world famous helmet painter full speed ahead with the painting aspect of his business, but he is full throttle with his TLD gear line, his design endeavors, a Supermoto team, a Supercross team, and even his own supermoto event; a double-header this weekend at Casino Morongo. Oh, and did I mention that he has twin babies coming that were due on the 4th of November? I got him on the phone to find out how things are shaping up at Morongo and to see if he's having heart palpitations yet.
Racer X: Troy, how are things going with this weekend's event?
Troy Lee: It's going to be awesome! We're just piecing the whole thing together right now. It's a dream come true again, man. It's like a huge erector set. All the bridges are in and we have a huge hospitality area set up. The dirt section is so cool, too. Supercross hasn't even done anything like this. We have huge pits dug that the riders drop into and then jump out of. The last one throws you out onto the asphalt. There are a bunch of amateurs showing up and we have at least 100 people out here working right now. I'm stoked with the way it looks.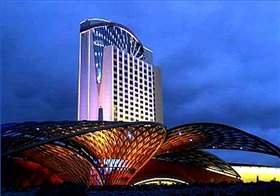 The Morongo Casino

Your event at the Queen Mary in Long Beach was a huge hit with riders and fans. It was the best supermoto event of the year. How is this one stacking up compared to that?
I think this one is 50 percent better. I'm really digging it. The parking is better, the track is better, the facility is better, the spectator areas are better and the vendor area is way better. The amateurs are already pulling in and barbequing and hanging out. Everyone is just hanging out together and having a couple beers; it's a cool vibe.
There are a good number of amateurs signed up already from what I understand.
Yes, we have a big group of riders already signed up and a lot of them were showing up yesterday.
Anyone that wants to race can still sign up, correct?
Yes, they can show up and enter at the track.
What other events are going on during the weekend?
There is a bowling event on Thursday evening out here. We have the press conference at 5:00 p.m. with the top riders and the bowling tournament starts right after that. Moto Brew is throwing a big party on Friday evening for all the amateurs, Morongo is throwing a party on Saturday night at their nightclub, the Vibe, and Red Bull is throwing a huge party on Sunday night. The Vibe is really cool, for those that haven't been there. It has the world's largest disco ball on the ceiling. It's rad.
So, in typical Troy Lee fashion, there's going to be a party every night.
Oh, yeah. You gotta have a party.
How did you get involved with Morongo?
We started talking when we heard that the Queen Mary was being sold. We didn't know the new owner and we didn't want to take a chance of them not letting us do the event again. Every time we came to Morongo they got more and more excited. They also have a pretty big group of kids in their tribe that ride so they all got excited about it. Once it got some traction with the rest of them it just took off. They have been amazing. The rooms are really cool, they have some great restaurants inside, they have a 360 club on the 26th floor and the Vibe club is amazing. It reminds me of the Palms in Vegas. It is pretty expensive, but I think it's worth it. They have an incredible pool, too.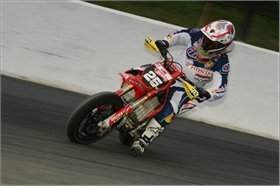 Troy Lee is a busy man.

What other riders are showing up that don't usually race?
Mike Metzger is signed up along with Ben Bostrom, Danny Eslick and Jake Zemke. We also have the Moto-a-go-go race that is for celebrities and team members. Mitch Hansen from KTM is racing. I haven't heard back from Chuck Graves yet. He says he can smoke us all but he just likes to talk about it [laughs]. The guys at Kawasaki and Husqvarna are all going to try it out, so it should be fun. We also have guys like Steve Lamson, Brian Lopes, Alex Hoffman, Brian Myerscough and a bunch of other cross-over athletes coming out, too.
So, are you stressed out with all that's going on? You have twins on the way!
Yeah, I keep checking in with the wife. I call, like, five times a day to make sure they haven't popped out yet. I actually need the twins to get here so they can help me build the track next year. That's the fun part about building this track is that I feel like a kid again. My son and I are having a blast out here.
Are tickets available at the gate?
Yes. We have a three-day pass for $40 or $25 per day. Kids are $10 and under 4 are free. They can go to www.troyleedesigns.com for complete details.