5 MInutes With ... Grant Langston
A few weeks back, Racer X asked Grant Langston to take a big step back and reflect on clinching the 2007 AMA Toyota Motocross National Championship at Glen Helen Raceway on Sunday, September 9, 2007. It was quite apparent that the afterglow of winning the title after a spirited late-season charge had not worn off and the friendly, well-spoken South African was all too happy to talk about what it took to win the cliffhanger of a series that, with upwards of six riders involved at certain times, was a free for all. Already an FIM 125cc World Champion, AMA 125cc National Champion and two-time AMA Regional Supercross Champion, Langston called winning the 2007 Motocross Championship the finest moment in his career.
Racer X: Grant, first off, it's been over two months or so, but how does it feel to be a National Champion? Is the "buzz" still there?
Grant Langston: Yeah, it's been cool. I mean, obviously, try and ask how it feels or ask me to break it down. You can't really do it as much of a feeling. Yeah, you can say, "it's great, it's cool and it's fun" and it is all that. I think what was so rewarding for was that this year was, not by any means, an easy year. Even in the outdoors. Six rounds into it — which is halfway — I was sixth in the points and struggling and not finishing where I wanted to and having crashes. I was getting frustrated. Everyone was getting frustrated. The bike just wasn't fitting my style that good. I was struggling with turns. After practice, I'd be like, "This is wrong. I can't do this. This is frustrating." It was tough. And then to have everything do this 180 and get this new bike and have everything kind of unfold the way it did and come on strong at the end and start winning and everyone is excited again and motivated and I'm loving racing again and then you win and "Boom!" How did we do that? That was cool!
Was taking possession of the new 2008 bike like having a magic wand waved over everything?
You know, I don't think the bike was the be-all and end-all. I think when it's not working that well, it's easy to be frustrated and get down, but when it gets a little bit better, it's so much easier to elevate from there because you're like, "My bike is better and now I have to do better." You become more confident. I mean all of a sudden my starts improved. Your starts don't improve because of a new chassis! [Laughs]
After the Washougal National, where things began to turn around for you, I was leaving Lake Elsinore and I stopped in to see your dad. While talking, he said to me, "Grant is the kind of rider that needs something to motivate him." Does that make sense?
Yeah, for sure. I need some sort of carrot dangling in front of me and I think what happened was that I had my uncle working with me and helping me out. One day Andrew was talking with my dad and told him, "I think Grant is frustrated and I don't think he is happy with the bike." With me and Andrew being uncle/nephew, he felt some things he was suggesting were going in one ear and out the other and my dad came long and played devil's advocate. I'll never forget this. He came and watched me ride one day and looks at me and goes, "You actually don't look that bad." I was like, "Thanks, dad!" I was laughing. I guess that was kind of a compliment. We just kind of all brainstormed and let all that stress and those worries and that frustration go and started making little adjustments and we got that chassis and then all of a sudden it just came right. We tried to get away from just pounding out motos and getting stuck in that rutt and tried to make things fun and different again and it just sparked everything up. And I think the team, when you're doing better, they get all energetic. All of a sudden we had this snowball effect going and fortunately the snowball was going in the right direction.
Was there a certain point in the series where you thought to yourself, "Hey, I can win this thing"?
Yeah, after Millville. After Washougal I think some people were like, "James might be injured and it can change things!" But at that point, even with James out, there were still a bunch of people in front of me in the points that I had to beat that I wasn't beating on a regular basis. I was like, 'Even is James is out, I'm still 32 points behind Timmy [Ferry] and this is going to be tough. There is still a lot of talent in front of me." It was possible to still win, but I was like, "I really don't know." And then the following race was at Millville and I took a giant chunk out of everyone's points leads and James wasn't there, so we all kind of figured, "Okay, he is now out." So I was like, "Dude, now it's 18 points. Beat these guys. You just finished second behind Ricky and he won't be there at the last couple races. Just beat these guys and you got it." I said to myself, "You can do this. You've done it before. You've pulled a rabbit out of a hat a couple of times in your life. This is not a huge task right now." I knew I had to be flawless at the last few races, but it all unfolded like a Cinderella story.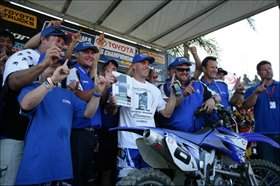 Team Yamaha celebrates a well-deserved AMA Motocross championship.

You won the opening moto at Glen Helen, which effectively put you in a safe position to win the championship. How did the final moto play out for you?
I just played it safe. It was hard. The sun was setting and we were going up the mountains and the sun was setting and it was blinding, and coming down we were swapping and I said to myself, 'Grant, you don't need a crash and a need a DNF because you're trying to be a hero." I was struggling to make myself charge like I did in the first moto. I think I rode very, very cautiously. Even Alessi caught me. When he got real close, I looked over my shoulder and saw there was a big gap. I was like, "As long as Windham stays upright (Windham was leading), I'll still get the overall." So I let Alessi by and after that, I just rode worse and worse and worse. I was just thinking, "Be safe, don't crash, miss the rut, don't take a risky line." I was just going around and there was still a pretty good gap. It wasn't the easiest moto. I mean the first moto was cool because I was like, "Man, I think that just did it. Mathematically, they have a shot, but that moto just won me the championship." That championship was the most important thing by far.
In the grand scheme of things, you've been a World Champion, a 125cc National Champion, and a Supercross Champion. Can anything touch this championship?
I think what was great about the World Championship, when I was a kid I didn't know anything about racing GPs opposed to racing the AMA. When I was a kid, my attitude was I want to be a World Champion because that meant that I was the best guy in the world. Growing up and going to Europe and that, when I did win the World Championship, I think that was a huge milestone. It almost seems surreal at times. Since then I've won a lot of cool stuff and every one is great. I won the championship in 2003 and I didn't really get that enjoyment of going out and actually crossing the line and winning because Troy was cancelled and people made it out like it was my fault that Troy was cancelled and that was a bit of a bummer. The supercross series go by so quick and they're so short that they're kind of different. Like I said, what was cool about this one was that we fought so hard and it seemed like the longest series. When you struggle for something and it happens, it relates to anything in life — business, racing, whatever — if you're striving for something forever and it's the hardest thing and you eventually pull it off, it's so rewarding because it was so tough to come by. It was also kind of cool after Ricky's dominance of all those years to be the next guy to come and step in. I won't say I came to fill his shoes because those are some pretty big shoes, but to be the next guy to take that crown was awesome.
Did the dynamics of the racing change with Ricky and James out?
Uhm, I think for sure because I think everyone realized there was a championship on the line. I don't want to speak on anybody else's behalf, but I don't necessarily think that guys trained harder or did anything differently. Everyone was trying, no matter what, but when we all smelled that blood to win the title, the intensity became higher. All that happened withme was that it made me focus. It was that carrot dangling in front of me. I'd be lying in bed at night thinking, "Grant, these opportunities don't come around often. It may never come around again. Don't let this slide by and wake up one day and say, "You know I let that one go." Even through the tough times, even on the tough days, I'd get up, pick the bike up, bend the handlebars back, bend the levers back and do whatever it took. I charged as hard as I could in every moto and I don't think I left a single point on the table. In the end it made a big difference in the scheme of things.
Do you love motocross as much as supercross? Motocross is awesome, isn't it?
It is. It's what out sport originated from. The majority of the money, yeah, is probably in supercross, but racing is outdoors. The hardcore fans that ride themselves that buy the bikes and buy the gear, they're at the outdoor races. Our sport needs both. They're both important to our sport. Supercross is for the mainstream and to get the big corporate companies involved and to enable our sport to be a big business. Motocross is probably not as profitable and as big as far as TV and that, but the hardcore fans watch it. I like what Ricky did. He did both series' for years on. He gave it all 110 percent in both of them and did what he wanted to accomplish and walked away. I thought that was pretty cool. I think that they're both important series' and I think the true fans will agree and appreciate the guys that are doing it all.