Welcome to the Shift Number Cruncher. It's funny how names, like numbers, seem to come in bunches. Take the Racer X office for example: Jason Weigandt, Jason Fleming, Jason Hooper, and Jason Berry. We also have Tim Cotter, Tim Coombs, and Tim Boryk. Look over at the Joshs at Gibbs MX. How about Mike Gosselaar and Mike Alessi. Remember a few months ago when we crunched The Smiths? After taking a look at last week's edition that showcased the 2008 list of AMA Pro numbers, we noticed an alarming amount of Kyles in the list so we pulled a picture from all of the 2008 Kyles. We found a few more too. Enjoy.
Let's kick it off with
Kyle Lewis
as 2007 marked his last full year of competition. His retirement kind of got lost in all of the Carmichael goodbyes, but "Lucky" certainly had a strong career. From mini-cycle phenomenon to 125 SX winner, to Japanese national champion, to one of the most successful privateers in the history of the sport, Kyle Lewis holds his own special place in the record books.
National #36 for 2008,
Kyle Chisholm
, was very impressive in the 2007 AMA Toyota Motocross Championship. He would have been strong in supercross had he not broke his heel early in the East Coast series. I'd keep an eye on this lanky Floridian to make some serious noise in 2008 on the new Extreme Team Green pro team.
Kyle Cunningham
is another very fast and impressive member of the "Kyle Club." The fiesty young Texan put in some solid rides in the Western Lites division then suffered some injuries that set him back. Cunningham moves over to the Butler Brother's DNA Energy Drink - BTOSports - Rick Case Honda squad for 2008 where he should continue to improve.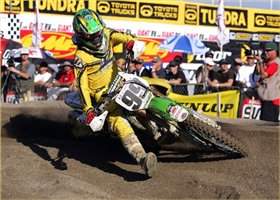 Kyle Mace
photo: Steve Bruhn
Kyle Mace
was another surprise in 2007. From making supercross mains to racking up points in the outdoor series, Mace rode hard all year to earn national #68, which was of course the amateur number of The Beast From the East.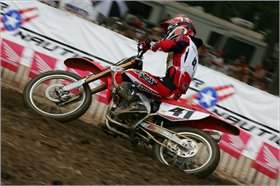 Kyle Keylon
photo: Simon Cudby
I'm telling you, 2007 was a good year to be a motocrosser named, Kyle!
Kyle Keylon
came straight from Loretta Lynn's to the big boy class and immediately began drilling down top tens. I think the only person more proud of him than Butler Brothers was his father, Kenny. This Kyle will join
Kyle Cunningham
on the DNA Energy Drink - BTOSports - Rick Case Honda team as well.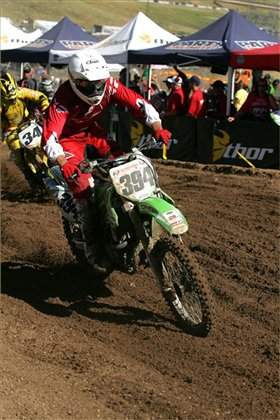 photo: Steve Bruhn
Kyle Summers
was another rider participating in the hot 2007 trend of the off-road/outdoor motocross cross over. For a while guys like Kiedrowski, Andrews, Cooper, and Ryan Hughes were jumping over to the off-road stuff. Now all of the sudden we have off-road ringers like Destry Abbot,
Ricky Dietrich
, Bobby Garrison and
Kyle Summers
coming out to the nationals and showing the pretty boys what being in shape is all about. Summer's nailed down national #93 for '08.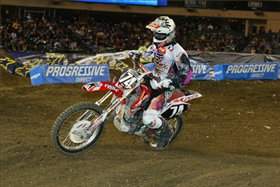 photo: Steve Bruhn
2008 AMA national #95
Kyle Partridge
hasn't shown all of his cards yet. He is a really smooth rider, but has been slowed by injuries and could turn a lot of heads in the 2008 supercross series. Here's to Kyle kicking some butt and making his super cool big brother, Jason, even more proud of him than he already is.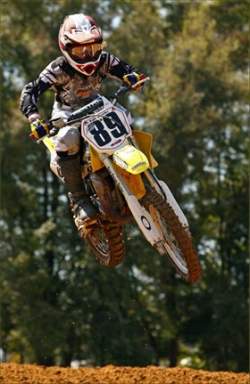 Kyle Goerke
photo: Simon Cudby
Kyle Goerke
(ger-key) is the younger brother of Yamaha of Troy's
Matt Goerke
. Kyle had a rough go of it at Loretta's this summer but he will be storming back for redemption in 2008.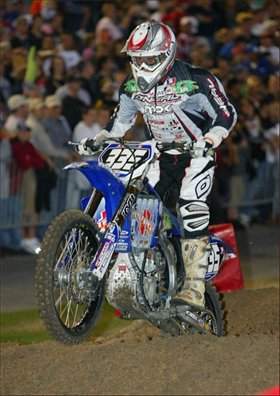 Kyle Tobin
photo: Steve Bruhn
Check out this
Privateer Profile
Bad Billy did on
Kyle Tobin
, the 2007 Australian MX Rider of the Year.
Other notable Kyle's:
-Kyle Farnell: Fast motocrosser from Florida
-Kyle Petty: NASCAR legend and Victory Junction Gang founder
-Kyle Busch: NASCAR star
-Kyle Losa: X-Games Big Air gold medallist
-Hurricane Kyle hit Florida in 2002
If you have any more feel free to send them to me. Till next week, keep your wheels on the ground and your feet on the pegs.