5 Minutes With ... Nick Evennou
As an amateur, Annapolis, MD's Nick Evennou was one of those kids who many thought was "the next big thing." He had factory support and countless sponsors as an up-and-coming minibike pilot, and he recorded his first Loretta Lynn's championship in 2003 in the 125 B Stock class over some very talented riders—including Matt Goerke and Josh Grant, among others. In his rookie season as a pro in 2005, Nick had a ride with the Moto XXX Honda team, but injuries hampered his debut, and he kind of fell of the radar since then. We caught up with Nick this week to get up to speed on this fledgling privateer.
Racer X: Nick, what the heck are you up to these days?
Nick Evennou: Lately, well, to tell you the truth, I've been working five days a week and racing on the weekends. You probably wouldn't believe me if I told you, but I'm roofing.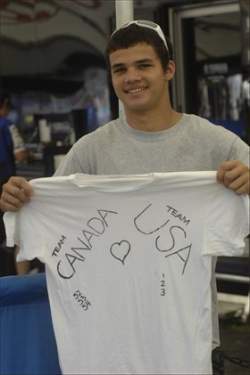 Nick Evennou is looking for a ride.

Roofing!
Yeah, one of my friends owns the company and he needed a little help, so I kind of stepped in and have been helping him for the past three months or so.
You also mentioned you've been doing some racing—is that just locally in Maryland?
Yeah, in Maryland, Delaware, Virginia and Pennsylvania.
What are you riding?
I just have two practice bikes—a Yamaha 250F and 450F.
Let's back up a little bit, Nick. Your rookie season as a pro a few years back you rode for the Moto XXX Honda team, and you were national #88. A lot of people were expecting big things from you, but that year didn't exactly go as planned, did it?
No it didn't go anywhere near as planned. I was training and doing everything I could to get ready for the East Coast supercross series, and a week before the opener in Indy I broke my wrist really badly and had to sit out the entire series. And I came back for outdoors and thought I was pretty strong and things just didn't start out and went downhill from there. I just couldn't finish any motos—it was bike problems here and there and injuries, and that year pretty much went down the drain. I then tried to regroup for 2006, but I didn't have anything. I then had to get reconstructive foot surgery, so I was out for five months. I came back in '06 with nothing. I then went up to Canada for the CRMC Nationals and rode the first two rounds and ended up getting a third and a second up there and I was tied for second in points. Simon Homans really helped me out with that in '06; he kind of paid my way to get to the races and stuff, and without him I couldn't have done that at all because I didn't have any money to get to the races. So that basically sums up my 2005 and '06 seasons. After '06 was done I had to get another foot surgery, and that put me out another five, almost six months, and I didn't come back to riding till March. So it was almost a full year of no riding at all in the past three years.
What was wrong with your foot?
I hurt my left foot at Southwick in 2005. I dug it in the sand pretty badly and I didn't think anything of it at the time. I pulled off and my foot was really swollen—I couldn't even take the boot off! So we cut the boot off and taped it up and iced it down. I went to the doctor back home and he just told me it was a turf toe injury and I could get back on the bike in a week. So we had a week off, and I got back on the bike and it just never seemed right. I came to find out that it was broken the whole year and it never healed. So it tore all of the tendons and ligaments in my foot, so I ended up having to get a surgery in the end of '05. Well, that surgery wasn't done right, so after it was all healed up I came back and rode, and I knew there was still something wrong. At the end of the year I felt something pop in my foot; it ended up breaking again—everything that was just fixed. And I had to go to a different doctor and get it reconstructed again. I lost movement permanently in some places. At this point I'm lucky I still have the foot and can still race. It's just been an unfortunate on-going injury for the past two years.
Is the foot 100 percent now?
Yeah, it's fixed now and all good. I lost a bit of movement which affects my running, but it doesn't affect my riding at all.
Tell us about 2007.
This year I signed with Blackfoot Yamaha in January or February to ride the Eastern MX2 Nationals in Canada. I was actually still laid up and couldn't even walk yet. In February, I started walking again and I went to Florida in mid-March and starting riding again. My dad went out and bought two bikes and I just started from scratch. It was really nice to have Blackfoot step in and help me out this year. I went down to Florida for about two months and rode everyday as much as I could to get my strength back. I think I was doing well till the first Canadian round. This year was a real roller coaster ride.
Tell us about the 2007 CRMC season.
Well, the first round I went up with a lot of confidence because Blackfoot is known for winning, and they picked me to win the East Coast, and that's what I went up for. The first round I came in maybe too confident. I set some fast lap times and was feeling good. I got some really good starts but ended up stacking it up pretty bad and got knocked out. I regrouped for the second round but we had some problems with the motor, but it just didn't really work out for me the first two rounds. Blackfoot was really supportive throughout the whole thing. I went back for the final two rounds and I think I proved myself, finally, and I was able to get a win at the third round.
At least you got a win. That proves a lot. So, what's your plan for the rest of '07 and into the 2008 season?
Right now, to be honest, I have no plans whatsoever. Like I said, I'm working five days a week, 12-hour days, and I'm trying to get stuff situated with my bikes. I'm trying to sell my stuff to get new '08 stuff, but I don't know what I'm getting or who I'm riding for. Right now I don't have anything lined up. If I do get something lined up now, then I could plan my whole winter around it. If nothing happens, then I have to stay back and work to make money in order for me to go down South to ride. I'd like to make some supercrosses, but that's doubtful because I just can't afford to build my own race bike and do it again on my own. We'll see what happens.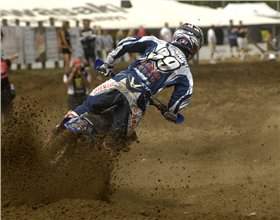 Nick won the MX2 overall at the Riverglade CRMC National on August 5.

Have you thought about maybe racing the National Arenacross series?
I have looked into that, but right now I just can't afford to get a good race bike and suspension to compete at the top level. I'm a full privateer to the bone now. It's weird for me because my whole life growing up I've had pretty much everything given to me. And now I'm in a rut and really don't know what to do—it's back to reality now, I guess.
What's it going to take for people to realize your full potential?
I know I have the ability. Back in 2003 I won my first title at Loretta Lynn's and beat guys like Josh Grant, Kyle Chisholm and Matt Goerke, and look where those guys are at now. That's where I believe I should be—I just had some bad breaks. In my mind I know I can qualify and run top 10 at supercrosses and be in the top 15 in outdoor nationals. It's just having the right equipment and the right team behind me and having someone believe in me as much as I do. It's just impossible to do it alone, especially with all of these new guys coming in. It makes it tough for people like me.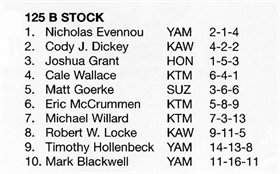 Evennou took this championship at Loretta's in 2003.

Worst-case scenario you don't get any offers. What's the next step then?
That's tough. I try not to think about that, and honestly in my mind, I'd hopefully try and salvage enough money to buy two bikes and maybe do some local racing and become a local rider, which is sad to say because I've had an awesome amateur career and I thought my pro career started out well. So hopefully something comes up in the next few months. I'd really like to go back to Blackfoot in 2008, but we'll see what happens.
You can always do what Gavin Gracyk did and load up a bike and head out to the first national on your own.
Yeah, for sure. I think it's definitely easier to make a 450 competitive, but right now I'm not at a level to ride the Motocross class competitively, but I don't know if that's where I should be going.
How old are you right now, Nick?
I'm 21.
You're still young, so don't give up.
That's the last thing I want to do. I don't want to have to work a 9-5 job five days a week and struggle to buy a bike to race on the weekends. I haven't devoted 16 years of my life to racing to not make it—I just need a break.
What's the best way for someone to get in touch with you?
The best way is to e-mail me at mxer447@aol.com. I check it everyday, so if anyone is out there willing to give me a chance, I'm more than happy to take it.
Any last words?
I definitely want to give a quick thanks to Joe, Johnny and Andrew and everyone at Blackfoot for giving me an opportunity in 2007 and giving me an awesome bike. Like I said, I finally got an overall win in the third round, so thanks to those guys.