5 Minutes With ... Justin Williamson
It's not everyday that a would-be GNCC champion strolls through the Racer X office, so when Red Bull KTM Factory Off-Road rider Justin Williamson rang our doorbell this afternoon, we invited him in for a face-to-face interview, which also doesn't happen everyday. Originally from Florida, Justin now travels all over the country using his box van, friends houses and the Red Bull KTM semi for support. All that hard work is paying off, as the 20-year-old can make history this weekend by becoming the first-ever champion in the new GNCC XC2 Lites class.
This past weekend, Justin completed the last round of the AMA National Hare Scramble series in Arizona, where he finished the series in second behind three-time Champion Jason Raines. Then he came back to Morgantown to do some riding in our area, and now we're grabbing him for this interview. Learn more about Justin at www.williamsonracing.com.
Racer X: How was the weekend?
Justin Williamson: The weekend went all right. I was hoping to finish ahead of Jason Raines and cinch up the championship, but Jason had a good day; he was riding good. That's like the first time I've been out in Arizona in a long time, and it was kind of weird. All the rocks were like baseball to softball size, and the track was just scattered with that. That's pretty much all you rode on, so I felt a little sketchy out there.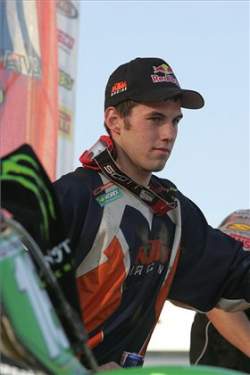 Justin Williamson can make history by becoming the first-ever XC2 Lites champion this weekend.

How is the AMA National Hare Scrambles series compared to the GNCCs?
The track was a little tighter, even though it was out in the desert. They did good with what they had because they didn't have much land there. It was kind of a shorter track. I enjoyed it. Once Jason had a good lead on me, I decided it's not worth trying to catch back up, crash and hurt myself, and lose out on two championships. I definitely want the GNCC XC2 Championship; that's going to be good for me.
What do you have to finish in order to win the championship?
I hear, I think if Rodney wins, I have to finish seventh or better to win. It's not wrapped up.
Are you feeling any pressure?
Little pressure. Definitely not the pressure I had for the National Hare Scrambles titles, because Jason was one point behind me, but this weekend I can go out there and just ride my own pace. I don't have to push, I prefer to win and get on the podium, but theoretically, if I just go out there and cruise and do my own race, no mistakes, don't mess the bike up, be smart, I pretty much have the championship, so that's what I'm hoping for. I'm looking forward to the XC2 Championship. It's going to be pretty sweet.
So, the GNCC title means more to you then?
Well—you know—definitely. Yeah, I mean, I've never had a championship except one championship back in the FTR days, when I got the B250 championship. Other than that, this will be my first real pro championship, and I think it's going to be big stuff.
What have you learned this year riding for KTM and riding your first 250F?
I really learned that the bike is awesome and really dependable. I didn't have any DNFs this year. I've always tried to do that throughout my whole career, be consistent and have no DNFs. The bike really held up excellent—that says a lot for the 250Fs. We had mud races, dry races, everything, so it was a good test for the bike. With Rodney Smith in the class—he's a vet and he's been at this thing for a long time—there's a lot to learn from him. When I was racing near him, I didn't really try to lead. Sometimes I'd let him go by, and try to follow him and figure things out. I think I figured out how to be a little smoother and be more consistent. He's a master at that I believe, so that probably helped me out to be close to this championship status here. I've learned a lot of stuff.
How tall are you?
I'm about 5'10 maybe 5'11, something like that.
Because—every time I see a picture of you, you have your head over the bars and your knees are locked—you just have this straight-up style. Is that natural?
No, my riding style is nowhere close to being natural. I've had to work over the years. When I raced my first couple years in the FTR C class, you wouldn't think I could get anywhere close to this. You know, elbows down—just every possible worst trait you could have—that's what I had. My uncle and my dad would videotape me riding. So I'd start working on little things. I used to sit down all the time and never stand up. Just like the last three or four years, I've gotten to where I practically stand up everywhere except the corners and stuff where you want to rail. I've learned to stand up more, and it's helped smooth me out and make me a better rider.
Did you ever think you would be running inside the top ten overall, out of the XC2 class?
Yes, I definitely thought I'd do that. I was actually hoping for more, like getting in the top five more. I'm feeling 100 percent with my body and feeling good with the bike. As long as things go well in Indiana, I'm looking for a top five overall and I think I can pull it out. I was four seconds off of Paul Whibley at the last one for fifth overall.
What's the next step for you? Are you riding the XC2 class next year?
I've heard the rule for the XC2 class is that if you win the XC2 class, even if you finish in the top ten overall, you get one more year to defend your championship. I'd like to confirm that with someone.
Don't look at me.
That's what I've been told, and if that's the way it is, then Antti (Kallonen, Team Manager) and KTM and everybody wants me to defend my championship and get another championship, and hopefully finish in the top five next year. Then move up to the XC1 class and be a contender for the podium.
How have you dealt with the fans this year—you're pretty popular?
That's a big thing, you know? Over the years, me and my uncle and my dad, we've worked to get my popularity level up. I have a website at www.williamsonracing.com. That was definitely a big key. It helps out in a lot of respects. More people know you. You get a bigger fanbase following you—more friends. I just have a huge group of people who are helping me out. It helps out in a lot of ways to be popular.
How many of those $100 Thumpertalk.com Holeshot Awards have you won?
I think I have three of them, and I'd like to add a fourth one to that this weekend.
Do you scope the track much before a race?
Yea, actually the whole KTM crew—the team manager, the riders—we all go out there together the morning of the race. Usually about 8 o'clock we start walking the track. We walk a good couple of miles right off the bat, and then jump around to the nasty stuff—mud holes, hill climbs and difficult stuff—to get a general idea of what the track's going to be like and what to look for.
Do you remember a time when you thought, okay, anything can happen, and this isn't locked up?
Yeah. Halfway through the season this year, I was second or third, and I almost kind of doubted myself a little bit about getting the championship, but it seemed like everything clicked after halfway, and I started getting on the podium, like seven or eight races in a row. Since that happened, I've built myself up mentally, and I just keep notching it up a little more. Finally started winning some races and top ten overall more often. It just helps me out—I'm feeling really good. I'm ready to get the championship.
Then what? What's next for JW11?
There's two events that I really enjoy. One is the Las Vegas Endurocross I'm going to do. I did that a couple of years ago, the first year they did it. Then I also want to do the Red Bull Last Man Standing. I did it the first year they had it, and I finished fourth overall that year. I'd like to do it this year and hopefully be up front with David Knight battling with him. I'm really looking forward to it.
So, if two KTM riders wrap up the GNCC XC1 and XC2 Championship both on KTMs, what's that going to say for the KTM off-road team?
It's going to show that the bikes are really dependable and shows that they have good riders on the team. The whole team works together awesome and pretty much does what it takes to get the championship. The team is awesome—I'm really loving my bike—I like all the guys on the team, so I'm looking forward to another good year next year.
Is there anything that would make the GNCCs better?
I don't think so, you know? You guys run a really professional racing series. Everything's consistent, you don't have to worry about something being different each round. Everything is smooth, fast, and good to go. It's awesome.
Who would you like to thank?
I'd really like to thank the Red Bull KTM team and all the sponsors helping out. Michelin tires, Motorex Oil, my team manager Antti, he's been backing me all year. I'd like to thank KTM Hard Equipment gear, Arai helmets, Scott goggles, my uncle and dad and all the friends and people who have been cheering me on all year.