Sign of the (Lap) Times: U.S. Open
Las Vegas is all about numbers, and the Rockstar Energy Drink U.S. Open has some very important digits to speak of. The digits most important are the ones following the dollar sign—but to add more zeroes to your payoff you must lower the numbers of your lap times.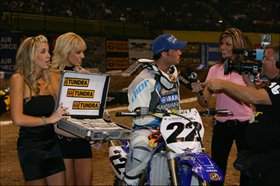 Chad Reed was clearly the fastest rider inside the MGM.
photo: Simon Cudby
Chad Reed
was the fastest all weekend long aboard his Yamaha 450F, as he recorded the fastest lap times in both the Toyota Superpole qualifying each night, as well as the Motorcycle Mechanics Institute main events. Reed looked to be on his way to becoming the first rider to ever win the Trifecta—becoming $250,000 richer—but an overly aggressive bid for the holeshot meant a huge first-turn crash in Saturday night's main event. That all but ended those chances of taking the Saturday win, let alone a quarter-mil.
For this week's Scott USA Sign of the (Lap) Times, we listed the times of the Toyota Superpole from both nights, as well as the main event lap times below. And check this out: The confines of the MGM Grand Garden Arena are pretty tight, and the track seems very short. The fastest lap time of the entire weekend came in Saturday night's Toyota Superpole qualifying, which was a 43.084 logged by
Chad Reed
. But oddly enough, that lap time is longer than one we saw in the 2007 Amp'd Mobile AMA Supercross Series: Looking back at the San Francisco SX,
James Stewart
recorded a 42.719 on his fastest lap there—and that was inside a baseball park!
For complete results from both nights of the 2007 Rockstar Energy Drink U.S. Open of Supercross, check out
www.ussx.com
.
Friday Toyota Superpole
| | | | |
| --- | --- | --- | --- |
| Finish | Best Lap Time | Rider | Bike |
| 1 | 44.476 | | Yamaha |
| 2 | 45.059 | | Honda |
| 3 | 45.133 | | Yamaha |
| 4 | 45.597 | | Suzuki |
| 5 | 45.945 | | Suzuki |
| 6 | 46.054 | | Honda |
| 7 | 47.040 | | Honda |
| 8 | 47.267 | | KTM |
| 9 | 48.331 | | Honda |
| 10 | 1:22.492 | | Kawasaki |
Friday Main Event


| | | | |
| --- | --- | --- | --- |
| Finish | Best Lap Time | Rider | Bike |
| 1 | 45.701 | | Yamaha |
| 2 | 45.889 | | Yamaha |
| 3 | 45.962 | | Honda |
| 4 | 46.477 | | Kawasaki |
| 5 | 46.827 | | Suzuki |
| 6 | 47.389 | | Honda |
| 7 | 47.052 | | Honda |
| 8 | 47.517 | | KTM |
| 9 | 47.494 | | Suzuki |
| 10 | 47.059 | | Honda |
| 11 | 47.829 | | Honda |
| 12 | 47.294 | | KTM |
| 13 | 47.925 | Bryan Johnson | Honda |
| 14 | 48.047 | | Honda |
Saturday Toyota Superpole
| | | | |
| --- | --- | --- | --- |
| Finish | Best Lap Time | Rider | Bike |
| 1 | 43.084 | | Yamaha |
| 2 | 43.214 | | Yamaha |
| 3 | 43.527 | | Honda |
| 4 | 43.883 | | Suzuki |
| 5 | 44.566 | | Kawasaki |
| 6 | 44.997 | | Honda |
| 7 | 45.080 | | Honda |
| 8 | 45.325 | | Honda |
| 9 | 45.630 | | KTM |
| 10 | 48.189 | | Honda |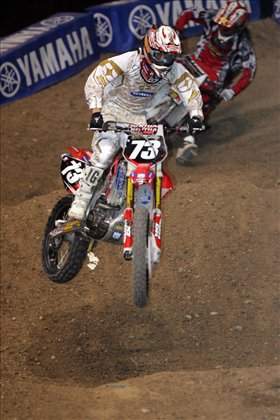 Jake Weimer took a surprise win Saturday night.

photo: Steve Bruhn

Saturday Main Event


| | | | |
| --- | --- | --- | --- |
| Finish | Best Lap Time | Rider | Bike |
| 1 | 45.293 | | Honda |
| 2 | 45.387 | | Honda |
| 3 | 45.169 | | Suzuki |
| 4 | 45.088 | | Honda |
| 5 | 44.787 | | Yamaha |
| 6 | 45.650 | | KTM |
| 7 | 44.924 | | Honda |
| 8 | 44.116 | | Yamaha |
| 9 | 46.211 | | Honda |
| 10 | 46.423 | | Honda |
| 11 | 45.317 | | Suzuki |
| 12 | 44.803 | | Kawasaki |
| 13 | 47.192 | | Kawasaki |
| 14 | 47.234 | Bryan Johnson | Honda |